Summer movie season is notorious for being a time when filmgoers are asked to turn off their brains, grab a giant tub of popcorn, and sacrifice a few precious hours spent outside in the sunlight, just so we can watch Hollywood's latest round of superhero movies, sequels and remakes. But this year, the warm weather has been an especially long time coming. Possibly more than ever, Rochesterians feel the need to treasure those hours of sunlight while we can. If we're going to give up even the shortest amount of time outside, we've got to know it's going to be worthwhile.
Still, it just wouldn't be summer without at least a few trips to the local multiplex. With that in mind, here's a glimpse at some of the films that promise to be worthy of your sacrifice. This year's movie season is shaping up to be one of the better ones in recent memory, with at least a few surprises in store, and even some of those sequels and comic book adaptations are looking pretty good. Opening dates listed at end of each preview. These release dates are subject to change, so be sure to check listings before you go running off to the theater.
Photo Courtesy Twentieth Century Fox
Shailene Woodley and Ansel Elgort in "The Fault In Our Stars."
"The Fault In Our Stars": Based on the best-selling young adult novel whose premise sounds like it could have been a Lifetime original movie (at least to those who haven't yet read it), "The Fault In Our Stars" tells the story of two teenagers who bond at a meeting for cancer survivors and fall in love. Author John Green managed to transcend superficial sentimentality through painful honesty and an acerbic sense of humor, so it will be interesting to see how much of that crucial combination makes it to the screen. (June 6)
"Obvious Child": A struggling stand-up comedian (Jenny Slate) discovers she's pregnant as a result of a one night stand and must decide what to do once she decides she doesn't want to keep the baby, but might like the guy to stick around. This unconventional indie romantic comedy was a breakout hit of this year's Sundance, and Slate's been great on television shows like "Parks and Recreation" and "Bob's Burgers," so I've got high hopes for this one. (June 6)
"The Sacrament": Horror auteur Ti West's found-footage flick follows two reporters as they document their friend's search for his missing sister, leading them to an idyllic religious commune run by a mysterious, charismatic leader known as "Father." It's not much of a spoiler to say that the community isn't nearly as idyllic as it claims to be. (June 6)
Photo Courtesy Twentieth Century Fox
"How to Train Your Dragon 2."
"How To Train Your Dragon 2": The first "How To Train Your Dragon" was a winning combination of heart, humor and gorgeous animation (seriously, those flying scenes were eye-poppingly beautiful, especially in IMAX 3D), all in service of a rollickingly fun adventure tale. The new film (the second chapter of a planned trilogy) picks up five years later, as the alliance between Vikings and dragons opens up a whole wide world to explore. (June 13)
"22 Jump Street": "21 Jump Street" was the biggest and best surprise of 2012, largely thanks to returning directors Chris Miller and Phil Lord (now hot off the enormous success of "The Lego Movie"). Having made their way through high school the last time around, Channing Tatum and Jonah Hill — I'm sorry, two time Oscar-nominee Jonah Hill — are moving on to college in order to bust up a massive new drug ring. (June 13)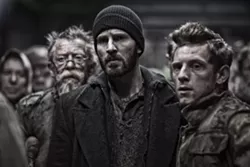 Photo courtesy The Weinstein Company
John Hurt, Chris Evans, and Jamie Bell in "Snowpiercer."
"Snowpiercer": In the wake of a failed experiment to solve global-warming, the only surviving inhabitants of Earth are the riders onboard a train whose track encircles the globe. Bong Joon-ho's post-apocalyptic action film follows what happens when class warfare breaks out between the affluent passengers at the front of the train (ruled over by Tilda Swinton) and the impoverished people in the tail (led by Captain America himself, Chris Evans). (June 27)
"They Came Together": Amy Poehler and Paul Rudd reunite with director David Wain ("Wet Hot American Summer") for this satire that takes aim at every ridiculous cliché in the romantic comedy arsenal. They're joined by a huge cast of comedic talent, including Ed Helms, Cobie Smulders, Christopher Meloni, Max Greenfield, Bill Hader, Ken Marino, and Michael Ian Black. (June 27)
"Tammy": Written by Melissa McCarthy and her husband, Ben Falcone, this film stars McCarthy as a down-on-her-luck woman trying to turn her life around, starting with a cross-country road trip with her grandmother (an aged-up Susan Sarandon). McCarthy is a gifted comedian, so here's hoping she's crafted a better vehicle for her talents than last year's truly terrible "Identity Thief." (July 2)
Photo Courtesy Warner Bros. Pictures
Susan Sarandon and Melissa McCarthy in "Tammy."
Photo courtesy IFC Films
Ellar Coltrane in "Boyhood."
"Boyhood": Richard Linklater's ambitious coming-of-age drama, about a boy (newcomer Ellar Coltrane) growing up under the care of his divorced parents (Ethan Hawke and Patricia Arquette), was filmed a few days at a time over the course of 12 years. Watching Coltrane mature onscreen from ages 6 to 18 is bound to make for a unique film-going experience, and early reviews have been ecstatic. (July 11)
"Life Itself": It's probably no surprise to anyone when I say that Roger Ebert was a huge influence on me and my desire to write about film, so director Steve James' ("Hoop Dreams") documentary recounting the life of the esteemed film critic was bound to be on my must-see list no matter how it turned out. But as it happens, this is also the only film on this list that I've actually had the opportunity to see. I can tell you: it's fantastic. (July 11)
"Happy Christmas": Mumblecore pioneer Joe Swanberg reunites with his "Drinking Buddies" star Anna Kendrick for this mostly improvised indie drama about an aimless 20-something who shakes up the lives of her filmmaker brother, his wife, and their 2-year-old son when she decides to move in with them. With Lena Dunham and Melanie Lynskey. (July 25)
"A Most Wanted Man": This spy thriller, based on the novel by master of the genre, author John le Carré ("Tinker Tailor Soldier Spy"), follows a Chechen Muslim as he immigrates to Hamburg illegally only to find himself caught up in the international war on terror. The film features one of the final roles of the late Philip Seymour Hoffman, and his performance is supposedly good enough that it's earned talk of a possible posthumous Oscar nomination. (July 25)
PHOTO COURTESY MARVEL STUDIOS
Chris Pratt in "Guardians of the Galaxy."
"Guardians of the Galaxy": Chris Pratt stars as galactic adventurer Peter Quill, who's forced to team up with a motley crew of interplanetary misfits when a bounty is placed on his head following his heist of a valuable piece of space whatsit. Handing over the reigns of a mega-blockbuster like this to an idiosyncratic genre director like James Gunn makes me excited for what's bound to be the weirdest and most ambitious Marvel movie to date. (August 1)
"What If": Daniel Radcliffe and Zoe Kazan star in this romantic comedy (formally titled "The F Word") about two people who, due to their current romantic entanglements, decide to fight their obvious attraction and give friendship a try. (August 1)
"Teenage Mutant Ninja Turtles": I'm terrified of what blockbuster-cinematic antichrist Michael Bay (who served as producer on this film) has done to my beloved Ninja Turtles — plus I have a really hard time seeing Megan Fox as intrepid reporter April O'Neil — but I admit I'm also morbidly curious. (August 8)
"The Giver": The trailer for this adaptation of Lois Lowry's beloved novel — about a society that claims to have eradicated all pain and suffering — gave me pause. The film looks like yet another apocalyptic young adult story that movie studios have been falling over themselves to greenlight in the wake of the massive success of "The Hunger Games." Here's hoping it's a simple case of bone-headed marketing, and the final film does justice to the source material. (August 15)
"Life After Beth": Dane DeHaan ("The Amazing Spider-Man 2") stars as a young man devastated by the recent death of his girlfriend, Beth (Aubrey Plaza, "Parks and Recreation"), but gets a second chance at a happy ending when she mysteriously rises from the grave. Also starring Anna Kendrick, John C. Reilly, and Molly Shannon. (August 15)
"The One I Love": A couple go on a weekend retreat in an attempt to save their ailing marriage, but find that an unusual dilemma awaits them in this genre-bending romantic-dramedy. In tantalizing fashion, those who've seen the film (and loved it) say that the less you know going in, the better. Starring Mark Duplass, Elisabeth Moss ("Mad Men"), and Ted Danson. (August 15)