City's choice: Ithaca theater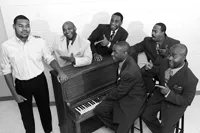 Need more drama in your life? Upstate summers are always chock full of theatrical opportunities for the cultural explorer, especially along LakeCayuga, where Ithaca's several theaters are staging diverse seasons.
At the Hangar Theatre, the main stage will showcase Andrew Shaffer's Tony Award-winning play Sleuth June 21-July 1. Then July 5-22 the Hanger goes back in time to tackle the Greeks, with four plays presented over two nights written by favorites such as Aeschylus, Sophocles and Euripides. Art, the critically acclaimed West End hit, will stir up laughs July 26-August 5, and the season wraps with the Broadway favorite Hello Dolly August 10-September 3. As part if its KIDDSTUFF series, the theater will also stage shows geared toward children, including favorites like Bunnicula, Tales of a Fourth Grade Nothing, and The Adventures of Stuart Little. Tix: $14-$32 (KIDDSTUFF $5). CassPark, off Route 89, Ithaca; 607-273-4497; www.hangartheatre.org.
Across town at the Kitchen Theatre, the world premiere of the romantic new musical The Angle of the Sun will grace the stage July 6-August 5. Tix: $18-$25. Corner of Seneca and Cayuga streets, Ithaca; 607- 273-4497;www.kitchentheatre.org.
On the other side of the lake, the Cortland Repertory Theatre is putting on six shows at the Edward Jones Playhouse in Little York, including Five Guys Named Moe (through June 17), It Runs in the Family (June 21-July 1), Agatha Christie's Murder on the Nile (July 5-15), Annie Get Your Gun (July 19-August 5), Moonlight and Magnolias (August 9-19) and I Left My Heart, a salute to the music of Tony Bennett (August 23-September 2). Tix: $15-$24. 800-427-6160; www.cortlandrep.org.
---
City's choice: PAETECPark
Rochester's new PAETECPark will be a can't-miss attraction this summer. For one thing, it's huge: 13,500 seats, and growing (the stadium has only just completed Phase 1 of a multi-part build-out). For another, the stadium will certainly be the quality sports center of the season, hosting games for all three of its resident athletic teams.
Soccer fans get two squads to watch, as the Rochester Raging Rhinos Men's team will play at PAETEC on June 17, 24, July 3, 8, 14, 21, 28, August 5, 11, 18, 26, and September 1, 9 (tix: $9-$25). The Raging Rhinos Women's team takes the home field on June 16, 24, 30 and July 3, 8 (tix: $8-$18).
Joining the Rhinos will be the Rochester Rattlers, the men's outdoor lacrosse team. See the Rattlers face-off against MLL opponents June 23, July 1, 29, and August 5, 12 (tix: $9-$18).
PAETEC park is located off of Smith and Oak streets. Tickets available through Ticketmaster (232-1900, www.ticketmaster.com) or at the PAETECPark box office.
In addition to sporting events, PAETECPark is also equipped for concerts and other goings-on. So keep your eyes peeled for special events at the park to be announced.
---
City's choice: Tuesday Nature Nights
Whether you'll be dusting off your green metallic bicycle or breaking in your new 10-speed, cycling is the cool thing to do this summer. Get out into your neighborhood and escape high gas prices, enjoy the blooming foliage --- even visit your local ice cream shop without feeling guilty afterwards.
To help you along, the City's Bureau of Parks and Recreation is hosting Tuesday Nature Nights, free guided tours that will take place on foot, bicycle or canoe and highlight Rochester's scenic neighborhoods. The tours start at 6.15 p.m., leaving from a different destination each Tuesday until September 5. The bike rides are designed for cyclists of varying ability and will last approximately an hour. Registration is not needed, but helmets are required.
Bike rides: June 27, Maplewood Rose Garden parking lot; July 11, Seneca Park, first parking lot; July 25, Charlotte Neighborhood, Turning Point Park parking lot; August 8, South River Loop, Genesee Valley Park pool parking lot; August 22, Port of Rochester, boat launch lot; September 5, Southwest Neighborhood, Genesee Valley Park pool parking lot.
Walks: June 20, Ellwanger-Barry Neighborhood, Gazebo at Mt. Hope Cemetery north entrance; July 18, U of R Arboretum, steps of the Rush Rhees Library; August 1, East Avenue Neighborhood, corner of East Avenue and Meigs Street; August 29, Seth Green Drive and Switchback Trail, Seth Green Drive parking lot.
Canoe tours: July 25 and August 2, 6:15 -7:45 p.m., Genesee Waterways Centre in GeneseeValleyPark. Tix: $15. Pre-register through July 15.
For more information on any of the events, call 428-6770 or visit www.cityofrochester.gov/mayor/NewsReleases/index.cfm?release=1700.
---
City's choice: Empire Statesmen Drum Corps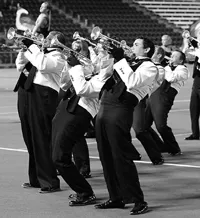 The Empire Statesmen have a busy summer schedule ahead of them. The Rochester-based drum corps will be touring the region, with the season culminating on Labor Day weekend (September 1-3) at the Drum Corps Associates World Championship, taking place this year at PAETECPark. The 42nd annual event showcases the best drum corps from around the world, and could draw upwards of 20,000 people to the area. The Statesmen last won the contest in 2004 and are eager to compete in front of the hometown crowd after coming in second place last year. Tix: $15-$30. 888-300-6910; www.dcacorps.org.
For those who need their drum corps/color guard fix a little sooner, Fourth of July weekend is full of Empire Statesmen events. On Saturday, July 1, the Statesmen will host the DCA Touring Show at Wegmans Stadium at Aquinas Institute with several other regional acts. The show starts at 8 p.m. Tix: $15. 1126 Dewey Avenue; 266-2232. The show will be followed by an exhibition at the July 3 Rhinos game and a Fourth of July parade in Irondequoit. For more information, visit www.statesmen.org.
---
City's choice: skate parks
Many area towns, such as Webster, Sweden, Gates, and Parma, provide outdoor skate parks free of charge. Most parks permit only inline skates/roller blades and skateboards, though Webster also allows BMX bikes on its ramps. Safety regulations vary from town to town --- helmets are a must, but knee-pads and wrist guards (probably a good idea anyway) are not always required. Some towns even require a signed safety waiver, so check with your local parks and recreation department before hitting the rails.
Webster's skate park is located off Ridge Road next to the Ridgecrest Community Center. The skate park in Sweden is on Redman Road across from the SUNY Brockport entrance, and Gates' facilities are in WestgatePark, off Howard Road. Some towns also offer skateboarding camps as part of their summer programs, and more details can be found online in the recreation sections of these individual town websites: www.gatesrecparks.org, www.websterparksandrecreation.org, www.townofsweden.org, www.parmany.org.