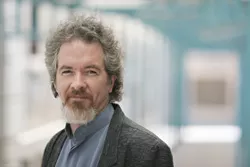 Circling the sun on a spinning planet hurtling more than 70,000 miles per hour through space, Glenn McClure walked into an airport bookstore. He was bored. He scanned the shelves for something to occupy his mind during a flight to New York, and his eyes alighted on the black-and-white cover of a book, Galileo's Daughter: A Historical Memoir of Science, Faith, and Love by Dava Sobel. McClure picked it up, paid for it, and slipped it into his carry-on bag.
Waiting for the plane, he started reading Sobel's account of the 17th-century scientist tried for heresy because he theorized that the earth was not the center of the universe. The book includes letters from Galileo's oldest daughter, Maria Celeste, who devoted herself, from the confines of a convent, to her father's care. The two exchanged gifts of clothing, fruit, and sweets. He sent her spinach dishes from his garden. She made lace collars for him to wear during public appearances. His letters were presumably destroyed, but hers survived and are shot through with expressions of love and intimate details of everyday life.
McClure was surprised to learn that Galileo played the lute and that his father was a composer. "I was intrigued by this person whose science was informed by his artistic life," he recalls.
As the plane propelled him through the earth's thin atmosphere, McClure continued reading. After landing, he drove to EastHamptonHigh School on Long Island. The lanky, goateed Geneseo man regularly travels across the Northeast conducting artist-in-residence workshops; that was his purpose on this trip three years ago.
During the composer's workshop, some of the high school students looked listless. Others leaned forward with interest. Among them was a 10th-grader who asked such sharp, thought-provoking questions that McClure enquired about him after class was over.
"His name is Isaac Sobel," his teacher said, adding, "Isaac has an interesting mom." His mother, it turned out, was Dava Sobel, the author of Galileo's Daughter.
McClure pulled the book out of his bag.
Through Isaac, McClure met the writer. He told her that he wanted to write a piece of music inspired by her book. "I was enchanted by the idea," Sobel recalls, "because Glenn is so musical and I'm so not musical."
The composer set to work. He wanted to capture the atmosphere of 17th-century Italy, so he used musical instruments familiar to Galileo: lute, recorder, organ, and strings. He wanted to express the affection between the scientist and his daughter, so he worked texts from their letters into choruses and solos. He also resolved to convey the upheaval wrought by Galileo's writings. To do that, he introduced a hint of dissonance in the music, places where a few "misplaced" notes jar the listener.
The result of his labor is a 50-minute oratorio, The Starry Messenger: An Oratorio based on the life of Galileo and his Daughter, which will receive its world premiere this weekend from Madrigalia, an 18-voice Rochester chamber choir conducted by Roger Wilhelm.
The Starry Messenger opens with a traditional hymn, "Venite Adoremus" ("Let us come and adore,") which sets the stage for Galileo's conflict with the church. The second movement, "March 22, 1628," introduces Maria Celeste: "I love you more than myself," she sings via the chorus' lilting, rhythmic melody. Later, high-pitched lute chords suggest the heavens as the stars serenade Galileo and his grandson, "The moon tells you, 'Good night and dreams of gold.'"
Science dovetails with family devotion in a section titled "Il Devoto," in which McClure juxtaposes lines from Dante with letters from Maria Celeste. "I consider you my Devoto, in whom I confide my every thought and share my joys and sorrows," soloists intone while, simultaneously, subtle chord changes suggest the dangerous, cosmic shift from a geocentric to a heliocentric universe. The melody repeats over and over again just as the love between the scientist and his daughter remained constant.
"Glenn's music transmits the mood of the letters," says Madrigalia director Roger Wilhelm, who describes the piece as somewhat minimalist. "It captures a feeling for the era, the church, and the regality of the court."
It also resonates in the current national political climate, in which some high school teachers have received reprimands for discounting creationism as real science. But Galileo never saw any conflict between his faith and reason. "He thought it was humanity's responsibility to try to understand the universe," says Dava Sobel. "He thought God intended us to do that."
Composer McClure says he appreciates Galileo's struggle to uphold scientific truth. Even more, he's inspired by the scientist's devotion to his family. "While he was changing the world, he was sending lemons to his daughter," McClure says. "Galileo was a family man, a community man. He did everything profoundly."
Brenda Tremblay will host weekly concerts by the Rochester Philharmonic Orchestra beginning Tuesday, June 27, at 8 p.m. on WXXI's Classical 91.5.
Madrigalia with Quartsemble and others perform the debut of The Starry Messenger: An Oratorio based on the life of Galileo and his Daughter by Glenn McClure Saturday, May 20, 8 p.m. at St. Anne Church, 1600 Mount Hope Avenue ($8-$15), and Sunday, May 21, 3 p.m. at Wadsworth Auditorium, SUNY Geneseo ($5, free for children 12 and under). For more information call 234-4283 or go to www.madrigalia.org.