Asylum Street Spankers
Austin, Texas' The Asylum Street Spankers are Tin Pan Alley ragged and beat poet sharp. They're Dixieland with a pre-war jazz jump. They're deranged and irreverent in the extreme. They are 100 percent acoustic (that is to say, un-mic'd and unplugged) and will cordially invite folks to "shut the fuck up" if the crowd banter rivals the onstage volume, or lack there of.
Their transgressive defiance is only matched by the musicianship on stage. What initially appears to have the charm of a group of friends picking around the campfire quickly turns to raunch when the bands performs dusty-sounding ditties about things like winning the war on drugs and sleeping in the wet spot.
FrontmanWammo leads the band standing cocksure like the captain on a sinking ship, wailing soulfully and blowing some unbelievable harp. He is so steeped in every literal, musical, political, sociological, sexual, botanical, and generally delinquent aspect of the American cultural underground that studying him should be a class project for high school seniors.
Vocalist and multi-instrumentalist Christina Marrs is the lone skirt in the outfit. She has a knockout voice that falls somewhere between Helen Kane and Betty Boop. She will unhinge you.
The Asylum Street Spankers' stew of musical styles (rendered on fiddles, guitars, washboards, saws, etc.), political leanings, lustful urges, and literary debauchery makes them unique. The pure acousticity is refreshing. Maybe it's too high brow. Maybe it's too lowbrow. Either way they're your favorite band. Maybe you just don't know it yet. (FD)
---
Cedar Walton
From his early days as pianist for Art Blakey & the Jazz Messengers in the 1960s through his stints with a veritable Who's Who of jazz giants --- including Joe Henderson, Hank Mobley, Milt Jackson, Lee Morgan, and Donald Byrd --- Cedar Walton has been at the top of the list of jazz pianists for half a century. While with Blakey, Walton composed some of the Jazz Messengers' most engaging tunes, including "Mosaic," "Ugetsu," and "Bolivia." But he has also had an outstanding career as a leader, releasing more than three dozen albums over the last four decades. Whether he is playing one of his own wonderful tunes or interpreting the music of Billy Strayhorn (as he did on a recent recording), Walton can be counted upon to find and exploit the essence of the composition. And anyone who caught his group at the 2004 RIJF can attest to the excitement he generates when he launches into one of his riveting solos. This promises to be one of the festival's most exciting concerts. (RN)
---
Etta James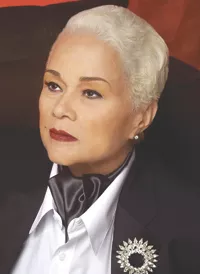 Etta James has no reason to be jealous of anybody. Anybody. Yet her new album, All The Way is a disc full of covers that James says she wishes she had done first.
Honey, Etta James did it all first.
Still, songs like Simply Red's "Holding Back The Years," John Lennon's "Imagine," R. Kelly's "I Believe I can Fly," and Prince's "Purple Rain" all get Etta-fied on All The Way. Her voice is as rich and smoky as ever, but this album is strictly a mellow-down affair. Even when she hits on James Brown's "It's A Man's Man'sMan's World" she never quite winds into the roar that caused the mic on her early recordings to rattle and hum. Granted, Ms. James is pushing 70, but something tells me that raunchy spark still burns deep just waiting to ignite on stage.
Etta James was born Jamesetta Hawkins in 1938 to a teenage mother in Los Angeles. She believes pool hustler Minnesota Fats was her father. As with most soul, r&b, blues, and early rock 'n' roll musicians of the day, James got her start singing in church. She moved to San Francisco and formed The Creolettes in 1952. It was here that she caught the ear of Johnny Otis. It was Otis who gave James her stage name and recorded her first record "The Wallflower (Dance With Me, Henry)," an answer to Hank Ballard's dirty ditty "Work With Me Annie."
James signed with Chicago's Chess Records in 1960, and over the next decade she would cut enduring classics like "All I Could Do Was Cry," "Trust In Me," and her biggest hit, "At Last."
James' sound has always been sugar-sweet with a raw undertone --- a coo with a growl --- an erotic collision of coquette and harlot. She has always been able to exude both romantic love and lustful urges often within the confines of one song. Etta James has gotten a lotta folks laid.
Drug abuse, failed relationships, and constant battles with her weight have plagued her throughout her career. Her weight got to the point she had to perform sitting down. But recent gastric bypass surgery has enabled the legend to shed 200 pounds and she's standing onstage once again poised to rock the joint. She's got the new platter, her two sons Donto James (drums) and Sametto James (bass) in the band, and shows no signs of slowing down
I love her. Now if she'd only call me back. (FD)
---
Kenny Garrett Quartet
Whether he is playing alto or soprano saxophone, Kenny Garrett has pleased audiences for decades with his imaginative solos and virtuosic technique. Garrett was something of a saxophone prodigy, attracting attention while still in his teenage years when he was recruited for one of the country's most prestigious bands. In 1978, at the age of 18, Garrett joined the Duke Ellington Orchestra (then under the direction of Mercer Ellington, Duke's son). He then moved to New York where he took a chair in the Mel Lewis Orchestra. He had already released his first album as a leader (in 1984) when he got a call from Miles Davis. Garrett joined the long, historic list of sidemen, apprenticing to the master for five years and contributing to four of Davis' albums. Garrett has recorded a dozen more albums as a leader since the mid-1980s. He has also remained at or near the top of the Down Beat Critics and Reader's Polls as Best Alto Saxophonist. (RN)
---
MK Groove Orchestra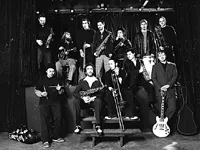 I once referred to Brooklyn's MK Groove Orchestra as a band that bops all over the map with brass knuckle brass and pornographic funk, a band that couldn't sit still, like an 8-year-old with a chocolate saxophone. Well, upon hearing the band's new platter, the knuckles are bloody, the pages are stuck together, the chocolate has melted, and the little bastard is screamin.'
The 13-plus-piece band essentially takes the big band artillery and let's loose in territory uncharted by big bands --- conventional ones, anyway.
MK Groove Orchestra's progressively vintage sound is big and mind-blowingly cool. But hey, don't fence them in. As much as the classic big band wail of Goodman, Miller, Dorsey, Brown, Shaw et al was the soundtrack for a generation, the MK Groove Orchestra transcends timeline classification by goosing classic lushness with a contempohaphazardry, all the while brazenly staring down the apocalypse. It's like waiting for the Sun Ra to rise.
Greatest Hits finds the band embracing jazz and insanity in the same ballsy bear hug. It starts off fairly free-form crazy, skirting jazz, bop, and more exploratory chaos. I dunno, maybe the band is weeding out the casual fans like The Mothers used to do. There are definitely fans of every aspect of this band --- the good, the bad, and the ugly --- and some fans who'll only be able to cling to the bands not-too-frequently-visited conventional blasts (you know, the stuff that makes a little more sense). It'll be fun finding out which one you are. You may be surprised. (FD)
---
Mose Allison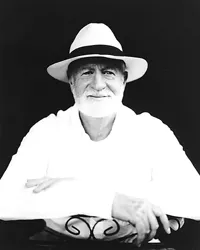 He's smooth and cool. He's hip and hysterical, wry and sly. A self-described "realist with a sense of humor," his double entendres, clever turns of phrase, and innuendo make Mose Allison contemporary music's Yogi Berra.
Parked in front of the piano, Allison's music is a blend of his bluesy Mississippi roots with the sophistication of Monk and Haig --- some of his early influences, along with vocalists Charles Brown and Percy Mayfield. Allison is simultaneously slick and raw.
Now in his late 70s, Allison's influence has permeated the rock world with artists like Van Morrison, John Mayall, The Who, The Clash, Johnny Winter, Eric Clapton, The Yardbirds, Elvis Costello, The Chesterfield Kings, and Bonnie Raitt all putting themselves some Mose down on tape.
Though probably referred to more as a jazz musician, Allison's keen tempering of the genre with the earthier, more visceral sounds of the South has him perched on a bluesy fence. And it's all tied together with a lyrical bow of wit, wisdom, and keen insight. Just dig the words on "I Don't Want Much": "I don't want much in this world/It's the simple things I treasure/'Til I die I would get by on fame, riches, and sensual pleasure."
Some of us might get lost in all the jazz, but we all wanna laugh...and maybe even learn a little something along the way. (FD)
---
Preservation Hall Jazz Band
Sure, there were all those Elvis 45s I used to get at Key Drugs in StutsonBridgePlaza for a buck. Or The Gene Cornish & TheUnbeatables records in my parents basement. Or the Saturday nights sitting in front of the TV diggin' Hee Haw. But New Year's Eve at The Eastman Theatre was probably what had the most impact on me as a musician and my life-long love affair with American music. It was here --- from age 7 through my late teens --- that I caught The Preservation Hall Jazz Band each year.
The frontmen of the group at that time, Percy and Willie Humphrey, were old men, slouched casually in chairs but blowing some salacious salvation outta their instruments. Dixieland jazz, spirituals, even a little blues strutted, strolled, wailed and cried outta these cats. It was uplifting, sho' nuff, but it stirred something a lot deeper and darker in me. Preservation Hall has proved to be the measuring stick on my thrill meter for any and all music, and remains so to this day.
Founded in 1961 as the house band for Preservation Hall in New Orleans' French Quarter, the band began touring the world in 1963. Within its ranks at any given time were players who had rubbed elbows and swapped solos with legends like Jelly Roll Morton, Louis Armstrong, Buddy Bolden, and Bunk Johnson.
Though new blood is slowly working itself into the group as its older members move on to the sweet by and by, the Preservation Hall Jazz Band is about as close to the bone --- and soul ---as you're gonna get. (FD)
---
Tom Harrell Quartet
Tom Harrell recently told the Los Angeles Times that he considered playing jazz as similar to the experience of artists who paint spontaneously, reacting to what they see. "Life is so intriguing because there is constant change," Harrell said. "There's a certain shading for every moment. That's what we do when we play. We express our feelings through the textures and colors of the sensual material world and then transcend that into the spiritual realm."
Those words certainly fit the music Harrell makes whenever he picks up his trumpet. From the late 1960s through the mid-1970s Harrell earned his stripes in the bands of Stan Kenton, Woody Herman and Horace Silver. The next decade found him in the company of Bill Evans, Lee Konitz, George Russell, and Phil Woods. From the mid-1980s on Harrell has recorded 20 albums as a leader. His career is all the more remarkable because he has had to deal with schizophrenia. Despite this difficult struggle, Harrell has released some of the most beautiful and sensitive music of the last several decades. (RN)
---
Wayne Shorter Quartet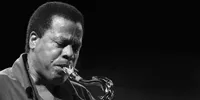 Saxophonist Wayne Shorter did stints with Horace Silver, Art Blakey and Maynard Ferguson in the late 1950s and early 1960s, but it was in the mid-1960s, when he joined Miles Davis' classic quintet, that Shorter emerged as one of the most gifted composers and players in jazz. In 1970 Shorter took another bold step when he joined Joe Zawinul and MiroslavVitous to form the great jazz fusion group Weather Report. All the while Shorter was composing wonderful tunes like "Footprints" and recording excellent albums as a leader.
A recent two-disc compilation, Footprints: The Life and Music of Wayne Shorter, nicely traces Shorter's eclectic career, including his work with Blakey's Jazz Messengers, his classic album cuts, tunes he wrote for Davis ("Nefertiti") and Weather Report ("Heavy Weather"), and his instrumental contributions to pop albums, such as Steely Dan's "Aja" and Joni Mitchell's "Dry Cleaner from Des Moines." From classic albums like Speak No Evil to his recent live CD, Beyond the Sound Barrier, the common denominators are inventive compositions and adventurous improvisations. Shorter's current group --- featuring John Patitucci, bass; Danilo Perez, piano, and Brian Blade, drums --- constitutes one of the finest supporting ensembles playing today. (RN)
---
Whit Smith's Hot Jazz Caravan
Guitarist Whit Smith pumps western swing with caffeinated European jazz like Django on the dusty trail. You may remember Smith from when he played two Jazz Fests ago with western swing trio Hot Club OfCowtown. All eyes may have been on the beauty up front settin' her fiddle on fire, but the band got its giddy-up from Smith's percussive chops, rhythm changes, tight runs, and chords that an ordinary person would need seven fingers and a fistful of trucker speed to pull off.
Venturing out on his own and fleshing out the sound a bit now with his Hot Jazz Caravan (just dig that licorice stick, won't you?), Smith continues on the retro, pre-war jazz trail. Jimmy Bryant, Eddie Lang, and Django Reinhart are all channeled through Smith's furious attack, almost manifesting in the stage ether and the steam rising from Smith's guitar and hands.
This quintet is minimally amplified and yet the sound seems to shrink and grow according to surroundings, adopting melancholy or joy as those surroundings --- and those lucky souls therein --- may dictate. I'm banking on joy. (FD)
---
Woody Allen and his New Orleans Jazz Band
There's this writer/director named Woody Allen. Maybe you've heard of him? He's known for his movies, but he loves playing jazz, specifically the feel-good Dixieland variety. So in addition to his prolific film career he formed a jazz band to showcase his talents on the licorice stick. The group --- also featuring Simon Wettenhall on trumpet, Jerry Zigmont on trombone, Cynthia Sayer on piano, Eddy Davis on banjo, ConalFowlkes on string bass, and Rob Garcia on drums --- has toured Europe and plays a regular Monday night gig at New York City's Carlyle Hotel. For a behind-the-scenes glimpse of Allen and the band, check out Barbara Kopple'sWild Man Blues, which screens during the festival at the Little Theatre and follows the New Orleans Jazz Band on their European tour. (ER)