Rochester's 2017-18 classical music season has a little something for everyone, from traditional performances to contemporary concerts
It is always difficult to narrow down the standout concerts from Rochester's upcoming classical music season. For a city its size, Rochester really does have a wealth of talented performers and organizations, and each year, there's more going on than we can properly preview in print. From traditional performances — and even historically focused groups — to adventurous programs and contemporary, genre-bending concerts, everyone should be able to find something interesting in the 2017-18 classical music season.
CITY has highlighted 10 upcoming concerts that exemplify the upcoming classical music season, but we hope that you'll use it as a jumping off point. Each organization has their own schedule, and there are always more groups announcing new programs every week. Keep up with the latest in CITY Newspaper on stands every Wednesday and online.
First Muse, the chamber music society in-residence at First Unitarian Church, begins its season on Sunday, September 24, with a burst of local musical pride. The company will present four recent works by three outstanding Rochester composers: Cary Ratcliff's "Gitanjali Dances" and "Voyage," David Liptak's "Cold Litanies," and James Willey's "Quintet for Clarinet and String Quartet." The program will feature Ratcliff on the piano, flutist Rebecca Gilbert, David Bruestle on trombone, William Amsel on clarinet, and the Amenda Quartet. (7:30 p.m. at First Unitarian Church, 220 South Winton Road. $5-$15. 271-9070; firstmuse.org.)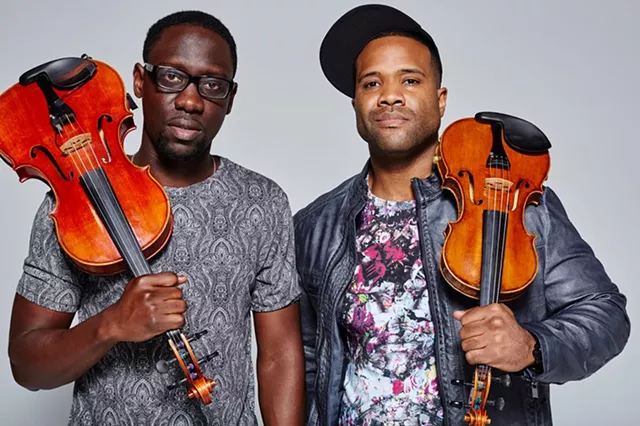 PHOTO BY COLIN BRENNAN
String duo Black Violin will bring its mix of classical, hip-hop, and funk to Nazareth College on October 12.
If pressed, you could call Black Violin a classical music group. Or you could start with hip-hop. But either genre is just a foundation for the duo's music. Violist Wil Baptiste and violinist Kev Marcus start with a classical sentiment, add a backbeat, experiment with time signatures, and occasionally bring in a guest vocalist for a unique style that's smack in the middle of the hip-hop-classical-soul-funk Venn diagram. The duo cites "influences ranging from Shostakovich and Bach to Nas and Jay-Z," and has worked with everyone from Alicia Keys and Aretha Franklin to Kanye West. (Thursday, October 12, 7:30 p.m., at Nazareth College Arts Center, 4245 East Avenue. $35-$50. 389-2170; naz.edu/50; blackviolin.net.)
The Society for Chamber Music in Rochester presented some imaginative programs last season, and 2017-18 will include a reprise of "Baroque and Blues," a pleasing mash-up of musical styles. That's not until April 29, 2018, but earlier in the season, you can enjoy a concert of music for strings at the Strathallan's CityView Ballroom on Sunday, October 15. The simply titled "Strings at the Strath" will feature works by Mozart, Brahms, and Jonah Murphy, whose "Xeletis Xkwechech" won the 2017 SCMR Young Composer Competition. (4 p.m. at the Strathallan, 550 East Avenue. $35. 624-1301; chambermusicrochester.org.)
The centennial celebration of Women's Suffrage in New York is ongoing through 2017, and Rochester Oratorio Society will open its 72nd season on Friday, October 20, with a real rarity: Amy Beach's Grand Mass in E-flat, a landmark work by America's first renowned female composer. This year also marks 150 years since Beach's birth. The program will include the Concentus Women's Chorus (conducted by Gwendolyn Gassler) and the choir of the Young Women's College Prep School, and soloists Elena O'Connor, Katie Hannigan, Joshua Bouillon, and Keith Brown. ROS Artistic Director Eric Townell will conduct Beach's Grand Mass. (7:30 p.m. at Hochstein Performance Hall, 50 North Plymouth Avenue. $25. 473-2234; rossings.org.)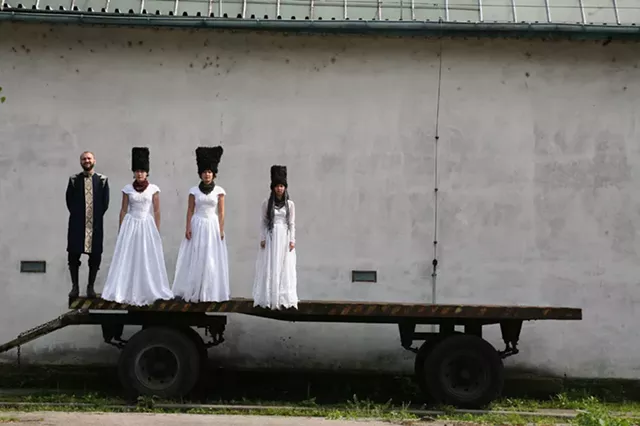 PHOTO BY TANYA VILCHYNSKA
The Eastman School of Music has programmed a series of world music concerts for the 2017-18 season, including DakhaBrakha on November 20.
Pegasus Early Music follows up this summer's outstanding production of Purcell's opera "Dido and Aeneas" with a tribute to another baroque master, Claudio Monteverdi, celebrating his 450th birthday this year with a Sunday, October 22, concert. As always, Pegasus offers a squad of outstanding musicians in performance of Monteverdi's madrigals and instrumental works by his contemporaries. (4 p.m. at Downtown United Presbyterian Church, 121 North Fitzhugh Street. $10-$25. 703-3990; pegasusearlymusic.org.)
The fantastic Eastman Opera Theatre — part of the Eastman School of Music — will also tackle Monteverdi this season. The group, on Thursday, November 2, through Sunday, November 5, will stage "The Coronation of Poppea" ("L'incoronazione di Poppea"), Monteverdi's 1643 opera about Poppea, Roman Emperor Nero's mistress, and her plans to become empress. Along with being a fairly popular opera, "The Coronation of Poppea" is historically significant for being one of Monteverdi's final works and the first opera in the then-young genre to base its story in past events and people (most works to that point were retellings of Greek mythology). Also, look for Eastman Opera Theatre's production of Philip Glass and Susan Marshall's "Les Enfants Terribles" in February 2018. (Times and prices for "The Coronation of Poppea" have not yet been announced. Check facebook.com/eastmanopera as the dates get closer.)
Along with its splashy Eastman Presents Series — which this season includes Chick Corea and Steve Gadd, the O'Connor Band, a Marian McPartland tribute, and Tony Award-winner Patti LuPone performing Broadway tunes — the Eastman School also programs a series of interesting world music concerts. On Monday, November 20, Ukrainian quartet DakhaBrakha will perform in Kilbourn Hall. The group's music is rooted in Ukrainian folk tradition, but it routinely incorporates traditional instruments and styles from India, the Middle East, Africa, and Australia — along with a little bit of pop — for the a genre being called "ethnic chaos." It's exhilarating, beautiful, and soulfully haunting. (8 p.m. in Kilbourn Hall, 26 Gibbs Street. $19-$29. 274-3000; eastmantheatre.org; dakhabrakha.com.ua)
PHOTO PROVIDED
Elena O'Connor will perform with the Rochester Oratorio Society on October 20.
Since it's never too early to start thinking about Christmas, another historically-informed musical group, Publick Musick, will be presenting "An Italian Baroque Christmas" on December 8 at Incarnate Word Lutheran Church. It's still a little far out to talk about the program's specifics, but given Publick Musick's history of quality performances, it's safe to assume this will be an interesting addition to the holiday season. (7:30 p.m. at Lutheran Church of the Incarnate Word, 597 East Avenue. 244-5835; publickmusick.org.)
You might not ever be sure what you'll get with the Orchestra of the Age of Enlightenment. The British orchestra doesn't have a single leader of principal conductor — leadership is shared among a core group and conductors are chosen for performances — and there isn't an emphasis on a particular era of classical music. The orchestra does perform on period-specific instruments, but that's only to better serve whatever music is being performed at the time. Three decades in and the OAE maintains a democratic spirit. The orchestra on Saturday, February 17, will perform a program that includes Mozart's "Don Giovanni" overture and Beethoven's Violin Concerto and Fourth Symphony. (8 p.m. in Kodak Hall at Eastman Theatre, 60 Gibbs Street. $26-$81. 274-3000; eastmantheatre.org; oae.co.uk.)
A season that begins with "Don Juan" and includes "Carmen" toward its end will probably offer excitement in between. The Rochester Philharmonic Orchestra's 2017-18 season should fill the bill, with powerhouse guest artists like Itzhak Perlman and Audra McDonald, works like Beethoven's Ninth Symphony and Mahler's Fourth, and two world premieres of concertos. One of the most intriguing concerts doesn't come along until March 2018, but it is the RPO and Ward Stare's contribution to the centennial of the one and only Leonard Bernstein: as a composer, with his symphony "Age of Anxiety," and as conductor, with a piece Bernstein interpreted memorably, Shostakovich's Ninth Symphony. (Thursday, March 1, 7:30 p.m., and Saturday, March 3, 8 p.m., at Kodak Hall, 60 Gibbs Street. $24-$104.454-2100; rpo.org.)