Much of the sand at Ontario Beach is currently covered in grey and white shells. They're everywhere; it's like walking on a carpet of walnuts.
The shells are from dead zebra mussels, an invasive species that first appeared in Lake Ontario in the late 1980's. (Some are also, more than likely, shells from the similar quagga mussel.)
They aren't just a Rochester problem; similar piles of shells have washed up on the lake's beaches in other parts of the state.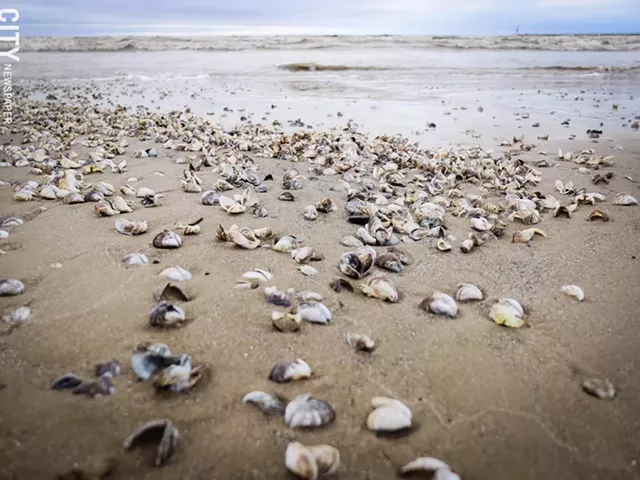 PHOTO BY KEVIN FULLER
Shells from invasive zebra and quagga mussels continue to wash up on Ontario Beach.
Rob Williams, invasive species program coordinator of The Nature Conservancy of Central and Western New York, recalls visiting a beach adjacent to his organization's El Dorado preserve, which is located near the mouth of the Thousand Islands, and finding a layer of shells at least a foot deep.
The shell carpets should serve as a reminder that the mussels, which can disrupt fragile food webs, are a serious threat to the lake and that people shouldn't be complacent, Williams says.
Zebra mussels are established in Lake Ontario and several other freshwater systems across the state, but they haven't made their way into all water bodies. The best way to protect those waters is prevention — a fact that government agencies and environmental agencies have stressed for many years.
For example, boat owners should inspect their vessels and trailers when they pull them out of the water, clean them off, and let them dry for a week or more before using them in a different water body.
Once an invasive species gets established, it's tough to eliminate them and the focus generally turns to preventing the spread of that species.