David Baxter is an unapologetically late riser.
As technical director at Blackfriars Theatre, Baxter begins his work day at the theater around 11 a.m. and takes a break for lunch at 12:30 p.m. — and that's where the routine ends.
"We don't know what we'll be doing at 2 p.m.," he says. "Or on Wednesday, what we'll be doing on Friday. Or next month, what we'll be doing for the next show."
PHOTO BY HUTH PHOTO
Before any show opens, there's a crew working long hours to build a temporary world for the audience. Geva opened its 2016-17 season with "A Funny Thing Happened on the Way to the Forum," with work by scenic designer Adam Koch, costume designer Devon Painter, and lighting designer Brian Lilienthal.
Baxter and his team is currently working on the set for "Twelfth Night" — an all-female adaptation that will open what Baxter calls the "year of the woman at Blackfriars" — and since it'll take place in the 1920's, they're building a two-level speakeasy with existing platforms from last season's shows. Still, the design isn't without its challenges.
"We spent a lot of time with the pipe guy at Home Depot so we could create a railing," Baxter says. "And there are two spiral staircases that rotate in opposite directions, so we had to think about the distance between the steps so the actors come out facing the audience and not the back wall."
Baxter and his crew of retiree volunteers have three or four weeks before each show opens, and they'll work long hours — even painting and drilling around the cast as they rehearse each night — to make sure the set is ready for opening weekend.
Most theatergoers don't think about the crews who work long hours to create the magic of a stage set. The technical designers are also performance artists, in a way; builders of a temporary world with one goal: to make the audience believe (or suspend belief) for a few hours.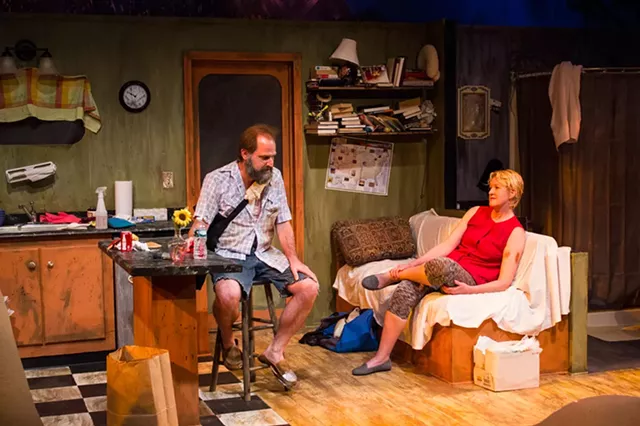 PHOTO PROVIDED
Blackfriars Technical Director Dave Baxter built a running shower for the set of "Annapurna" during the 2015-16 season.
After working with diagnostic software for 40 years at Xerox, Baxter became the technical director at Blackfriars Theatre in 2006. At that point, Blackfriars was still located on Lawn Street in Christ Church with John Haldoupis at the helm, and the two developed a rapport of sorts for each set design.
Haldoupis "would usually give me a watercolor sketch," Baxter says. "Once, he drew one up on the back of a ticket envelope and said, 'OK, here's what I want it to look like.' We have to deal with that a lot. We'll get the artist's concept drawn out, but they never tell you how to make it."
Baxter, now 70, sees every show's design as a challenge. In his free time, he'll go to Home Depot or Lowe's for inspiration.
"I'll just cruise the aisles and say, 'Ah, this could be something. I can use this drainage pipe or this carpet tube, and it'll look like a real pipe on set,'" he says.
In his 11 years as tech director, Baxter has done a lot of improvising. There was the time he built a pinball machine big enough to hide a person for "The Who's Tommy"; the 150 flickering tea lights in "Melanie and the Record Man," each one hand soldered so they could be dimmer-controlled; and, more recently, the "potholes" on the stage of "Hands on a Hard Body," which were actually caused by rolling a pickup truck over a stage designed for human weight.
PHOTO BY GOAT FACTORY MEDIA
"An Iliad" on stage at Geva in 2016 featured scenic design by John Haldoupis and costume design by Georgiana Londré Buchanan.
Usually, regional technical crews have a month or so to execute each set design, but if the show requires something specific, they'll have more notice. That was the case with Blackfriars' 2015-16 season show "Annapurna," which required a shower with running water.
"We had to arrange it so there was a constant trickle of hot water going through the 30-foot-long hose during act one, and then someone backstage flipped the switch during act two when the actress needed to use it," Baxter says. "She appreciated that the water wasn't freezing."
Two groups on Facebook — "Rochester Area – Scenery, Lighting and Props, etc." and "Rochester Area Costumers" — serve as swap and advice hubs for several hundred locals who are part of community, high school, and amateur theatrical groups. Stories range from custom-built cars for "Chitty Chitty Bang Bang" to a 3D coach controlled by invisible wire for "Cinderella" and a moving ship for "The Pirates of Penzance," most engineered by dads of student actors or family members of production team members.
While the scenic design is important, the props and furniture dress each set and add finishing touches. This occupation requires an observant, persistent individual — and usually, one who doesn't mind shopping. Geva Theatre Center's props master, Mark Bissonnette, has been in his role for 20 years. He's currently scouting props for "In the Heights," the Lin Manuel-Miranda musical that will open Geva's 2017-18 season.
"There's a scene where the lights go out in a nightclub due to a power outage, and all the people in the club get out their phones to light up their faces," Bissonnette says. "I've been buying burner phones, but there's a rule about just buying three a day, so I go to Best Buy every day and buy three phones. I almost have enough."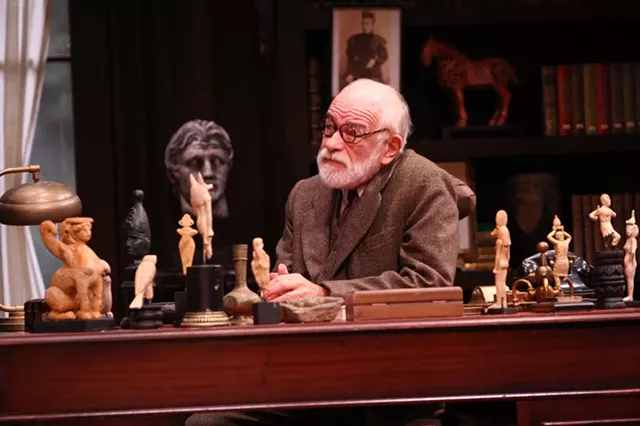 PHOTO BY HUTH PHOTO
Geva created small figurines of deities to replicate Freud's desk in the 2012 show "Freud's Last Session."
When Bissonnette was growing up, his parents were always remodeling the house and he developed a knack for revamping as well. Managing the props shop at the University of Michigan at Flint led to a full-time job before graduation with the Actors Theatre of Louisville for a decade, and he's designed props for every show at Geva since 1997.
"I'm sure there's someone over at Amazon who looks at my profile and is like, 'What is this guy doing with all of this stuff?'" he says with a laugh.
Likewise, Baxter compares John Engel, the props master at Blackfriars, to Morgan Freeman's character in the film "The Shawshank Redemption."
"You know, the guy who says he can get things? Well, that's John," Baxter says. "He'll say, 'You need eight bentwood chairs? Give me a week.'"
Engel is also a 70-something volunteer who works a three or four-week stint to prep each show. And like Baxter, he does it for the love of the stage.
"We're all homeowners, so we still have lawns to mow and driveways to seal and things to do around the house," Baxter says. "But you put your love and time into it for three weeks, then you have time off, and you're back at it for another show."