As the summer stretches out before us, the sunshine hours are ripe with possibility. But while there's opportunities for vacations and cookouts, there's also time to work with volunteer projects that improve Rochester and the region. As cultural anthropologist Margaret Mead said, "Never doubt that a small group of thoughtful, dedicated citizens can change the world; indeed, it is the only thing that ever has."
There are numerous organizations in Rochester that accept volunteers, and we took a look at three grassroots groups that each take the initiative to improve different areas: food deserts that are assuaged by neighbors who garden together; a reading program that helps incarcerated parents stay connected with their kids; and a group that helps keep a unique natural park pristine. Read on, get inspired, and slay your own personal apathy monster.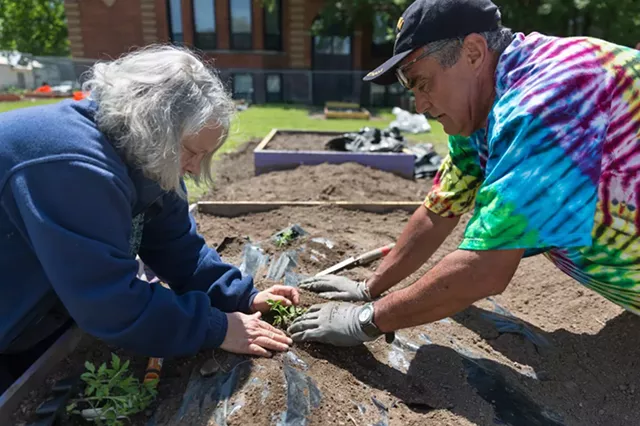 Photo BY AUDREY HORN
Members of the Marketview Heights Collective Action Project grow food, flowers, and community. Judy Douglas and Martin Pedraza tend one of the neighborhood's gardens.
Food-focused neighbors
The Marketview Heights Collective Action Project is an intrepid, grassroots community effort in a time when many of us don't know our neighbors' names. I joined members of the group on a tour of the neighborhood one Saturday, and as we stopped to chat with various people enjoying the nice weather on their porches, one of the group would invariably sit down on the lawn, and begin weeding their neighbor's garden while laughing and discussing plans.
I've never seen anything quite like the familial rapport amid this diverse neighborhood.
The collective began about eight years ago, when members started to plan community gardens in tandem with efforts already in motion to improve housing stability in the area.
The project has three main community gardens: the Sofrito Garden at 227 North Union Street, which is owned and tended by Migdalia Alvarado; the Tea and Herb Garden at 325 North Union Street; and the Children's Garden on First Street, where kids can learn how to plant, grow, and cook food through an annual Field-to-Table program.
The group hosts annual block parties in late August, and switch it to a new street each year to get more neighbors involved. "It piques people's curiosity," says Judy Douglas, who works for CAP's fiduciary agent, PathStone, and has lived in the Marketview Heights neighborhood for 32 years. Last year, the project fed more than 600 people, she says.
Though CAP began with community gardens, it has since branched out to other ways of neighbors sharing resources and skills. Martin Pedraza — who many call "The Mayor" for his hands-on approach — manages most of the community gardens as well as the garden "bump outs" on Union Street, and helps residents with lawn care, plumbing, electrical, and roofing problems.
Another neighborhood resident, Jocelyn Kirkland, makes herself available to help youth apply for GEDs and college. At the resource center at 144 Weld Street, neighbors can receive help with job searches and resumes, and use the fax machine instead of making the trek to various offices.
"This place no longer resembles what we think of as the 'hood," says Yinhao Ye, who moved to Rochester from Singapore three years ago.
The neighbors have increased homeownership through the city's Focused Investment Strategy, which uses Community Development Block Grant funding. Street by street, the majority of the houses are kept up beautifully.
"The stability of folks in this community has really changed," Douglas says. "Even in the rental properties. Some people have been here in the same house renting for 10-plus years. It's not like it used to be, when there was a constant turn over."
And the loveliness of the neighborhood is further enhanced by the neighborhood's Blocks in Bloom program, which Pedraza oversees with the help of other enthusiastic gardeners. "Beautification, I've found, is really key in this community," Douglas says.
The Collective Action Project welcomes volunteers for the resource center and donations for the gardens. To learn more, call 563-7203 or visit marketviewheightsroc.org.
Photo by julie gelfand
Through the Storybook Project, incarcerated parents can connect with their children via recorded readings of books, which are sent to the kids each month.
Connecting families
There's a growing movement in America to reconsider how we treat those who've spent time in prison, and work is being done by average citizens to help lower recidivism and bring people back into society after their sentence.
Canandaigua resident Claire Kremer founded The Storybook Project 12 years ago after learning about a Texas-based program that helps keep jailed parents connected with their children through reading.
Twice a month, The Storybook Project gives parents — who are pre-screened to ensure there are no protection orders that will be violated — in the Ontario County Jail the opportunity to select a volume from a room of donated books. The program's volunteers assist in making recordings of the parent reading the book, which can include a greeting. A CD is made from that recording, and mailed with the book, which may also include a note, to the child.
"If there are many children in the family, we do individual mailings for each child," Kremer says.
Though the volunteers never have direct contact with the children, the impact of the program is evident in the improved conduct of inmates (participation can be revoked by the corrections officers as penalty for getting into trouble). And the program is based on studies that show that keeping jailed parents connected with their children lowers the chances of re-offending in the future. It also raises the chances of parents reconnecting with their families after time has been served, says Linda Moroney, who is working on a documentary about Kremer's efforts called "Turn the Page."
"The kids go back to these books over and over, because they can hear their parent's voice, but they're also learning to read along," Moroney says.
The website for "Turn the Page" cites some startling numbers: "One in 28 children in the US has a parent who is incarcerated. More than 50 percent of these children never see their parent the entire time of incarceration."
"As a society, we say we care about children, but if we demonize prisoners, we're going to demonize their families," Moroney says. "We don't think about people in prisons as coming from families worth preserving, worth maintaining," or having children that we should care about.
Last February, Britt Hopkin helped start a version of The Storybook Project that works with women inmates at the Monroe Correctional Facility, where he has volunteered for six years through the prison ministry of Saint Peter's Episcopal Church.
"This isn't just about the child and the mother," Hopkin says. "There's an educational component in this. Getting people to see that prisoners are people too is critical to integrating them back into society in a more ethical way."
There are many ways to volunteer for The Storybook Project, even if you're not comfortable going into a jail. Volunteers help burn CDs; raise money or apply for grants for books, which can be acquired at a discount from publishers; or donate new books directly. The most popular books are "Goodnight Moon" and "I Love You Forever," Kremer says.
For more information, email ckremer1@rochester.rr.com for the Ontario County group, and check out prisonministry-edr.org for the Rochester group.
Photo PROVIDED
Nearly 80 volunteers helped the Friends of Washington Grove clear the space, located in Cobb's Hill Park, of debris during April's Clean Sweep.
The keepers of the grove
Enjoying the simple, free pleasure of the outdoors can be easily paired with small acts to help protect our local environment — and of course, both the impact and joy are multiplied with friends.
Friends of Washington Grove is a non-profit organization that assists the City of Rochester in maintaining Washington Grove, 26 acres of relatively undisturbed old-growth forest that was acquired by the city in 1912. Some of its oak and hickory trees are 250 or more years old.
Located in Cobb's Hill Park on the eastern extremity of the Pinnacle Range, the space is of geological, botanical, and ecological interest, and a favorite spot for hikers and trail runners.
"It's a forest where, in at least the past couple hundred years, the trees haven't been cut," says Andrew Seager, president of the Friends board. "There are very few parks in cities in the US where that is the case."
The group, which consists of board members, naturalists, and a number of volunteers, removes debris and invasive species such as black swallow-wort from the grove, plants native species like black and white oak and strawberries, and maintains the woodchip trails. A group of almost 80 volunteers, mostly high school students, participated in May's Clean Sweep to remove garbage from the grove.
Seager calls the space "majestic. It's an unkempt place where you feel a little bit like you're in the wild." And aside from protecting a relatively unique bit of nature in the city, there's research coming out about how spaces like this actually change brain function, he says. "It's a calming space people can retreat to. And we certainly could do with a little of that in this world."
To learn more, email friendsofwashingtongrove@gmail.com, and find the organization on Facebook at facebook.com/friendsofwashingtongrove.
Nature: Groups can help monitor the environment by going out on frog watches, bird counts, and bat-listenings, or participate in "Pulling Together," a program for identifying and removing invasive species. The Cornell Ornithology Lab has a readymade program (birds.cornell.edu/citscitoolkit/projects), and the Seneca Park Zoo offers opportunities as well (senecaparkzoo.org/citizen-science). Learn about more programs at citizensciencealliance.org and scientificamerican.com/citizen-science, or just google "Citizen Science." You can even propose a project to some of the sites.
Furry Friends: There are far too many cats and dogs who are without "forever homes." Verona Street Animal Shelter not only provides shelter, but improves the quality of life for the fur babies during their stay. You can volunteer in a number of ways, including walking dogs, fostering, and assisting with fundraising events. Learn more at vsas.org/volunteer.