Following former Vice President Al Gore's campaign to educate the public about global warming, the documentary "An Inconvenient Truth" did a lot to move the climate change conversation into the popular consciousness when it was released back in 2006 (and picked up a couple Oscars along the way). Now comes "An Inconvenient Sequel: Truth to Power," from husband and wife filmmaking team Bonni Cohen and Jon Shenk.
A sort of State of the Earth address, it's a more challenging film than its predecessor, giving audiences an inside peak into Gore's crusade and what's changed for the planet over the last 10 years. While things have undeniably gotten worse in that time, the film argues there's reason to remain hopeful.
CITY spoke with Cohen and Shenk about the challenges of following up a landmark film, what the rise of Donald Trump means for climate change efforts, and the impressive stamina of Al Gore. "An Inconvenient Sequel" opens Friday, August 11. An edited transcript of that conversation follows.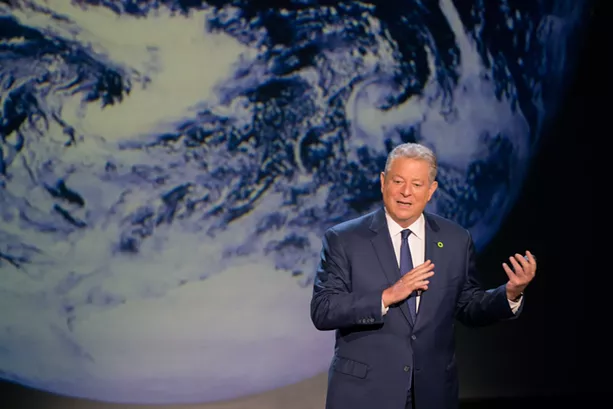 PHOTO COURTESY PARAMOUNT PICTURES AND PARTICIPANT MEDIA
Al Gore gives good presentation in "An InconvenientSequel: Truth to Power."

CITY: How did you both come to be involved in "An Inconvenient Sequel"?
Jon Shenk: Well, Bonni and I were contacted by Diane Weyermann, who heads up the documentary division of Participant Media — Jeff Skoll's film company — which was responsible for the first "Inconvenient Truth." We've known Diane for years, and we had made a previous climate film, and she thought we would be a good directing team to bring in for the sequel.The thinking at the time was because the climate crisis had grown so much worse in those 10 years — global temperatures, sea level rise, storm surges, droughts, fires — all the markers of climate change growing even worse than science had predicted, combined with the incredible drama of what's gone on with the cost down-curve of solar and wind energy. Al Gore, Jeff, and Diane all thought that it was time for a sequel. And we certainly agreed; we thought there was this natural drama going on that really is a battle between this new way of getting electricity and in doing things that continue to wreck our environment.

"An Inconvenient Truth" was such a cultural lightning rod when it was released; did you feel any pressure to deliver something that would feel like that kind of event? Or is that something you tried not to think about?
Shenk: No, we were intimated for sure. [Laughs] "An Inconvenient Truth" was such a successful movie, on so many levels — not the least of which was just pure eyeballs and box office. It did so well, but more importantly, it educated people all around the world and sort of gave us a vocabulary about how to talk about the climate problem. And of course, it also brought Al Gore back to the foreground of our culture years after the 2000 election, so it had that going for it as well.
We actually felt lucky in a way that we could stand on the shoulders of that film, and we asked ourselves, "Well, what can we do to add to this conversation?" We knew that we had this incredible drama around the energy Al Gore brings to the fight for sustainable energy and raising awareness about the problems, but also raising awareness about the hope and change that solar and wind can bring.

The first film focused largely on Al Gore's slideshow presentation. Your film includes it, but opens things up a bit more. How did you decide what form the new film should take and how much to maintain the format of the original?
Bonni Cohen: Well, we wanted to respond to the times, and "An Inconvenient Truth" was created at a time when there was much less known about global warming. The film served as kind of a lightning bolt that went around the world and awakened people to the idea of global warming and the climate crisis. And here we are 10 years later, we have a different assignment, which is to talk about how things are now, and talk about how the climate crisis is in fact a lot worse than it was then. But also, and perhaps even more importantly, to talk about the solutions that are now affordable, and alert the world to what those are and how quickly we need to move toward sustainable revolution.
Shenk: And we thought, "What if instead of just showing Al Gore on stage, we actually go behind the scenes and do more of a tour film, where we see him meeting with scientists in Greenland, getting the information firsthand, going to Tacloban in the Philippines and meeting with survivors of these hurricanes, which are now stronger than ever?" And of course, in the film you see him become integrated into the Paris climate deal — almost like a political thriller, where he's trying to do everything he can to make the agreement a success there. We wanted to use Al Gore as a way to personalize the climate crisis for people even further. So that's where we really put our energy in: following him and showing viewers the energy he brings to the issue, and hopefully inspire people to do the same.

You followed Al Gore for two years as he traveled around the globe doing work with climate change. What conversations did you have about the kind of access you would get during those travels?
Cohen: We explained to him what we wanted in terms of what we thought would be successful access-wise for a kind of intimate, vérité film. We wanted to really be able to show viewers this incredible work that he does, often behind the scenes. And in order to do that, the camera would need to be present in a lot of meetings, on airplanes, at his trainings, when he's having meetings with his staff, etc. He raised an eyebrow, but then as he started to think about it, really understood the value of the authenticity those scenes we would be able to capture.
Shenk: What you see in the film is a reflection of the conversations we had. We said to him, "Look, we think that rather than just reporting on meetings and reporting on facts and figures, we want to be there when you actually learn it." And of course, anyone in their right mind would question a camera following them 24/7 for two years. [Laughs] So I think that he was skeptical. But on the other hand, I think he realized that when we get scenes like where he's in India debating the environment minister and the energy minister about what it's gonna take to solve the climate crisis, there's authenticity there, and you really see the emotional intensity of the scene. That's much more vivid and authentic and tells a dramatic story then it would be with us just reporting on a meeting like that.
In that time, was there anything that surprised you about the work he's been doing?
Shenk: We were blown away by his energy. I mean, he's 20 years older than Bonni or me, and he runs around the planet like he's a lot younger than us. We would often get to the end of the day, where we were totally exhausted and ready to hang it up, but he would be on to the next meeting. So of course we would have to follow. That was the thing that was most surprising: just how much endless optimism and energy he has to educate himself and to turn that material into his training and lobbying at every level — local levels, talking to mayors, talking to business leaders, talking to leaders of foreign governments about how we can go about making this change to a more sustainable energy mix.
Were there any particular things you would have included in the film, but didn't have the opportunity?
Cohen: You know, there are always great babies we have to leave on the cutting room floor. There are just so many amazing things that we witnessed Al Gore doing. One scene that we were just thinking about was, you see him comforting a climate refugee in Tacloban, but we had other scenes where he was out in people's homes, those whose homes were flooded, and had to figure out ways to save their children and had never had any kind of natural disaster experience there before, having lived in those homes for 40 years. It's just very poignant to see Al Gore interact with those people, and how much it means to him to continue the crusade after having those visits and those experiences.

There's a new title card at the end of the film about President Trump withdrawing the US from the Paris Climate Accord in June. How else has the film changed since it premiered at Sundance back in January?

Shenk: Very little actually. We did change the end title cards because we felt there's probably not going to be a whole lot of films out there this year that have their climax at the Paris Climate Summit. So given that that's where a lot of the drama of our film takes place, we really felt like we owed it to the integrity of the film to include the news that the US President has decided to initiate that withdrawal. On the other hand, we were blown away by the response to Trump, and all the mayors and governors of states like Hawaii, California, and New York that have stepped up and made public announcements to tell people that they were going to do everything they could to stay in the agreement.
We had some other subtle things where we acknowledge in the film now that Trump made good on his promises to appoint people with deep interest in the fossil fuel industry to cabinet posts like BPA, Department of Energy, obviously Rex Tillerson at the Department of State. We felt it was important to acknowledge that Trump's campaign rhetoric actually did turn into reality when he became president.


All things considered, the film ends on a mostly upbeat note. Was that tone difficult to maintain when you take into account how things have been progressing?
Cohen: I think we all felt the weight of Trump's decisions to not only make these appointments, but then subsequently pull out of Paris. And how devastating that is to continuing the crusade to get things on track with the sustainable revolution. But on the other hand, certainly Jon and I have had the privilege for the last two years of seeing people around the world do this incredible work. Many had seen the first movie in 2006 and are now influenced by that, and have taken up the charge, running alternative energy companies or doing incredible climate work around the world. There's so much to be hopeful about that we felt by the end of the film the hope is authentic. While things, yes, have gotten much worse, there's so much more we can do about it. And people are doing it.
You've both been on the directing side of documentary features since "Lost Boys of Sudan" in 2003, and "Rape of Europa" in 2006. How have you seen the form change over that time?
Cohen: I don't know if the form has changed, so much as the marketplace. The consumption of documentary has changed dramatically. I mean we're seeing a golden age of documentary happen right now, with all kinds of new platforms for nonfiction media to be consumed on, and also just the appetite for it.
As a result, there's much more demand for the kind of stories we tell. It's a very, very interesting time to be in this field because as the regular news media becomes more and more disparate, it's hard to know where to get your real facts from, and there's so much more divisiveness around it. There's a lot more reliance by the general population on the kind of education and consumption of fact you can get from documentaries.
What do you think the role of a documentary filmmaker is culturally? Has that role changed in the current political climate?
Shenk: Well there are so many different types of documentaries, it's really become such a big genre — if you could call it that. Bonni and I always feel that it's great combination of the art of filmmaking and the basics of telling a story. Like a fictional feature film, a great documentary requires character and drama, things that are surprising, twists and turns, and growth in a main character over time — all those things.
There's an investigative journalism side, where documentarians have the luxury to spend a lot of time on a single story. As newspaper budgets have shrunk over the years, documentaries are still one place in the media landscape where nonfiction storytellers are really spending a great deal of time on a single subject, and focusing on stories that are crucial to get out there. So when a viewer goes to see a documentary film, they're often getting the benefit of that total immersive process that great investigative journalism has done over the years.
Combined with how the technology of cameras and editing has come so far, where it's been democratized in this really wonderful way. There's so many great voices out there in the documentary film world that might have found funding difficult 20-30 years ago. But now people can just pick up a camera and start telling their story.
EDITOR'S NOTE: This article has been updated to change the film's Rochester opening date.