Some Rochester school officials travelled to Albany recently to meet lawmakers on several pressing issues, including phase two of the massive project to overhaul city schools. School officials gave legislators a brief overview of the roughly $1.2 billion construction project — one of the largest projects in Rochester's history.
The second phase of the multi-phase project will involve 25 schools over 10 years, according to the most recent proposal. Some of the work includes additional construction on schools included in the first phase.
Phase two construction is expected to begin in the summer of 2015. Work on the entire overhaul project, which is called facilities modernization, is supposed to be completed by 2024.
While the school board has approved the plans for phase two, new state legislation is required to authorize the nearly $450 million required for this portion of the work.
State Assembly member David Gantt was instrumental in getting the legislation passed for the $325 million first phase of facilities modernization, and will probably be called on for a repeat performance.
Getting phase two off the ground should be easier than it was with phase one. Then, changes in superintendents led to a series of starts, delays, and revisions to the original building plans, as well as to the list of schools that would be worked on.
For example, School 16, an older building located in the 19th Ward, was slated to be closed. But pressure from parents and residents changed those plans.
And former Superintendent Jean-Claude Brizard significantly altered the plans for several schools in the first phase so those schools could grow from K-6 to K-8.
But the overall project still faces significant challenges. School officials are trying to plan construction for buildings that will meet the district's future needs, but that future is difficult to predict. Student population is declining as charters continue to eat away at the district's enrollment.
Officials are also trying to make sure the schools they're remodeling are in neighborhoods expected to have the highest concentration of school-age children going into the future.
And there's the disruption and stress that the project causes teachers, students, and families. While construction is under way in some schools, students and teachers have to be relocated to alternate locations — what the district refers to as "swing space."
And the modernization project is occurring in conjunction with several other significant changes such as the expansion of instruction time in some schools.
Schools 5, 12, 17, 28, 50, 58, Charlotte, East, and Monroe are all part of the $325 million first phase of facilities modernization. Work has been completed at 50, 17, and Charlotte, and school officials say that, in many respects, they are models of what the public should expect to see with the rest of the work.
School 50 is one of the schools that expanded from K-6 to K-8. Fifty-thousand square feet was added to the building, almost doubling its size. Much of the original building was gutted, says Tom Rogér, program director of the Gilbane Building Company, the firm managing the construction project.
"We played a little bit of musical chairs," he says. "The old library became the art room and the old gym became the new cafeteria."
School 50 also has a new kitchen and much of one wing of the building is devoted to arts and music.
But one of the most impressive features is a brand new regulation-size gymnasium complete with bleachers and a performance stage built into one end.
The ventilation, heating, and electrical systems at School 50 all had to be replaced to meet building code standards, Rogér says. And Superintendent Vargas requested that the plans for several schools include air conditioning — even in the gyms — which is a major expense.
Two major factors had to be considered with School 50 as well as with some of the district's other buildings, Rogér says. The buildings were originally designed at a time when students walked to school, went home for lunch, and didn't spend as much time inside the buildings as they do today.
"We had to look at how these buildings relate to the surrounding neighborhood," he says. "How they worked then was a totally different situation from how they need to function today."
Like School 50, School 17 has been virtually rebuilt. It has a new addition, as well as a new gymnasium, library, and media center.
"We never had a place where kids could sit comfortably and read a book," says School 17 librarian Ronald Boyd. "Kids come and they look around and ask, 'Is this the public library?' They really have responded so positively."
Off to one side of the library is a separate room — a media lab with more than a dozen computer stations, a Smart Board, and a sound system that evenly distributes the instructor's voice around the classroom even if the instructor is moving from station to station.
"The architects did a fantastic job," Boyd says. "We just love it here."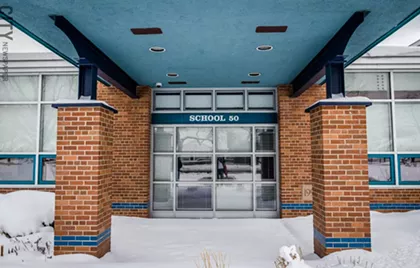 16 slides