The historic Central Church of Christ was packed Saturday with about 500 people protesting President Donald Trump's rhetoric and policies for their damage to the poor and people of color.
In spite of the bitterly cold, damp weather, following the event at the church, many of the protesters marched up East Main Street to a rally at the Liberty Pole carrying signs such as "Secular Humanists Against Racism," "Black Lives Matter," and "Another Jew for Justice."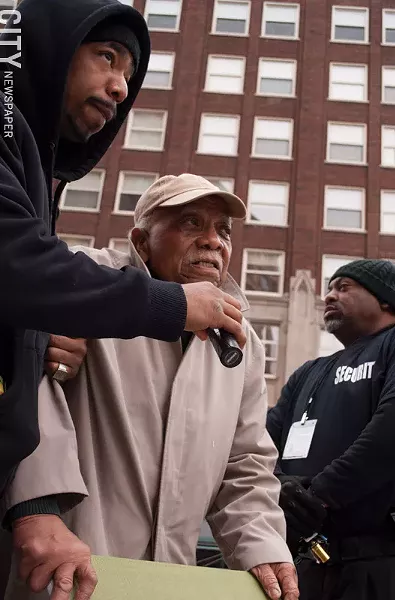 PHOTO BY RENÉE HEININGER
Minister Franklin Florence Sr. spoke at Saturday's rally.
The Liberty Pole rally drew nearly a dozen speakers, and activists challenged Trump's statements, his distortion of facts, discriminatory remarks, and his business practices.
Minister Franklin Florence Sr., a long-time Rochester religious and civil rights leader, was the principal organizer and key speaker at the event, which was named a "United Community Response to Donald Trump's Ongoing Hatred and Racism."
"They have given the advantage to those who have always had the advantage," Florence said in a sharp rebuke of the tax overhaul. "People get money in the name of the poor, while the poor are getting poorer. Now how's that possible?"
Calling Rochester "Frederick Douglass City," Florence encouraged the protesters to protect the freedoms Douglass fought for by speaking out and voting. And he vowed to organize more protests.
"We want to do this until Rochester wakes up again," Florence said. "We have to empty this silent Congress that enables this man. We're tired and sick of what's going on. We're saying, 'This is our country, too.'"
The event drew a diverse crowd. Some protesters said they were genuinely afraid of the direction the country was headed under Trump, and that the country's struggles with racism are getting worse under his leadership.
"I'm here because I've had enough of the division in this country," Jennifer Abdalla said. "God made us all in his own image. Silence is just not acceptable."
Heather O'Donnell took her young daughter to the protest because she wanted her to understand the importance of activism.
"This is our second march we've been to," she said. "We're opposed to Trump's rhetoric and his policies."
The rally also drew criticism of the Trump administration's slow response to the crisis in Puerto Rico following Hurricane Maria. Many Americans don't know that the US invaded Puerto Rico in the late 1800's, during the Spanish-American War, and that it's been held as US territory ever since, Gladys Pedraza-Burgos said, the COO of the Ibero American Action League.
"My father always told me, 'We live in the United States of Amnesia," Pedraza-Burgos said. Puerto Rico remains completely dependent on the US, but it has no representatives in the US Congress, she noted.
While many of Trump's supporters have criticized resistance to his presidency and have disparaged events like Saturday's, Florence has strongly encouraged resistance.
"He asked us to think about what people like Trump would probably do if there was no resistance," the Reverend Clifford Florence said at a press event last week. "Trump is doing more damage than we can probably repair or get over in a few years. In fact, it may take decades."