Sandra Parker, president and CEO of the Rochester Business Alliance, is neither an elected official nor a business owner. But her retirement announcement more than a year ago dominated the 48-hour local news cycle because of Parker's uncanny aptitude for politics and business. (Parker retires at the end of the year.)
Parker speaks with a Midwestern-style sturdiness, clips through sentences, and sometimes even finishes your thoughts. Her marriage to well-known local developer John "Dutch" Summers qualifies the couple as one of the area's most influential.
Parker's advocacy for reforms that would favor the business community has endeared her to a certain segment of the community. But her conservative approach to social issues has often made her the de facto front woman for Rochester's well-to-do. Critics of Parker and the RBA often see the business community as uncaring, out of touch, and disconnected from the city's swelling poor population.
Parker refutes the idea that business doesn't care, and she places much of the responsibility for the city's economic divide on public education -- a perception likely borne out of Parker's own background.
She worked in the human resources department at Rochester Institute of Technology early in her career, and eventually became president of the former Industrial Management Council. She helped engineer the merger of the former Chamber of Commerce with the IMC to create the Rochester Business Alliance in 2003, and has led the organization since 2005. ; studying hard and working hard are the keys to success in Parker's world.
During her tenure with the RBA, Parker has coddled, coached, and cued its nearly 2,000 members — a vast collection of Rochester business leaders: large and small manufacturers, health care companies, business service providers, educational institutions, nonprofits, and retailers.
Parker says that as a single entity, the RBA has heightened political stature and is a stronger advocate for the Rochester region's business community. That kind of focused management has furthered efforts to help members build and strengthen their businesses, she says.
Some of the organization's initiatives amount to soft touches such as professional development and networking. But others are more strategic and aimed at stabilizing and improving the region's rocky economy. For too long, the economy had been overly dependent on the big three employers: Eastman Kodak, Bausch and Lomb, and Xerox.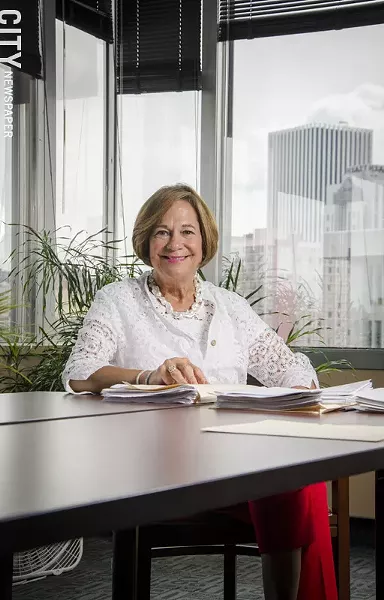 PHOTO BY MARK CHAMBERLIN
Parker says Rochester schools Superintendent Bolgen Vargas has the toughest job in the area, and he needs more time to succeed.
Even before the chamber and IMC merger, Kodak was shedding employees. Parker saw it happening, but says she didn't realize at the time how significant the company's problems would become.
"I mean who would have thought that Kodak would have gone through bankruptcy?" she says. "I never pictured that. When I started working at IMC in 1981, Kodak employed 62,000 people right here in this community."
The transition from a manufacturing hub to a more diversified economy has ultimately been good for Rochester, Parker says. But the state's high taxes and labyrinth of regulations has hampered that transition and continues to stymie economic growth in the region, she says.
"New York has had a reputation for being very business unfriendly," Parker says.
And she cites co-founding Unshackle Upstate New York as one of her most important accomplishments. Unshackle is a coalition of business groups that works to increase public awareness of how taxes and excessive regulations are a relentless drag on the upstate economy, she says.
A public relations campaign has also been aimed at lawmakers in Albany to counter some of downstate's influence, Parker says, and to get lawmakers to recognize that New York's declining population is linked to its hostile business climate. People are following businesses to more favorable environments, she says.
But Parker remains unpopular with leaders of some of the area's social and human service organizations. Some are relieved that she's retiring.
"I think her promotion of Unshackle Upstate and promoting tax breaks for the rich have only exacerbated the inequality gap," says Colin O'Malley, Metro Justice's organizing director.
And those tax breaks are paid for through reduced spending on education, particularly in urban school districts, where it is needed most, O'Malley says.
But Parker is unwavering in her views on public education. Though she lists the area's colleges and public schools as one of Rochester's advantages when businesses consider expanding or moving here, she makes one exception — the Rochester City School District.
Parker was an ardent supporter of mayoral control when former mayor Bob Duffy pushed for the legislative change, and says that per pupil spending on students in city schools is ridiculously high.
And while she is a strong ally of city schools superintendent Bolgen Vargas, she's been critical of the unions representing the district's teachers, principals, and administrators.
And she says that diversifying the work force — a particular focus of the current city administration — begins with the public school system, not with the business community.
But City Council member Adam McFadden says he isn't convinced that local business owners are going far enough to diversify their work forces. In order to eliminate the economic gap and reduce Rochester's well-known concentration of poverty, businesses have to make a concerted effort to look for and hire workers from the black and Latino communities, he says.
McFadden says that there's a perception in the business community that qualified black and Latino candidates don't exist.
"They're out there," he says. "But they [business owners] are often not diverse enough in their thinking."
Parker counters that the business community, especially construction company owners, are very aware of their responsibility to hire women and minority workers. But well-paying jobs are going unfilled because candidates, namely students who graduate from city schools, lack the basic skills in math, technology, and reading necessary to do the work, she says.
And while businesses do offer training and development programs, including some programs in city schools, it's not the business community's responsibility to provide the public with a basic education, Parker says.
Jim Bertolone, president of the Rochester and Genesee Labor Federation AFL-CIO, has collaborated with Parker on several initiatives, particularly on lobbying Albany for increased state aid for the city.
But Bertolone opposes Unshackle Upstate's push to reform New York's Scaffold Law, which places absolute liability for elevation-related worker injuries on business owners, even if workers have shown gross negligence in their work habits.
And Bertolone says his members do not agree with Unshackle's support for reforming the Triborough Amendment to the Taylor Law. The clause prohibits public employers from making changes to expired labor contracts until a new agreement can be reached.
But Bertolone says that even though he doesn't agree with Parker on a number of issues, they have both made an effort over the years to find common ground. And he says he is concerned that Parker's replacement will be even further to the right.
In recent interviews, Parker talked about her legacy with the RBA, her regret about not getting involved sooner with education issues, the advantages and challenges of doing business in the Rochester area, and why the University of Rochester will continue to be a positive force in the region's economy. She also talked about Mayor Lovely Warren's first few months on the job.
The following is an edited version of those interviews.
CITY: What did the city and the business community learn from watching Kodak virtually collapse?
Parker: I believe we have become stronger after having gone through this. We are much more diversified and our smaller to medium-sized businesses are not so dependent on the three big businesses — Kodak, Bausch and Lomb, and Xerox — as they once were to support their businesses.
And we've developed into much more of a global community; more Rochester businesses are finding customers in the global marketplace.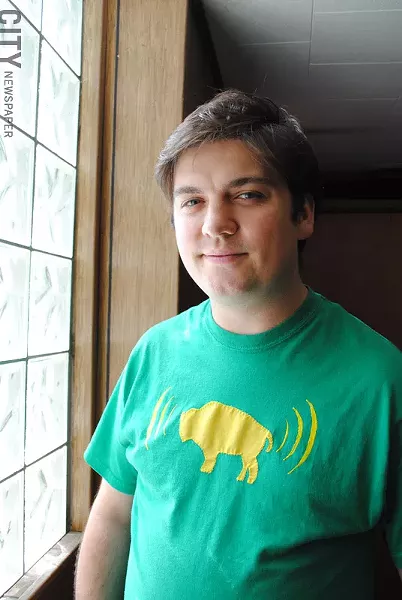 FILE PHOTO
Colin O'Malley, organizing director for Metro Justice, says that Parker's tax reduction lobbying results in policies that hurt public education and the poor.
Some people are concerned that the same risk could be building with the University of Rochester, which is now our biggest employer. Have we diversified enough?
I do think we are far more diversified than we once were, and I think that the UR will actually help with continuing that diversification. All of the research that they're doing at both the UR and RIT, and the spin-off companies that will come out of their work are exactly what we need.
They're the new Kodaks, but they're not just replacing companies like Kodak. Their discoveries will lead to new ideas, new approaches, and new businesses.
The other thing that I think is extremely positive about organizations like the UR and RIT is that they're going to stay right here. They're not going to pick up their bags and leave. They're not going to move offshore. They're anchored here. And that isn't the case with publicly held companies.
Has the era of the big employer ended, at least in Rochester?
Yes. Our big employers are those that employ in the thousands, not in the tens of thousands anymore. Wegmans, the UR, and certainly with the merger of the two hospital systems [Rochester General and Unity Health], we've got some bigger employers.
But in terms of large manufacturing and big [multi-national] businesses, that's not the future of Rochester. I think it will be very difficult to attract a big company like that to Rochester.
What we do have is a healthy environment for smaller employers. And Kodak still employs about 2,500 employees, and that's nothing we should sneeze at. They continue to bring a lot of money into the community. And it's a high-technology company, and their R&D facilities are still here, which I think is really important to us.
When companies talk to you about relocating or expanding here, what do you cite as some of the advantages that Rochester offers?
Certainly the cost of living is our biggest advantage. Our housing costs are very reasonable. And I think the cultural aspects are so strong considering the size of this city. You can enjoy the arts, music, and museums. We pack a lot of entertainment value into this area.
And outside of the city school district, our education system is very strong and very attractive to employees moving in with families.
The commutes are reasonable. People who come here from New York City or the West Coast are just amazed that it's 20 minutes to anywhere here.
And frankly our work force is one of our biggest assets. Our work force is highly educated and highly motivated. That has always been an attraction.
What have employers told you are the disadvantages to being here or choosing to relocate here?
Without question, it's our overall business climate in New York State. Our taxes are still very high; our income and property taxes are very high.
And regulations on businesses from the state are impossible.
I do think we've made some progress. But I worry about some of the promises the governor has made to the Working Families Party, such as increasing the minimum wage.
What do you mean by excessive regulation?
A key example of that to me would be the Scaffold Law, [which] adds costs to every project and home built in this state. We're the only state in the country that has a law like Scaffold. And there's nothing on the horizon that indicates that there will be a change anytime soon.
The Triborough [Amendment] needs to be reformed.
And the Wage Theft Prevention Act, which requires all employers to have their employees sign a document in the beginning of the year verifying how much each one makes. It's there on their paychecks. The cost of something like that every year to an employer like the UR, which has 23,000 employees, is monumental. It's crazy because there's no value in it.
FILE PHOTO
City Council member Adam McFadden says that Rochester's business community could do more to diversify its work force.
On the issue of high taxes, is it more relevant in Upstate New York compared to Manhattan?
It's much more of a problem here because more people here own their homes. Far more people rent their apartments in New York City, so they are not as burdened with property taxes.
And the property tax rates that people pay in Monroe County for the value of the houses are some of the highest rates in the country. That's one of the things that shock people when they move here. They like the fact that they are able to buy a house cheaper than in other parts of the country, but they're shocked at the property tax rates.
You've lobbied the state government for more financial aid for Rochester. Do we get our fair share and have we done a good enough job making lawmakers aware of our needs?
I think we've done a much better job than we did in the past. One of the accomplishments during my tenure has been bringing together various community leaders to focus on five or six initiatives that would reap the biggest economic benefit. What will have the greatest potential for creating jobs? I'm referring to the Rochester Community Coalition, which brings together about 15 different individuals, including labor.
And we reach an agreement on what are the projects and initiatives that will give us the biggest bang for our buck. Then we present those to our local delegation and we say, "Look, guys, you've got to work together here. These are the priorities. We know that you're going to get asked for dollars from every group in the community, but these are the high priority items."
I believe that has helped us. And I have to say that this past year especially our local delegation pulled together and they did the best job of any that I remember. The premise of getting people at the local level to identify what's best for the region and delivering that message to Albany is absolutely a positive step.
Some people are going to find it hard to believe that our area's political leaders coalesce and work together because in the past, city and county officials haven't always been cooperative.
Yes, but I think the Community Coalition is a prime example. The mayor has sat at that table along with County Executive Maggie Brooks, and we hammer out an agreement in terms of what community projects we're going to agree on. And they're not necessarily going to be each person's top priority, but we do reach an agreement.
Economic inequality is increasing, and many people in the working class don't believe that business leaders care about helping them get ahead or helping them receive fair treatment.
Business needs to get its message across that it is concerned about, for example, improving education. It's concerned about it not only from the moral aspect of it, but from the economic aspect, too. We can't be throwing away 30,000 kids. These kids are graduating from the Rochester school district with a terrible education.
Business does care that we have the fifth highest poverty rate in the country. And business does care that downtown looks the way it does. We want a vibrant downtown that's good for business, good for their employees, and attracts more people. It just makes the whole economy healthier.
I don't think that business has done a good enough job of explaining that. I don't think that the average Joe Citizen understands that business cares for economic as well as moral reasons.
This year is the 50th anniversary of the 1964 riots. Some historians say that the business community was at least partially responsible for creating the climate that led to the riots. Has the business community done enough to close this economic gap?
But the gap is not necessarily due to a lack of jobs. The business community is saying there are jobs available. The lack is in education and skill sets.
The business community isn't going to create jobs where low-level skills are needed because we don't have those jobs anymore. We have higher skill sets needed now.
We understand that poverty is an obstacle for many folks. And that's why we keep pounding on the issue of education because it's not only the key to folks getting better paying jobs, but it's the key to getting out of poverty.
But wouldn't raising the minimum wage at least give people a reasonable chance to get out of poverty?
Raising the minimum wage has the potential to reduce the number of jobs rather than increase them. And in this area, minimum wage is really a beginner wage for trainees. Very few of RBA members are minimum wage payers. They pay more than minimum wage. (Parker says that readers should keep in mind that the majority of the RBA members are small businesses with fewer than 100 employees.)
Just speaking philosophically, does the business community believe that it has a responsibility to help society by going beyond what's good for business?
Absolutely. Just as a practical example, within RBA we have three tiers of membership. We have business builder, which is generally smaller employers; corporate members, which are small and large employers that want to be more engaged with RBA on a number of fronts; and then we have partner levels.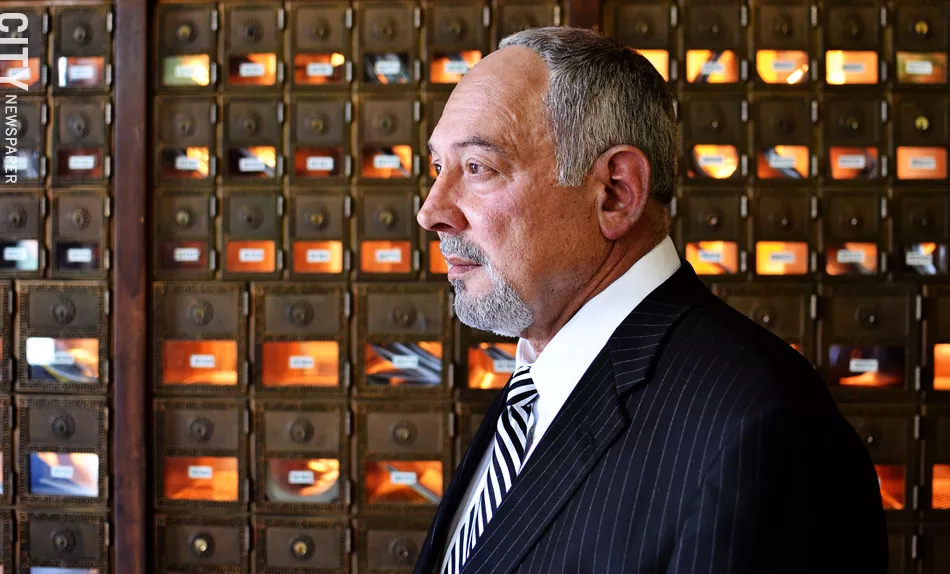 FILE PHOTO
Parker has never been hard core anti-union, says Jim Bertolone, president, Rochester and Genesee Valley Labor Federation AFL-CIO.
Our partner members pay a higher level of dues to the RBA to support some of the community-based things that the RBA does. It's their funding that helps the RBA address some of the issues that face this community: the work that we do in health care, our advocacy work, Unshackle Upstate, and the work we do with the city school district. This work goes beyond the members to help improve this community.
(Parker says that the RBA provides financial support to the Hillside Family of Agencies and the Hillside Work-Scholarship Connection, which help city school district students. Also, many RBA members have "adopted" city schools and provide different types of support and resources to the district, she says.)
Some of your critics are going to read that and say that Parker and her members say things that sound good, but at the same time they promote reducing taxes and giving tax cuts to millionaires. And that results in less funding for urban schools.
[Superintendent] Bolgen Vargas has repeatedly said that the city school district does not need more dollars. It's use of those dollars and how those dollars are allocated that matters.
This city and some districts around the state are now paying about $20,000 per student to educate our kids, and look at the product we're getting.
Have the right projects received the right kind of support from COMIDA? Or is COMIDA giving large businesses an unfair advantage over smaller businesses?
I haven't been that involved in the COMIDA process. The only serious criticism I have of COMIDA would be that giving dollars to companies that are moving from one location in Monroe County to another makes no sense to me. Helping a company, let's say, move from the city to Pittsford, that adds nothing. It just shuffles jobs.
If there is a company from outside the area that wants to relocate here, that's different. I think that is a great use of that kind of funding.
If free-market policies work, why should businesses get any tax incentives? Why not let the market determine which ones succeed and which ones fail?
Because we're facing competition from other parts of the country. If we're trying to keep a business, or if a business is given an incentive to move to North Carolina or Virginia, we want New York State to be able to offer businesses incentives to move from those states up here.
How do you think Mayor Lovely Warren is doing?
I think she had a rough start, but I think she is doing better.
I think she really has done a good job of telling the Rochester story in Albany and Washington. And I think the new manufacturing designation that was just awarded to Rochester has great potential.
(The Manufacturing Community designation will reportedly give Rochester preferential consideration for up to $1.3 billion in available federal funding, according to a press release from the City of Rochester.)
What about Rochester schools Superintendent Bolgen Vargas? You've been a vocal critic of the district at times. How do you think he's doing?
I am a strong supporter of Bolgen Vargas. I think he has probably the most difficult job in this city. The challenges are huge. They're challenges that go well beyond being superintendent of schools.
How do we get parents to say, "Kid, you're going to school. You're not going to learn unless you get yourself in there, stay there, and work hard"?
[Vargas has] got a monumental job in front of him. He's done a good job of getting rid of the Wednesday early release day, increasing the school day, and he's working on lengthening the school year. But it's going to take time.
You wrote an op-ed piece with your husband that criticized Rochester school principals and a city school district union. But how do you justify criticism of a city school principal making $90,000 a year when we've had CEO's in Rochester who have walked away from failing companies with millions? Isn't that what Joe Citizen doesn't understand?
Yes, but the whole thing around CEO pay I think is a totally different issue. That's determined by employment agreements with boards of directors.
Dutch and my issue with ASAR [Association of Supervisors and Administrators of Rochester] is that it is supposed to be a professional organization. Yet, some of the principles that they operate under — payment for working longer hours, payment for working on Saturdays, and payment to come in on a snow day — the meter is always running. And that's not the picture of a professional. You work until you get your job done. That was the point we were making.
Those are all dollars that are being taken away from investments that could be made in the children.
But these are things that prior superintendents and school boards have agreed to in negotiated contacts, and many of these terms get passed along to the next superintendent.
Yes, it takes a lot to peel some of these things away, and that's one of the reasons why these guys get burned out trying to change the system.
I just think that you've got to give Vargas a fair chance, a real shot at making a difference. This guy is sincere in terms of his commitment to Rochester's schools and his passion for the kids.
We hear a lot about middle-skills jobs in this area — jobs that require some technical training after high school. Can you confirm that many of these well-paying jobs are going unfilled?
Yes, the jobs really are there and I'll tell you that we have a staffing division here that works primarily with some of our manufacturing and health care members. Those are the two areas where we probably have the most activity in terms of jobs.
And I can tell you that we have many machine tool jobs that go unfilled, and they were unfilled even during the recession.
Is that due to a lack of education or a lack of interest in that kind of work?
It's a little bit of everything. A lot of it has to do with education. You don't need a college degree, but you do need some specialized training.
We drug screen for everything and we had one employer who was hiring for a call center who said that for every 100 candidates they interviewed, 85 didn't pass a drug test. These are younger workers.
Another problem: even the kids who are graduating from high school are leaving school without the ability to pass even basic pre-employment tests.
We had a company last year that had 850 openings. They were doing a major expansion and they wanted to stay in the area. And for the combination of reasons we have talked about they couldn't get enough workers to fill the jobs. So they had to take a significant number of those jobs down to Texas.
Since there are these higher paying jobs that are going unfilled, do you believe that the business community bears any responsibility to help city students overcome some of the obstacles they face to obtain the necessary skills?
I think they do. First, the business community does work with the city school district in a wide range of different areas. There are a number of businesses that have adopted schools.
And keep in mind that if there are certain skills that are needed by an employer, that employer is usually very motivated to train new employees. But if you're talking about the basics, the basics are really the responsibility of the student and the school district teachers. I'm talking about basic math and English skills.
But I don't think it's the business community's job to create jobs that aren't there that they don't need.
When you look at your tenure, is there anything that you think you could have done better?
Yes. The one area that the business community has not done enough in is urban education. I think we have a travesty here in the city school district. We're starting to focus on it, but we have not been engaged at the level that we should have been.
If I was graded on improving urban education, I would get a C- on that. I haven't done well on that area.
Are you encouraged by the recent partnership between the Rochester school district, East High, and the UR?
Yes, very much so. And I give Joel [Seligman, president of the UR] and the Warner School kudos for taking that on. I would hope they have been given some flexibility to operate outside the parameters imposed by the unions' contracts, and I believe they have.
If they have to operate under the same union agreements that the superintendent has to work with, it won't be successful. There's got to be some flexibility there.
Has the business community has done enough to diversify its work force or is this another regulatory issue that hurts business?
I think it's important to have diversity in construction projects, for example. You talk to some of the larger construction company owners and they very much recognize the value of diversity in their work force. They know that they need to comply with the regulations that enhance minority and women-owned businesses.
But again, the issue goes back to skill set. The workers have got to have the skills in order to do the jobs. That's why alternative degrees are being discussed in city schools and at the state level — offering something beyond sending the kid to college. Giving them vocational or apprentice training is so important.
What does your successor need to know about this job, and what will be his or her highest priority?
I think the successor needs to be someone who knows the region. I was pleased when the search committee said they weren't going to do a national search because the person is going to need to know who the players are locally, and know who the players are around the state.
This person is going to have to work at all different levels across the state. And I think they have to be very, very patient because changes in the areas we're working in, like the city school district and business climate reform in New York, are not going to be fast wins. The person is going to have to be very patient with small steps.
And they're going to have to listen and be willing to change their mind.
There's been speculation about who your successor will be. Is there a good chance that it will be Lieutenant Governor Bob Duffy?
There hasn't been any decision made on that. I would be very surprised if he didn't throw his hat in the ring. He's going to be finished with his responsibilities at the end of the year.
Do I think he is qualified for the job? Absolutely. But I'm not a part of the selection process; I don't get a say. I would hope that they consider my feelings, but I'm not on the [search] committee.