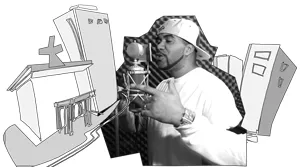 photo by Frank De Blase
Higher power: "A beat is a beat," says Christian rapper Todd Bangz. "The message is what counts."
Todd Bangz samples a beat. As the loop repeats and he begins to fall into its groove, Bangz tweaks it, goosing the drum machine with syncopated jabs of his hand. He listens.
"Wait," he says. "Where's the bass?" A couple of knob twists and the floor of the little studio in his Frost Avenue home starts to shake. You can feel it in your heels. Bangz grins.
"Yeah.There it is."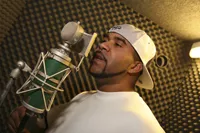 This 32-year-old rapper's hip-hop hits hard, hits solid. But by the time the groove travels to the hipbones, sending 'em east and west, you realize something ain't standard here. The lyrics are rapid fire and intense and Bangz delivers them with muscular hip-hop machismo and flavor --- yet they're undeniably Christian.
No bitches. No bling. No thugs.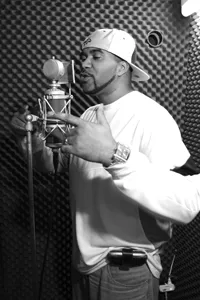 Bangz raps for Jesus.
"What's really good?/My God's really good/It's necessary/To bring the words like a missionary," he raps on the cut "Breathe Ya Last." By the time he hits the chorus, the intensity builds. "Run wit thug crews, do the dirt thugs do?/Act tight when I say Jesus loves you/You ain't got a clue but claim only God can judge you?/ And he will when you breathe your last breath."
"I'm a Christian who raps," he says. "And I take the approach of ministry more than, like, a hip-hop approach. I used to take a hip-hop approach --- which was gangsta, murder, death, drugs --- talkin' 'bout the stuff that I see, but no solution."
Bangz's new CD, Think It's A Game/The Forbidden Memoirs Of Todd Bangz, drops April 25. It's a powerful double disc with an equally powerful message: salvation, redemption, and beats.
The redemption part comes fromBangz's past. Prior to finding his Christian calling he lived the "gangsta" life. He sold and used drugs. He also gave undue priority to his music.
"I can honestly say I made music my God," Bangz says. "That was all I wanted. I lost my wife, I lost my kids, I lost our house. Because I wanted to be in the basement bangin' on the drum machine. And that's all I wanted. I didn't eat. I didn't do anything. My passion was there."
That tenacity got him noticed. In 1993 when Bangz was known as Tre-Z, his song "A Chip Off The Roc" spent six straight weeks as one of WDKX's Top 10 requests. He opened dates for Jay-Z on The Chronic Tour. Things were happening. By 1996 bigger wigs started to notice.
"I was well on my way to getting a record deal," he says. "Def Jam was courting me. And right around that time I just kinda got deeper and deeper into drugs and kinda fell off."
Then Bangz had an epiphany --- delivered via burning blunt, not burning bush.
"We were blunted and everything --- we were high as a kite," he says. "I was in my studio on East Main Street making a beat for one of my artists. And, like, the spirit of God came on this guy and he started telling me my music was destroying God's people."
The same scenario played out again two weeks later in Brooklyn as Bangz and crew were smoking and drinking in front of a church.
"It was like God was trying to talk to me and I ran from the church so far he had to use the closest person to me. Right at that moment I realized that I really, really needed to get it right with God. It was a time in my life I'll never forget."
Bangz 180'd.
"I stopped," he says. "I sold equipment. I just put everything on pause so I could get my life right and understand 'OK, if this is my journey, I need to understand the journey first."'
There were a few obstacles.Bangz worried that the fans of his hardcore secular rhymes and beats might dismiss him as washed up, a sell out.
"At first when I wasn't doing any music they'd say 'Yeah, yeah Tre's soft,'" he says. "But once they started hearing my music, they said 'Oh, he didn't skip a beat. He didn't lose anything.' I actually have gotten better because now I'm not under the influence of drugs. I think a lot more clearly, I'm concise. I have family, I have my friends. We have a whole team now."
He also has to overcome assumptions some Christians might make about hip-hop, Christian lyrics or not. The music itself is guilty by association.
"A beat is a beat," he says. "The message is what counts." A message, that for Bangz, supersedes the art.
"I'm a Christian rapper," he says. "Outside of the message, I'm no longer a rapper. I made it my God before, I really did. I mean, I lost everything. I could never lose that again."
Todd Bangz's CD release show with guests B. Dill, Big Nate, R-Swift and hosted by Christopher "Play" Martin (of Kid N' Play fame), happens Friday, April 21, at The Body Shop, 14 Anson Place, 527-8356, doors at 6:30 p.m. $5 (includes dinner). All ages
www.bangtheory.com