On a recent Saturday around 2 p.m., Sager Beer Works was doing a light but steady business. The new craft brewery can be a little hard to find, set back as it is on an alleyway connecting University Ave and Sager Drive in the increasingly bustling Neighborhood of the Arts. But the welcoming interior will make you feel right at home.
Sager opened late last fall. When designing the space, co-owners Don Tumminelli and Paul Guarracini say they wanted to combine the convivial atmosphere of a German beer hall with the cozy snugness of an English pub. Upon entering, the gleaming fermentation tanks are the first thing you'll notice. A long, communal table dominates the center of the space; in the back corner chairs and a couch are clustered around a small table (the "comfy corner," Tumminelli calls it).
Tumminelli and Guarracini made the conscious decision to forgo televisions in the brewpub. Instead, Sager has a steady lineup of events including beer bingo, monthly pairing dinners, and live music every Saturday. And the owners ask only three simple things of their patrons: eat, drink, and relax. It's a simple mantra for a brewpub that doesn't put on airs.
"Beer isn't a very pretentious drink," says Guarracini, Sager's brewmaster.
PHOTO BY JACOB WALSH
Perfect to pair with any brew: the enormous soft pretzel at Sager Beer Works.
Sager specializes in traditional English and German style beers, which Guarrachini says have staying power, and have been around for hundreds of years.
American IPAs -- both East and West coast styles -- also make a strong showing on the Sager lineup. The brewery also has rotating guest taps, wine from its next-door neighbor Living Roots, cider from OSB Ciderworks, and kombucha from Rocbucha.
Sager's kitchen is headed up by Chef Anthony Pollino, who impressed Tumminelli and Guarracini with his background in local and organic food. The menu at Sager includes re-invented classics that change regularly. Char-grilled chicken wings come in flavors such as honey wasabi and maple Sriracha; check the blackboard next to the kitchen entrance for the week's preparation.
The menu also includes beer brats, burgers (beef, bison, or black bean), flatbread pizzas, a charcuterie board, and a truly enormous soft pretzel that could easily serve four. (One Yelp reviewer notes: "Pretzel is the size of a T-Rex leg"). Sager sources ingredients from a number of local businesses including Seven Bridges Farm, Wholly Cheeses, Stuart's Spices, and R's Market.
I ordered a flight of four beers recommended by the bartender. The Roc-Topia Cream Stout is luscious and thick, strongly redolent of cocoa and coffee. It's My Jam New England IPA comes in two versions: V1 and V2. V1 is clear and honey-colored with plenty of juicy, hoppy notes, while V2 is hazy, dry, and addictively citrusy. The Cue American West Coast IPA is boldly hoppy with a blend of pine and fruit aromas. I took my time sipping my flight at a circular table near a window as three o'clock passed, and the brewpub started to fill up.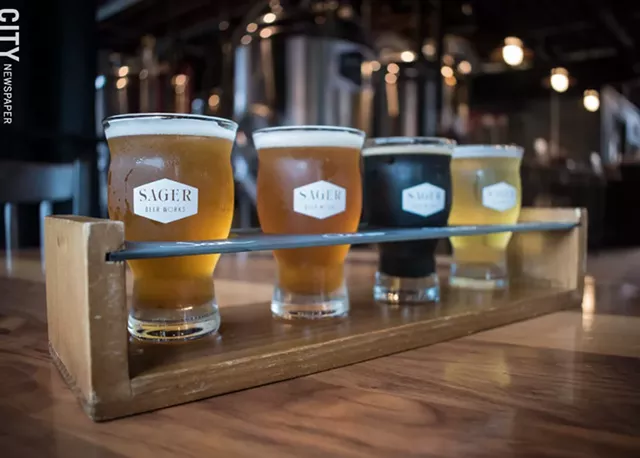 PHOTO BY JACOB WALSH
A refreshing flight of beers at new craft beer company Sager Beer Works.
Guarracini, a 30-year veteran of Eastman Kodak, began brewing beer on his own in 1993 after receiving a home brewing kit as a gift. In 2012 he took his talents public with Fairport Brewing Company, where he was brewmaster and partner until 2017. Tumminelli has worked for breweries in California and New York, including Empire Brewing's former Rochester location. The two met back in 2001 at a meeting of the Upstate New York Homebrewers Association, of which Guarracini was then president.
In 2017, Tumminelli participated in Livingston County's "Brew in Livingston" business plan competition with help from Guarracini, who was transitioning out of his role at Fairport Brewing at the time. Though Tumminelli was a finalist, he was ultimately not selected to receive state grant money. Undeterred, the two decided to partner on new brewery venture, with Tumminelli as general manager and Guarracini as brewmaster.
"The timing was right," Tumminelli says. After looking at locations all over the city, Tumminelli and Guarracini found the 3,000 square foot space at 46 Sager Drive, which was previously home to an auto repair garage. They began renovating in February 2018 and held a soft opening the following November.
The partners say they aren't fazed by the number of other craft breweries that continue to pop up in the area. "Competition's not a bad thing," Tumminelli says.
He attributes the explosion of New York State craft breweries to a number of factors: changes in laws are making it easier to open breweries in the state, for one thing. And demand is growing for unique, local, premium beers. "The younger generation is growing up more educated about food and drink," Tumminelli says. "Fifteen years ago it would have been tough to open something like this."