Rusted Root has played Rochester almost annually since the early 90's, and is about to play the Lilac Festival for the fifth time in a row. Why do Rochesterians like this band so much?
Ah yes, spring is in the air, and here comes another Lilac Festival to kick off the Rochester festival season, pumping music and the smell of lilacs like so much old lady perfume into the air. And ... here comes Rusted Root.
Rusted Root will play the 2017 edition of the Lilac Festival on Wednesday, May 17, its fifth time. Rusted Root? I don't really get it, so I did a little digging around — and every person I asked answered with some kind of eye-roll.
Rusted Root has been playing Rochester almost annually since the early 1990's, when the Pittsburgh jamsters played the now defunct Downtown Festival Tent. The band has even brought its rhythm-centric world beat to the Rochester International Jazz Festival. It draws big crowds (including at The Blue Cross Arena), but there's one thing: they aren't all that amazing. Still, they persist and thousands upon thousands of Rochester music fans lose their shit. Rust never sleeps; perhaps it should take a nap.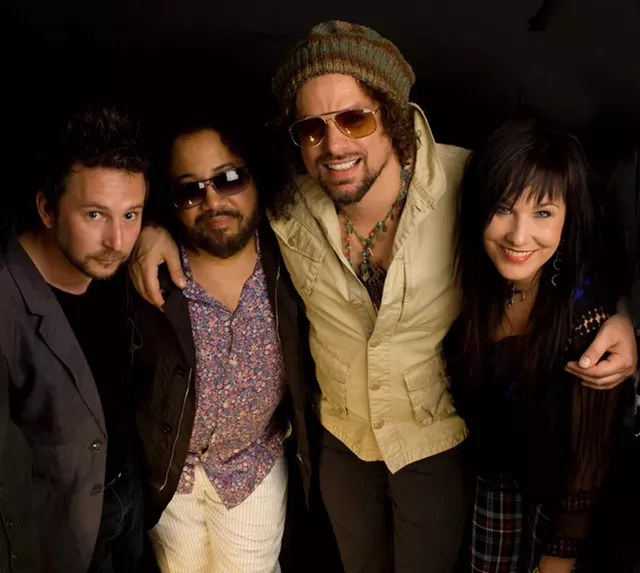 Photo by John Collins
Rusted Root
Typically the Lilac Festival brings in a whole parade of new and exciting artists peppered with legends. Where does Rusted Root fit in?
Festival Producer Jeff Springut has managed to balance the job of music promoter and music fan. His passion runs deep when promoting a new artist he's just discovered or a legend who has come out of retirement. And Springut is quick to point out that it isn't the festival's policy to book repeat artists.
Yet the demand is so strong not only from fans, but from Rusted Root itself, that he finds himself giving in. "They love their fans in Rochester," Springut says.
Rusted Root is one of the festival's top draws, pulling in about 6,000 to 7,000 devoted fans each time. According to Springut, Rusted Root has gone as far as to suggest playing all 10 days with a different set performed each night. Thankfully, Springut lowered the boom on that.
But some music fans and musicians, like Doug Mac, scratch their chins and wonder aloud, "Why the same old shit?"
"Probably because it's a sure thing," says musician Greg Andrews. "You know what you're going to get." But who always wants to know what they're going to get. Isn't this a little repetitive?
"We don't like to repeat performers from year to year," Springut says. "But at this point with Rusted Root, it's not repetition, it's become a tradition. Their appeal is hard for me to describe."
The Lilac Festival is calling this year's lineup the "year of the funky jam bands." But that's kind of every year, especially when Rusted Root makes its annual trek from Pittsburgh.
Over the years, the Lilac Festival has blessed us with Zydeco legends like Buckwheat Zydeco, blues greats like Johnny Winter, up-and-comers like Lake Street Dive, and tons of new regional and local talent ... and then there's Rusted Root.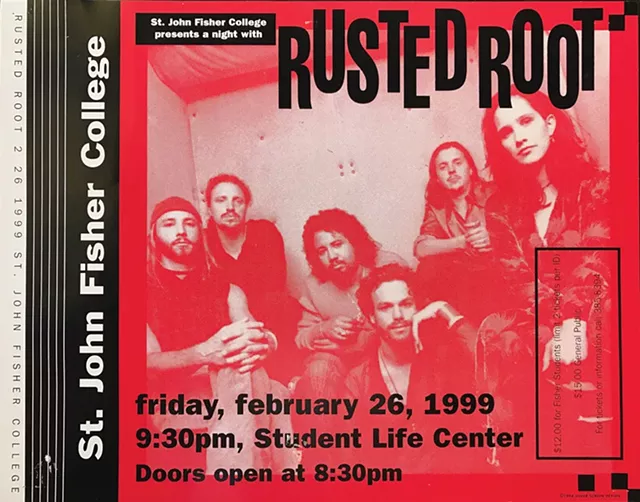 FILE PHOTO
A show poster from when Rusted Root played St. John Fisher College in 1999. CITY stumbled across it in our back room during a spring cleaning day. Why we had it, no one knows.
I have nothing against jam bands; they are the quintessential embodiment of music outdoors. I never particularly dug The Grateful Dead, but I understand Deadheads and hippies. Same goes for Rusted Root. Its music just doesn't do it for me, with all its polyrhythmic overload. It's overdone and yields the same excitement as boiled cardboard. It doesn't allow for air. The band is still riding out its 1994 hit "Send Me on My Way," off its album "When I Woke," where singer Michael Glabicki intones with so much jiggly vibrato it sounds as if somebody dumped a bucket of ice down Tarzan's pants.
In spite of anything I can say, though, Rusted Root has sold more than 3 million records worldwide.
Buddhahood guitarist Nate Coffey thinks fans should dig a little deeper. "People want to hear what they know," he says. "They want to hear hits."
Of course, that doesn't apply to everyone. But there is so much good, new music on the road and popping up on stages right here at home. There are a million bands that musicphiles like Springut and me want you to hear. Bands that'll wake you up, turn you on, and turn you out. Fresh music, kids. We should all get out there and hear it, demand it, and embrace it.
Or in the meanby, you could check out Rusted Root ... again.