Funding for New York State's public schools has for years been a source of tension between school district administrators, teachers unions, and lawmakers. New York's schools are among the most racially and economically segregated in the country, according to a recent New York Times article.
The problems — not enough funding and inequality in the way money is distributed — prevent many poor districts from meeting state standards for student performance, many people say.
Even the landmark 2006 court ruling in the Campaign for Fiscal Equity case, which said that the state is not meeting its constitutional responsibility to ensure adequate school funding, has not corrected the problems. (Two more lawsuits over school funding have been filed in New York State.)
And though the CFE case was largely about insufficient funding for New York City's schools, rural districts are suffering, too. And many, including some in the Rochester and Finger Lakes region, are near a breaking point.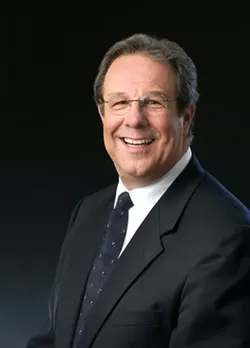 PROVIDED PHOTO
Rick Timbs, executive director of the Statewide School Finance Consortium.
"The large urban areas have their own unique challenges," says Clark Godshall, superintendent of Orleans-Niagara BOCES. "But you could have urban blight in the cities and everyone knows what that is and they can talk about it. But when a big farm goes under in the rural communities, no one says a word."
Superintendents around the state will listen intently to Governor Andrew Cuomo's State of the State address later this month, though many, including superintendents in local rural communities, are not optimistic that he'll propose significant increases in education funding.
The funding problem is the result of multiple causes. At the center is a twisted and complex set of formulas that are neither well understood, nor steadfastly followed.
"There's over 50 state aid formulas," Godshall says. "There's aid for library books, aid for computer software, and each one is different and you have to aggregate them together to get to how much money you're going to get per year."
Godshall says that he doesn't want to disparage politicians, but that they each have special interests that they support, and that muddies the water for everyone.
"The politicians get involved and they'll decide, 'Let's give them extra money for improving their facilities,'" he says. "We may not need it for that." But districts will go out and spend the funds on a soccer field because it's better than not getting the money at all, he says.
Much of the way the funding is awarded is built around the Combined Wealth Ratio, a measure of both property taxes and income. But that doesn't always tell a community's whole story.
"What you'll find is that some places have high property values and low income or the other way around," says Rick Timbs, executive director of the Statewide School Finance Consortium. "It turns out that if you're near a lake, a stream, a mountain, or a New York City reservoir, you're going to have high property values. But often the people who live there don't make a lot of money. You have the case of property wealth and income poor."
That can be a huge concern for rural districts due to the irregular nature of property values compared to incomes. Even some communities perceived to be wealthy — Brighton, for example — do not have a high CWR, Timbs says.
PROVIDED PHOTO
Matt Cole, superintendent of the Livonia school district.
The situation gets worse in Livingston County communities including Mt. Morris and Nunda, where the CWR is low and roughly half of the students come from low-income households.
But the uneven relationship between property values and incomes in rural communities and its impact on state aid is only a part of the problem. Shortages in school funding have been exacerbated by the Gap Elimination Adjustment.
Governor David Paterson introduced the GEA in 2010, which basically amounted to cutting financial aid to New York's schools to close a $10 billion state budget gap.
The result has been an economic shell game with schools and education, Timbs says.
"The districts that are hurt the most by the GEA are the high needs, low wealth districts, whether they're urban or rural," Timbs says.
But so far, current Governor Andrew Cuomo hasn't shown much sympathy, and has instead pushed districts to do more with less. He often says that money is not the solution to the state's education problems, and that New York spends more on education than any other state, but gets only mediocre results.
What's not being taken into account, however, is the so-called "hard" costs such as employee health care, transportation, utilities, and escalating building maintenance costs, Timbs says. There are also pension contributions to consider, he says.
When the GEA and the 2 percent tax cap enacted on New York's properties are factored into the state aid formula, rural districts are shaken to the core, says Matt Cole, superintendent of Livonia's school district. Cole also leads the Genesee Valley Chief School Officers' Association, a coalition of 22 school superintendents in the region.
In rural communities where property values are lower than average, even an increase in taxes doesn't really help, he says. And austerity to compensate for financial shortfalls can be double-edged, he says.
"There's a threshold that every district gets to where you can economically only do so much," he says. "There's only so much cutting away from the classroom you can do."
Cole says that he hasn't been replacing retiring teachers. And instead of hiring a professional to manage school business, transportation, and school facilities, he says that he handles those duties with staff help.
Cole says that rural superintendents struggle with informing parents about the reality of the financial problem, because they don't want parents to fear that their children aren't getting an adequate education.
But the funding problems are leading to larger class sizes, cuts to foreign language classes, and fewer or no advanced placement classes, Cole says, which erode college readiness and placement.
Consolidation of school districts doesn't help, either, says Godshall, of Orleans-Niagara BOCES.
"I've got four districts sharing two superintendents," he says. "What you start to see is the local taxpayer has an issue when they call and want to talk to their superintendent. It's not sustainable."
The situation is so bad for the Keshequa Central School District that its board recently informed administrators that the district will be insolvent in two years, Cole says.
And in small towns, the schools are frequently the lifeblood of the community, he says.
"The economic decay that will happen there as a result of not having a school district strikes me as an assault on their way of life," Cole says.