Longtime social justice activist and President of United Christian Leadership Ministry of Western New York, Rev. Lewis Stewart said Christopher Pate was the victim of police brutality that occurred on May 5, 2018 on the corner of Fulton Avenue and Bloss Street.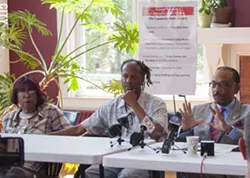 PHOTO BY RENEE HEININGER
Christopher Pate (center) with his mother and Rev. Lewis Stewart.
Stewart read from a written statement during a press conference earlier today, as Pate and Pate's mother stood at his side. Three officers were involved in the alleged assault, according to Stewart. Two of the officers stepped out of an unmarked car, approached Pate, and claimed that he matched the description of another man who was wanted by the police, Stewart said.
The officers asked Pate for identification twice, which he gave to them, Stewart said. But even though Pate was not the suspect, the officers grabbed him, tased him, and then handcuffed him, Stewart alleged in his remarks.
"While handcuffed, Mr. Pate was punched in the face," Stewart said. "He sustained a fracture to his occipital bone and jaw. The officers involved in this incident forced a physical confrontation. They escalated the incident from talk to violence."
Pate was taken to Rochester General Hospital for treatment.
Stewart alleged that one officer's body camera was turned off and switched back on. Pate was charged with disorderly conduct and resisting arrest, which Stewart said are bogus charges used generically by police throughout the US to arrest black people, particularly black men.
City Court Judge Maija Dixon dismissed the charges against Pate and he has filed a complaint with the Center for the Dispute Settlement. But Stewart is also calling for District Attorney Sandra Doorley to investigate the matter and he said the case should not be settled out of court.
"The officers need to be arrested and prosecuted," Stewart said. "We need to take cops like this out of the police force."
Stewart is also planning on meeting with Mayor Lovely Warren, City Council President Loretta Scott, Rochester Police Chief Michael Ciminelli.
Neither Pate nor his mother spoke at the press event at the advice of their attorney.
In a phone interview earlier today, Deputy Chief La'Ron Singletary said that he could not confirm the names of the officers accused of the alleged assault. An internal investigation is underway and a notice of claim was filed with the city, which indicates a lawsuit may be filed in the near future, he said.
"We take allegations like this very seriously," he said. "It's as important to us as it is to the public to know what happened."
Stewart is among a group of activists seeking a Police Accountability Board that is independent with subpoena power, and the ability to discipline officers. The activists argue that the current Civilian Review Board is ineffective.