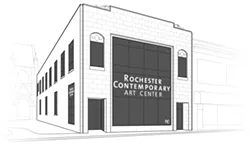 Rochester Contemporary Art Center this weekend will celebrate 40 years in operation with its 27th Annual Members Exhibition, opening Friday, December 1, 6 p.m. to 9 p.m., and with a Mortgage Burning Bash to be held on Saturday, December 2. The organization began as Pyramid Arts Center in 1977 and became Rochester Contemporary in 2000.
This year's
Members Exhibition
, which continues through January 14, features work by more than 350 member artists, including six from outside of the state and three from outside of the country. A selection of the participating artists will discuss their work on
The Days the Artists Spoke
, which are scheduled for Saturday, December 9, and Friday, January 5. The show can be viewed during gallery hours: Wednesday through Sunday, 1 p.m. to 5 p.m., and Friday, 1 p.m. to 9 p.m. Admission is $2; free to members and on your birthday.
Recently installed on the grounds of the center is New York City-based artist Matthias Neumann's "Double Bench," the newest public sculpture in RoCo's ongoing sculptural intervention series.
The center will be closed during normal gallery hours on Saturday, December 2, but the
Mortgage Burning Bash
— held in celebration of RoCo's recent ownership of the building at 137 East Avenue — takes place at the center from 8 p.m. to 9:30 p.m., with readings by Peter Monacelli and Tony Leuzzi from their new book, "40+1," which features 41 paintings by Monacelli made in response to Leuzzi's poems; dessert and a champagne toast; and the burning of the actual mortgage. A sold-out dinner at the residence of a longtime supporter of the center precedes the event at RoCo.
Tickets are $50 and can be purchased at
rochestercontemporary.org
. Valet parking will be available. For more information, call 461-2222.