The City of Rochester will hire a consultant to help it put together a Climate Action Plan — a step that an official says builds on other projects and programs helping to make Rochester a more sustainable and, therefore, more desirable city.
"You want to be in a community that's somewhat progressive in sustainability areas. People like that," says Anne Spaulding, the city's energy and sustainability manager. "It's a place where people kind of like to live and like to be."
The plan will essentially be a blueprint that will include goals, actions, and strategies to reduce greenhouse gas emissions in the city, she says. The city will accept proposals from interested consultants until January 30.
The city already has a detailed plan to reduce greenhouse gas emissions from its own operations, including its buildings and its fleet, Spaulding says. So the next logical step, she says, is to evaluate the city as a whole – both the public and the private sectors.
It's premature to talk about what the plan might include, Spaulding says. But the areas it will focus on are energy efficiency, green buildings, renewable energy, transportation, solid waste management, land use, and community engagement. The engagement part means encouraging people to learn about what they can do to reduce their carbon footprint, she says.
"Many of these things are things that we're already doing," Spaulding says. "We have a bicycle master plan. We're doing a lot of infill development. We put in electric vehicle charging stations."
The state encourages Climate Smart Communities to create Climate Action Plans — although participation is voluntary. Climate Smart Communities pledge to take local actions to reduce greenhouse gas emissions and to adapt to the changing climate.
Locally, the Town of Irondequoit, the City of Rochester, and the Town of Brighton are Climate Smart Communities.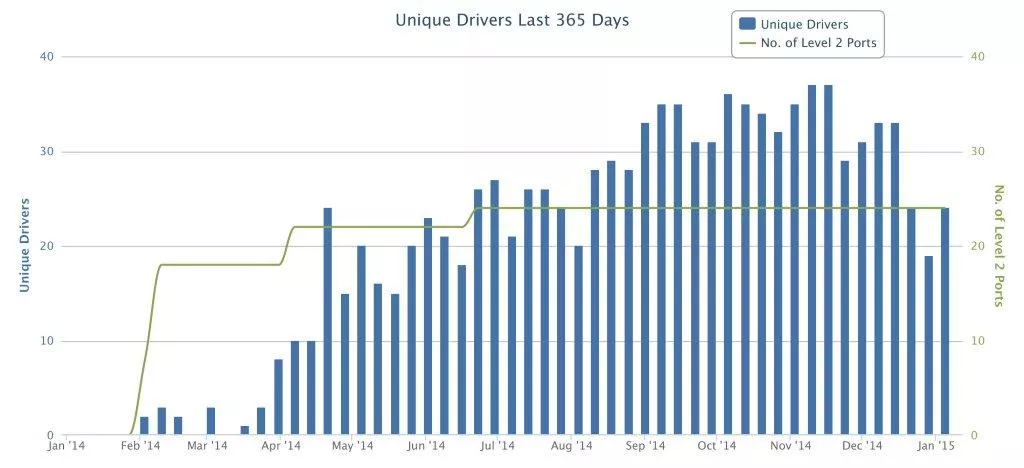 IMAGE PROVIDED
The city tracks use of its 24 electric vehicle charging stations. The data for January 2015 is not complete. Level 2, pictured in the above graphic, is the kind of charging station that the city uses.
Brighton was focused on sustainability long before it became a Climate Smart Community, says Town Supervisor Bill Moehle.
Brighton has a Sustainability Oversight Committee that advises the town government on environmental issues including energy conservation, waste reduction, building codes, business practices, and sustainable transportation.
And the town is doing an inventory of its greenhouse gas emissions that it will use as a benchmark if and when it decides to put together a Climate Action Plan, Moehle says.
"There are not a lot of Climate Smart Communities in this area," he says. "We want to set an example."
Brighton, Moehle points out, was the first community in Monroe County to enact a local fracking ban.
And Moehle says that he wants the town's new Comprehensive Plan to have sustainability at its core for the first time. Brighton is in the process of updating its plan. (Comprehensive plans are guides for growth and development.)
"In a lot of ways, it's a no-brainer," he says, because reducing the town's carbon footprint saves energy, money, and protects the environment — a win on all fronts.
It's important for the City of Rochester to be viewed as a leader in the climate change fight, the city's Spaulding says. State and local efforts are the primary battlefronts against climate change, given the paralysis at the federal level.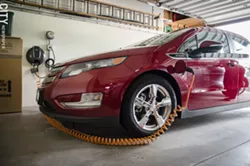 FILE PHOTO
A Chevy Volt
"I think many times people look to municipal governments to see what they're doing and maybe to follow their lead," Spaulding says. "If they can see that it's important to a city and that we are good stewards of our energy dollars and of our environment, I think that's important to people and people can follow suit."
Spaulding says that the city will gather input on the Climate Action Plan from community groups, nonprofits, businesses, and others.
The city will also look to prepare for unavoidable changes in climate, such as the more frequent and more intense storms that are already happening.
"We do try to incorporate green infrastructure wherever possible," Spaulding says. "We have a new porous pavement parking lot here at City Hall, along with our green roof. We've put in several rain gardens. We're doing another porous parking lot at Turning Point Park and also some porous pavement up at the port development."
And use of the city's electric vehicle charging stations is growing steadily, she says.
"Even if people aren't interested in dealing with the climate change aspect of it, all of the actions that we'll take do have other benefits," Spaulding says. "They do have economic benefits. They do have public health benefits. So they will be making it a better, more livable community and saving money and saving energy. So I think it's kind of a win-win for everybody."