Alex Yudelson, Mayor Lovely Warren's chief of staff, plans to challenge five-term Assembly member Harry Bronson in a Democratic primary — and education, specifically problems facing the Rochester City School District, will almost certainly be a top campaign issue.
Yudelson and Bronson both note they differ on one specific area of education policy: governance of Rochester public schools. Bronson adamantly opposes the removal of Rochester's locally-elected school board and Yudelson believes that the district needs a "total reset."
FILE PHOTO
Alex Yudelson
"I think all options should be on the table at this point," Yudelson said. That includes an appointed school board.
The coming political battle will likely have parallels to the skirmish between Warren and Bronson that played out at the end of the 2019 legislative session.
Warren asked state legislators to pass a law that would remove the Rochester school board and put the state in charge of operating the district for the next five years.
Bronson refused the request and submitted a last-minute bill that he said would have allowed for immediate changes in the district. The legislation sought to clarify the respective roles of school board members and the district superintendent, and to establish an advisory council of experts to guide the board and district.
The legislation, which hasn't advanced, also called for the conversion of low-performing schools into community schools and would have established an advisory council of experts to aid the school board. It also sought to clarify the roles of school board members.
The district belongs under the control of parents and local voters, "not bureaucrats from Albany," Bronson said in an interview Tuesday morning.
The Warren and Bronson proposals both predated the discovery last summer that the district overspent its 2018-19 budget by approximately $30 million, and is struggling with another shortfall this year.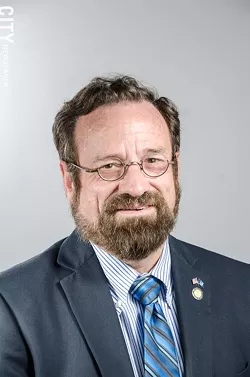 FILE PHOTO
Harry Bronson
Yudelson's announcement comes just days after the district gave layoff notices to some 218 employees, including 152 teachers, to shore up the gap. He said the timing isn't related to the layoffs, but rather to the city Democratic committees holding designating meetings in early January.
Yudelson said in a statement that his campaign will be focused on "creating and protecting jobs, improving education for all children, strengthening our shared bonds of community, and defending democracy from special interests." During the campaign he will not be taking contributions from PACs or corporations, he said.
"Right now, Albany is working great for special interests, but not for the people of Rochester. The issues facing us won't be solved with small thinking, half-measures, and the maintenance of the status quo we see from Albany," Yudelson said. "They require bold solutions and a new generation of leadership that's unafraid to fight in Albany for our fair share and place our community above special interests."
Bronson announced three weeks ago that he's running for reelection. He said his campaign will focus on highlighting his record on economic opportunity, dignity and equity, and what he called his "history of fighting for schools, including Rochester city schools."
The 138th District covers Henrietta, Chili, and parts of Rochester. Bronson was first elected to represent the district in 2010.
WXXI News Director Randy Gorbman contributed to this story.
Jeremy Moule is CITY's news editor. He can be reached at jmoule@rochester-citynews.com.