Writers & Books has named journalist Omar El Akkad's debut novel, "American War," as its selection for the 2019 Rochester Reads community-wide reading program. El Akkad will be in Rochester from March 26 through March 29, 2019 to do readings and book signings, and to make appearances at local libraries, colleges, and senior centers throughout the region.
"American War" envisions a second American Civil War at the end of the 21st century. Within the story, which is told through the eyes of one family, climate change has resulted in political upheaval and devastating violence, and the country's population is further diminished by a plague.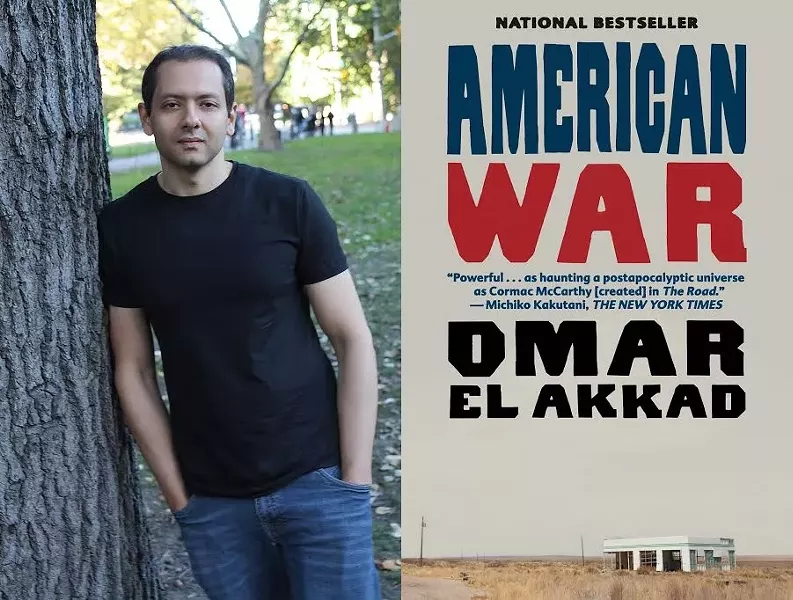 PHOTOS PROVIDED
Omar El Akkad's "American War" is the 2019 selection for Writers & Books' Rochester Reads program.
The novel's protagonist, Sarat Chestnut, is just six years old in 2074 when conflict results in a war breaking out. Many of our fears have come to pass: fossil fuels are outlawed (too late), many coastal regions of the US are submerged by encroaching oceans, and drones fly overhead with frequency. Sarat's father is killed and her family enters a camp for displaced persons, where she meets an older man and she is converted into a weapon of war herself.
Egypt-born, Qatar- and Canada-raised, and Portland, Oregon-based, El Akkad has worked as a reporter and covered important global stories including the war in Afghanistan, the military trials at Guantànamo Bay, the Arab Spring revolution in Egypt, and the Black Lives Matter protests in Ferguson, Missouri.
He is a recipient of Canada's National Newspaper Award for investigative reporting for his coverage of the "Toronto 18" terrorism arrests, and won the Edward Goff Penny Memorial Prize for Young Canadian Journalists, and has been nominated for several (Canadian) National Magazine Awards. "American War" was a New York Times Notable Book, and was listed as one of the best books of the year by The Washington Post, The San Francisco Chronicle, NPR, GQ, Esquire, The Guardian, The Austin Chronicle, PopSugar, and Paste Magazine. It was also shortlisted for the James Tait Black Memorial Prize.
Copies of "American War" are for sale at Writers & Books for $10 from July 11 to July 31. For more information, visit wab.org.