If your love of Rochester is so strong that it cannot be sated by the consumption of garbage plates or the sniffing of lilacs, if your passion simply must be given physical life, consider: ink.
For some time apparently, it's been a "thing" for people to get the City of Rochester's logo tattooed on their bodies. Any blank spot of epidermal canvas is fair game: shoulders, knees, toes. Even the throat.
"When you're tattooing the throat, it's kind of tricky," says tattoo artist Greg Caggiano of Lighthouse Tattoo in Rochester. "You pull the skin to the side."
Rochester's logo looks like a thick snowflake, but is actually a white lilac dissected by five lines representing a water wheel. The image represents both Rochester's early history as a mill town — the "Flour City" — and its subsequent success in the nursery trade — the "Flower City."
The logo has been in use since at least the 1980's, but its full history has been difficult to track down.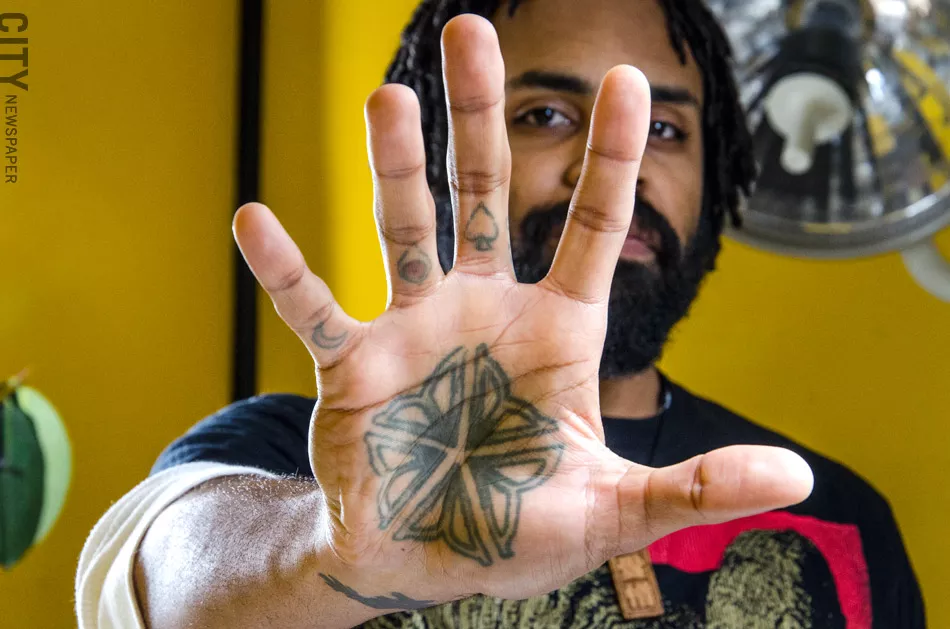 PHOTO BY MARK CHAMBERLIN
Adrien Moses Clark, a tattoo artist with Love Hate Tattoo, says the Flower City logo is a popular choice. He has one on his palm.
The ubiquitous image appears on buttons worn by city officials, city stationery, its website, everywhere. It is protected by copyright, but that doesn't mean you can't find places selling jewelry, shirts, mugs, and other items with the logo on it. (The city has been known to send out cease-and-desist orders, though, if it finds out.)
Caggiano has done quite a few Flower City logo tattoos, he says, and has one himself on his right arm. Caggiano is from the Syracuse area, but he got the tattoo because Rochester "has become home to me," he says.
"I think it's really cool that people want that tattoo," he says. "There's tons of city pride, and it's one of the reasons it's kept me in Rochester. It's like everybody's got so much heart about Rochester. And Rochester is a real close-knit community, especially in the arts scene and the music scene."
The Flower City tattoo represents different things to different people: independence, civic pride, and even a reminder of one brief stop on the journey of a life.
Liu Yang, a former student at Rochester Institute of Technology, got her Flower City tattoo two weeks before she left the US to return to Shanghai. She says she wanted a memorial of her time in Rochester, so she had the logo tattooed on her left leg, just above her ankle.
Yang also has a tattoo representing part of a flower decoration in Palau de la Música Catalana, a Barcelona concert hall.
"I do intend to get tattoos of cities that are important to me — those I visited, lived in, or like," she says. "I had a plan of having a blank world map on my back and slowly filling it up as I travel. But I gave it up because it might end up looking weird."
Yang says that as a designer — she studied industrial design at RIT — she appreciates the logo's neat and elegant look. Tattoo artist Caggiano says the design is a big part of the logo's appeal.
"It's, like, undeniably a really cool logo," he says. "A good amount of people just want the straight-up black, solid [design]. And then certain people want maybe one piece of it or they want it all covered in snow or the city skyline behind it."
Caggiano says that both men and women get the Flower City logo tattoo, but that it's definitely most popular with people under age 35.
PHOTO BY MARK CHAMBERLIN
Cassandra Sloss says her Flower City tattoo gets a lot of attention.
Cassandra Sloss is from California, but moved to Rochester eight years ago to study nursing. California may be where she's from, she says, but Rochester is where she discovered her identity. She has the Flower City logo tattooed on her kneecap.
"You have your place where you're born and you live," she says. "But this is where I grew up and actually learned to become a responsible adult.
"Anytime when I'm down and out or I'm out of the city and I'm homesick, I just look down at my tattoo and I realize I always have a home," Sloss says.
Sloss says her tattoo is a good conversation starter, especially in the warmer weather when she's wearing shorts or a skirt.
"People just automatically gravitate toward it when they see it," she says.
When she's out of state and someone spots her Flower City tattoo, she says she uses the opportunity to tell people about Rochester.
"I talk about my love for the city and how you have everything here at your fingertips," she says. "If you like to be outdoors, all you have to do is drive 15 minutes out of the city and you're somewhere where you can go hiking or cross country skiing. There are limitless options. And that's what I tell people."