The first World Fringe Day seems an appropriate time for the Rochester Fringe Festival to announce its full 2017 lineup. During its Big Reveal press conference at The Little Tuesday morning, the Fringe released this year's schedule, including more than 500 shows in venues in and around downtown Rochester. The sixth annual Rochester Fringe Festival (the first with KeyBank as a title sponsor) will take place Thursday, September 14, through Saturday, September 23.
World Fringe Day celebrates the more than 200 fringe festivals around the world and the legacy of the Edinburgh Festival Fringe, which started in 1947. Attracting more than 68,000 attendees in 2016, the Rochester Fringe has become a prominent US fringe festival and one of the largest multi-arts festivals in New York State.
PHOTO BY DUMITRU DRAGOS
French company Platiciens Volants will perform free shows on the Friday and Saturday on the Fringe at Parcel 5.
The Fringe previously announced two of this year's headliners: comedian John Mulaney will headline Kodak Hall at Eastman Theatre on September 22, and French street theater company Plasticiens Volants will perform during Fringe's annual, free Friday and Saturday on the Fringe program on September 15 and September 16 at Parcel 5.
More than 100 shows during this year's Fringe will be free, including a second weekend of festival-curated events on Gibbs Street on September 22 and September 23. The free Gospel Sunday program is also back on September 17 at Kilbourn Hall.
PHOTO PROVIDED
"The Bicycle Men" will be Fringe's late-night Spiegeltent show.
The Crystal Palace Spiegeltent and surrounding Spiegelgarden will again be set up at the corner of Gibbs and East Main, and previous Fringe performers Matt and Heidi Morgan will premiere a new show, "Eclectic Attraction," with Cirque Du Fringe. This year's Spiegeltent late-night show will be "The Bicycle Men," a musical comedy about an American's absurd bike trip through France. ("The Bicycle Men" was part of the first Rochester Fringe in 2012.) Silent Disco is back at 11 p.m. on both Fridays and Saturdays, along with Disco Kids on September 23, 11 a.m., and the Fringe Street Beat, an all-styles dance battle with a $1,500 cash prize.
The Pedestrian Drive-in will return to the Spiegelgarden, and the area will be the site of a 40-foot, glowing, inflatable igloo housing an "ambient, electronic soundscape." Site-specific works are a cornerstone for the Fringe, and several popular shows are back this year, including "Dashboard Dramas" and "Bushwhacked (Crystal Magic Wonder Cabinet Palace Tent)."
Fringe organizers announced they are partnering with regional farmers for a new program, Farm to Fringe, with a beer, wine, and spirits tasting on September 16; pumpkin carving during the second weekend's free events; and afternoon tea in the Spiegeltent on September 17.
This year's Fringe venues are Bernunzio Uptown Music, Blackfriars Theatre, the Central Library, Eastman School of Music, Gallery r, Garth Fagan Dance Studio, George Eastman Museum, Geva Theatre Center, Java's Café, The Little Theatre, Lyric Theatre, Makers Gallery & Studio, MuCCC, Rochester Contemporary Art Center, Rochester Music and Science Center, the School of the Arts (with four stages), the TheatreROCS Stage at Abilene, and Writers & Books.
While the above events were selected by the Fringe itself, the majority of the festival's 500 performances are organized by the venues themselves. Following the Edinburgh Fringe model, artists and producers submit their shows to individual venues during an open call earlier in the year, and the venues choose which shows will appear on their stages.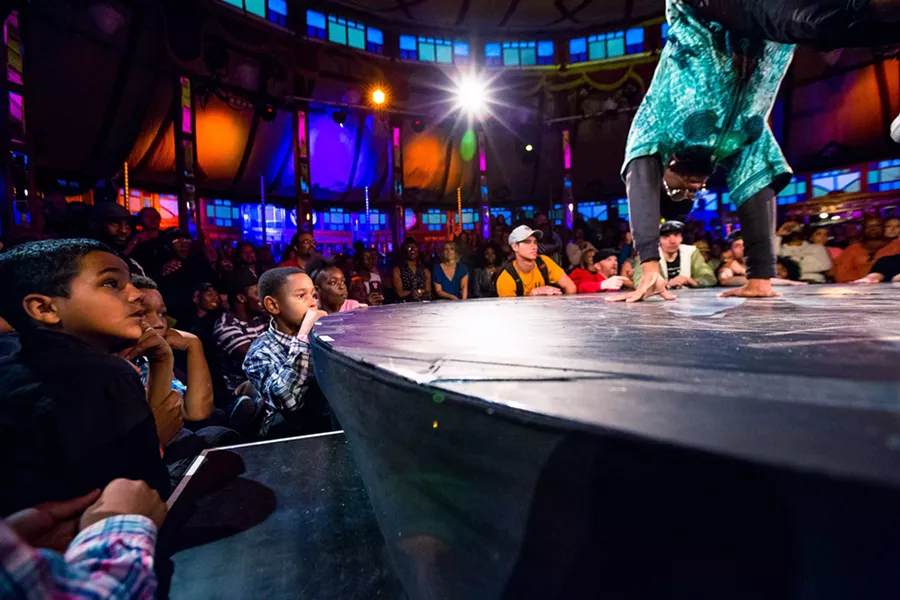 PHOTO BY JOHN SCHLIA
The Fringe Street Beat dance competition will be back this year.
The full schedule of events and tickets are now online at rochesterfringe.com. Tickets can also be purchased by phone at 957-9837.
CITY will have a more detailed look at this year's Rochester Fringe Festival in our Fringe Preview Guide, on stands and online Wednesday, September 6.