Today the First Niagara Rochester Fringe Festival unveiled the headlining acts for the second year of the event, which will run September 19 to 28 in multiple venues in Downtown Rochester.
Aerial dance troupe Bandaloop will return after its crowd-pleasing kickoff performances at the first Rochester Fringe, which reportedly drew more than 10,000 spectators. Bandaloop will again perform on the side of One HSBC Plaza for two free shows, September 20 and 21.
PHOTO PROVIDED
Comedian Marc Maron will headline the 2013 Rochester Fringe Festival September 21 at Kodak Hall.
The other two headlining acts for this year are Pulitzer Prize-winning humorist and newspaper columnist Dave Barry and comedian Marc Maron, who produces the popular podcast "WTF with Marc Maron." Barry will perform Friday, September 27 ($20-$65), Maron Saturday, September 21 ($20-$55), with both shows taking place at Kodak Hall at Eastman Theatre.
PHOTO PROVIDED
Humorist and columnist Dave Barry will headline the 2013 Rochester Fringe Festival September 27 at Kodak Hall.
Fringe organizers also announced the addition of a Spiegeltent as a venue for this year's festival. Dutch for "mirror tent," Spiegeltents are Belgian in origin, made of wood, fabric, and stained glass, and act as highly stylized traveling entertainment venues, dating back to the late 19th century.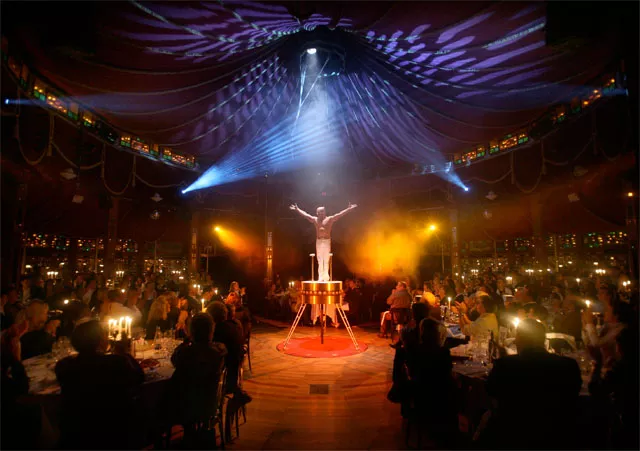 PHOTO PROVIDED
The "Magic Cristal" Spiegeltent will be a new venue for the 2013 Rochester Fringe Festival, hosting a variety of specialty shows running the duration of the festival, September 19-28.
Rochester Fringe will be the first Fringe Festival in North America to have a Spiegeltent -- in our case, the 72-feet-round "Magic Cristal" tent -- and it will be located on Block F, the parking lot at the corner of Main and Gibbs streets, where it will be surrounded by an outdoor beer and wine lounge. Fringe organizers said that special programming will be booked inside the tent every night of the festival, but details were not released.
The headliners are just a small part of the Fringe Festival. The full schedule of acts, which will take place in more than a dozen venues and cross all arts disciplines, will be released on Wednesday, July 17. For more information check rochesterfringe.com.