It's opening day of the ninth KeyBank Rochester Fringe Festival. But after eight years of growth — more than 100,000 people attended last year's event — the coronavirus pandemic dictates that this one will be presented entirely online.
Coming up over the next two days are shows with smart people fretting over the future, lost legends and film critics who drink too much. Or maybe not enough.
You'll find the Fringe schedule and ticket information at
rochesterfringe.com
.
The arts' Brave New World

Even Aldous Huxley didn't see this coming. But to borrow the title of his novel of the future, the arts is settling into a Brave New World.
"We're not specialists in online performing arts," says Rochester Fringe Festival Producer Erica Fee. "So it's been a learning curve for all of us."
Fringe festivals in the United States, and around the world as well, have been comparing notes on how to carry on as the coronavirus pandemic shuts down large-scale entertainment. Going virtual is the consensus.
But not every live performance translates well to the two-dimensional screen.
"One thing that does work in an online format are conversations," Fee says. "And getting to know artists and getting to see a little of that behind the scenes."
The arts reflect society, and that will surely be seen over the next 12 days of the Rochester Fringe Festival. Traces of COVID-19 will be found in many shows, including "
Bushwhacked: House Arrest
," "
Candid Conversations with Cuomo in the Time of Corona
," "
Edith Vs. Quarantine: 89 & One Tough Cookie
," and "
COVID Zone.
"
And Black Lives Matter will be evident in "
The Legend of Double Ax Max and the Shadow People
" and "
Black in the Box: Echoes of '64
."
But these conversations that matter will be even more direct with the four FringeTalk episodes. Four free, socially minded talks with an audience Q&A component. It debuts September 16, at 8 p.m., with an episode called "
Black Lives Matter & the Performing Arts
." Norma Holland will moderate, with the panelists to include the Rochester performer and educator Thomas Warfield, Karen "KB" Brown of Harlem Dance Theatre and Garth Fagan Dance, and Jason Nious of Cirque du Soleil.
The September 17, 8 p.m. FringeTalk is loaded, both in name recognition and content. The session is called "
…Too soon? Comedy in 2020
," and features "Saturday Night Live" alum Tim Meadows, stand-up comedian Maria Bamford, the Second City-bred comedic improviser Joe Liss, and Matt and Heidi Morgan, hosts at Rochester Fringe's Spiegeltent.
"
Using Storytelling to Communicate Science
" is at 8 p.m. on September 23, with Holland once again moderating. She'll be joined by actor David Calvitto, Marcy McGinnis of CBS News, and Carolyn Hall of Works on Water.
"
Predicting the Future? Performing Arts in 2021
" is at 8 p.m. on September 24. Fee will moderate, with a panel including President & CEO of the Association of Performing Arts Lisa Richards Toney; Steven A. Adelman, the author of "Event Safety Alliance Reopening Guide"; and Dr. Stuart Weiss, who heads Intelligent Crowd Solutions.
The first three FringeTalks, to some degree, dovetail into the fourth, and the arts of tomorrow.
"We are in real danger of losing our arts and culture," Fee says. "And arts and culture is not something that you build up overnight. We of course know that societies are measured and remembered by arts and culture."
Resurrected memories
Nate DiMeo first brought his podcast, "The Memory Palace," to the Rochester Fringe last year. Sitting at a desk on the Kilbourn Hall stage, DiMeo read, to accompanying music, the story of George Eastman. In that elegantly told story, DiMeo took us back to March 1932, when the 77-year-old Eastman sensed he was fading, perhaps heading for confinement to a wheelchair. Dismissing his doctors for a moment, he wrote a note: "To my friends. My work is done. Why wait?" Then he shot himself in the heart.
PHOTO BY EMILY BERL
Nate DiMeo of "The Memory Palace" podcast.
But first, Eastman had spread a sheet out on the bed to minimize cleanup. "He died as he lived, efficiently," DiMeo said in his slow and thoughtful delivery. The episode is called "Dotting the I's," because Eastman always minded the details, whether in his handwriting or arranging his own death.
DiMeo later did a podcast on the daredevil Sam Patch and his fatal leap from High Falls. That episode, "
High Falls
," is joined by a new one about Rochester's legendary 19th-century Corinthian Hall, where opera, Frederick Douglass, Susan B. Anthony, Elizabeth Cady Stanton, and Mark Twain were once heard. The episode is called "
From the Parking Lot,
" because that's what the site is now. A parking lot.
A link to the free, 15-minute podcasts is available at
rochesterfringe.com
.
Whiskey Flicks Live
The idea is familiar enough, practiced across bars all across America since cinema began. Two guys drinking whiskey, talking about movies. In past Whiskey Flicks Live performances, Daniel McCoy has shown clips of "Night of the Living Dead," "Jaws," "Psycho" and 2019's "Us" to Michael Niederman. And in what the duo calls "reaction performance," Niederman responds.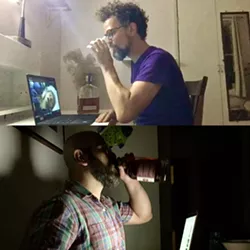 Daniel McCoy (top) and Michael Niederman of "Whiskey Flicks."
A typical example comes from the 1999 film "Magnolia," with a highly paid cast that includes Tom Cruise, Julianne Moore, Philip Seymour Hoffman and… severely underpaid frogs, for what they have to go through. A film where prestigious actors are forced to respond to being caught in a rain of frogs. A virtual thunderstorm of frogs. "This just seemed to me," Niederman says, in something of an understatement, "not the greatest movie ever made, no, but an attempt by a great filmmaker to make the greatest movie ever made." Indeed, "If a rain of frogs can bring us all together…."
Rochester Fringe Festival presents
Whiskey Flicks Live
on September 15, at 8 p.m.; September 17, at 7 p.m.; September 20, at 8:30 p.m.; September 24, at 8:30 p.m.; September 25, at 7 p.m.; and September 26, at 9 p.m.
Jeff Spevak is WXXI's arts and life editor and reporter. He can be reached at jspevak@wxxi.org.