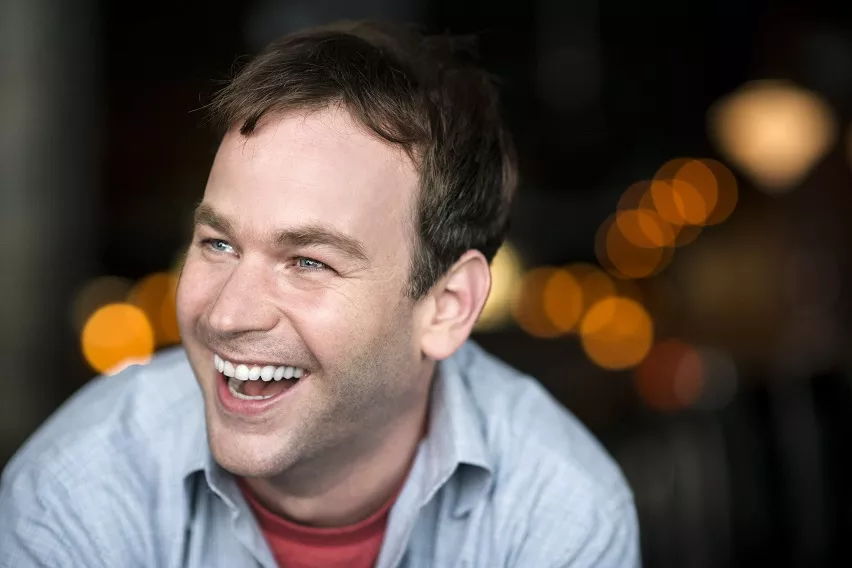 PHOTO BY EVAN SUNG
Comedian Mike Birbiglia will headline the 2019 Rochester Fringe Festival.
The
KeyBank Rochester Fringe Festival
is expanding to 12 days this year and it will include many returning favorites, such as the UK's sing-along rock-anthem performers Massaoke, returning for the final weekend of this year's Friday & Saturday on the Fringe; "D'illusion," the new Cirque du Fringe show; Silent Disco; Pedestrian Drive-In; and Gospel Sunday.
Festival organizers held their Big Reveal press conference on Monday at the Dryden Theatre, where they announced the 2019 event's full lineup, featuring more than 500 performances (including more than 100 free performances). The 8th annual Rochester Fringe Festival (the third with KeyBank as its title sponsor) takes place Tuesday, September 10, through Saturday, September 21, at venues in and around downtown Rochester.
In late May, Fringe organizers announced this year's comedy headliner: American comedian, storyteller, director, and actor
Mike Birbiglia.
His show, "An Evening with Mike Birbiglia" will take place Friday, September 20, 7:30 p.m., at Eastman Theatre's Kodak Hall.
At Monday's Big Reveal, organizers announced that this year's Friday & Saturday on the Fringe, a spectacle that takes place over the festival's final weekend, will feature the return of London-based band
Massaoke
. The band's name is a portmanteau of massive karaoke and it's an apt description. Playing live hit music, the band asks the audience to join along en masse to sing karaoke guided by lyrics on a big screen.
PHOTO PROVIDED BY KEYBANK ROCHESTER FRINGE FESTIVAL
Massaoke, which made its North American debut at the 2018 Fringe festival, is returning as part of the lineup for this year's festival.
Massaoke performs "Mixtape" on Friday, September 20, and "Massaoke: Night at the Musicals" on Saturday, September 21. Both performances are free and they'll take place at a new, larger stage on Chestnut Street.
Fringe will also present "The Memory Palace Live" at Kilbourn Hall on Friday, September 20, and Saturday, September 21. "The Memory Palace" is a monthly, Peabody-nominated podcast and public radio segment by LA-based storyteller Nate DiMeo, who will create three Rochester-based podcasts. DiMeo was recently an artist-in-residence at the Metropolitan Museum of Art.
Returning to the Cristal Palace Spiegeltent this year will be the fifth world-premiere show created for Fringe by Las Vegas producer, Matt Morgan. The magical world of "Cirque du Fringe: D'illusion" will be presented by an international cast of artists, including Heidi Brucker Morgan and led by Rob Raven (Matt Morgan's character, a mashup of Criss Angel and David Copperfield). The Morgans will also present a brand-new Shotspeare show for bawdy late-night entertainment in the Spiegeltent, this time parodying "Othello."
Other returning faves include the late-night Silent Disco in the Spiegeltent, which returns for four weekend performances, as well as the daytime tot-version, Disco Kids. In the Spiegelgarden, the ladies behind the annual "Bushwacked" series will present a brand-new, interactive show, "Bushwhacked British Bake Off."
A new Fringe partnership with the Gateways Music Festival will this present "A Celebration of the Life of Paul J. Burgett Through Music" at Eastman School's Hatch Recital Hall on Saturday, September 14. Also new to Fringe this year is the Rochester Philharmonic Orchestra's 2019-20 season opener, "Scheherazade .2." The program includes the work of four living composers, and features world-renowned violinist Leila Josefowicz soloing on John Adams' dramatic title piece, which was written for her.
More than 100 shows during this year's Fringe will be free, including
Kids Day activities on Saturday, September 21;
Pedestrian Drive-In screenings (this year's lineup includes "RBG," the Ruth Bader Ginsburg documentary, as well as an annual ImageOut: The Rochester LGBT Film & Video Festival program;
A new partnership with Rochester's Puerto Rican Festival, which will kick off Hispanic Heritage Month on Friday, September 15, with the film "Residente," themed food trucks, and more.
Another free Fringe favorite, the fourth annual Fringe Street Beat, will happen on Saturday, September 21.
Gospel Sunday will also return to Kilbourn Hall on Sunday, September 15.
While the above events are curated by the Fringe itself, the majority of the festival's 500 performances are organized by the individual venues — artists and producers submitted their shows to venues during an open call earlier in the year, and the venues selected which shows would appear on their stages. The full schedule of events and tickets are now online at
rochesterfringe.com
.
The 2019 Fringe venues include newcomers Nox Cocktail Lounge and Joseph Avenue Arts & Culture Alliance (presented at Avenue D Rec Center Gymnasium and Lincoln Library Community Room). Other independent venues are: The Avyarium, Blackfriars Theatre, Eastman School of Music, Garth Fagan Dance, George Eastman Museum, Geva Theatre Center, Java's Café, Central Library of Rochester, The Little, The Lyric Theatre, Multi-use Community Cultural Center (MuCCC), RIT City Space, RMSC's Strasenburgh Planetarium, School of the Arts, and Writers & Books.
CITY Newspaper will have a more detailed look at this year's Rochester Fringe Festival in our Fringe Preview Guide, on stands and online Wednesday, September 4.