Polish artist Ryszard Horowitz was creating visions of fantastical realities through photography since before the age of Photoshop. He is recognized as a pioneer of special effects photography who developed boundary-stretching analog techniques and was early to incorporate digital technology into his work.
An exhibition of Horowitz's images currently fills RIT's University Gallery, and showcases a wide selection of his surreal, seamless analog and digital compositions throughout the decades of his career in commercial and fine art.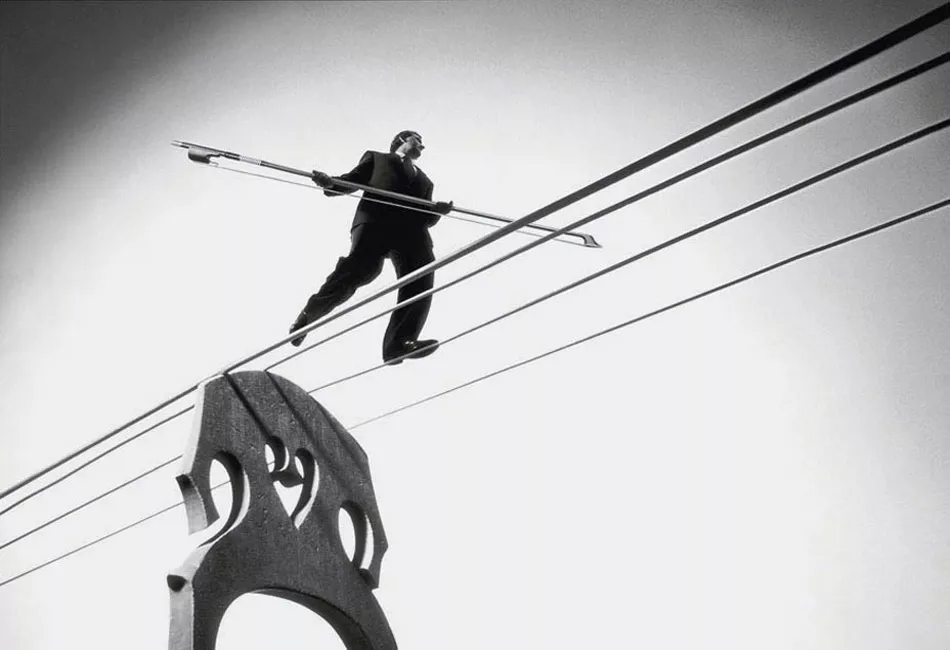 PHOTO PROVIDED
"Elie's Tune" is part of an exhibit of work by photocomposer Ryszard Horowitz at RIT's University Gallery through May 26.
Horowitz is also among the youngest known survivors of Auschwitz — he was 5 years old when the Russian Army liberated the camp. His story was portrayed by a child actor in Steven Spielberg's "Schindler's List," and he appears as himself later in the film.
This personal history is represented in Horowitz's 2008 digital composition "Warsaw Ghetto Uprising." In this image — which was used in 2013 as a poster in commemoration of the 70th anniversary of the uprising — twin infernos churn side-by-side in pitch darkness. These fires each contain an emotional eye, and within each eye is a picture of Horowitz as a little boy.
But the child who emerged from this horrific past has since constructed a bright, creative life for himself, and reveals vibrant visions of possibility to others through his manipulation of images.
Horowitz developed and refined a variety of approaches to create his analog composites in the 1970's, ranging from multiple exposures in the camera, to working with special masks in the darkroom to superimpose images on one another.
"It's very much like in Photoshop, where you use layers, you place one on top of the other and mask them off," he says. "But I designed special contraptions to do it."
In his 1986 analog composite "Park Avenue," New York City streets are literally made of cheese. Horowitz has paved the lanes with dollar bills that stretch beneath the hard glitter of 1980's architecture.
In the mid-80's, Horowitz was connected with some of the early-adopters of digital technology. After receiving a tip about a young man in Hamburg who had a computer capable of assembling photographic elements, Horowitz packed some film and sketches, flew to Hamburg, and worked with the fellow for a few days.
"This was like a revelation," Horowitz says.
But when he excitedly returned to the US to show the work to his colleagues and clients, the new processes didn't immediately take. "I was sneered and laughed at for quite some time," he says. "Luckily, I didn't listen to them."
Horowitz in the mid 1990's connected with Bob Greenberg in New York, who had a successful special effects film company, and who used analog masking techniques similar to what Horowitz used in print. Greenberg had access to a lot of prototypes of computers to play with, and was interested in Horowitz's work and ideas.
Because of his efforts to break through analog's limitations, Horowitz says, it was easy for him to comprehend the technical aspect of digital manipulations. And with computers, Horowitz found he had an easier time achieving certain aims, such as separating flowing hair from one background and placing it onto another, or creating smooth transitions from black and white images to color.
A seamless example of this latter effect is presented in "Birds," a 1991 digital composite, which is the first image he created with the help of Greenberg. In this piece, a white dove seems to travel from a grayscale, watery world, through a cylindrical and reflective wormhole, into a prismatic world that exists on the same plane.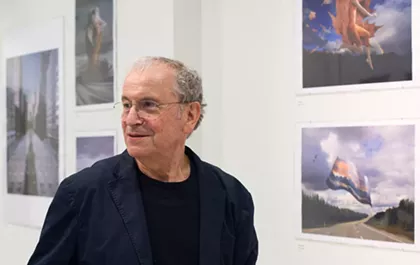 5 slides
But Horowitz isn't interested in merely showing off a well-executed effect; his pictures are immersive worlds that inspire and allude to some greater meaning. The vision in "Birds" seems to indicate what might be — what is around us but invisible until a new avenue is tried.
There are also many recurring themes in Horowitz's oeuvre, including birds and musical elements. Where birds aren't flying free or tugging at the fabric of a landscape, they're layered over beautiful women. And Horowitz's love of music is reflected in such pictures as the 1999 analog sandwich, "Elie's Tune," which features a man tightrope walking along the strings of a violin, holding a bow as a balance beam.
"I'm interested in capturing objects in motion, something that the human eye finds hard to do," he says. "So birds were natural to me, or a splash of water that can be frozen with the camera. Birds also are beautiful in form, and have a lot of symbolism as well."
Horowitz says that to him, composing photographic images is much like composing music, "like blending sounds into a full harmony." He stitches together images from different parts of the world and different circumstances, drawn from his own archive of images. "I've traveled all over the world, I've had a lot of exciting assignments, and I have thousands of outtakes that become very useful," he says.