Ride It: Art and Bikes in Rochester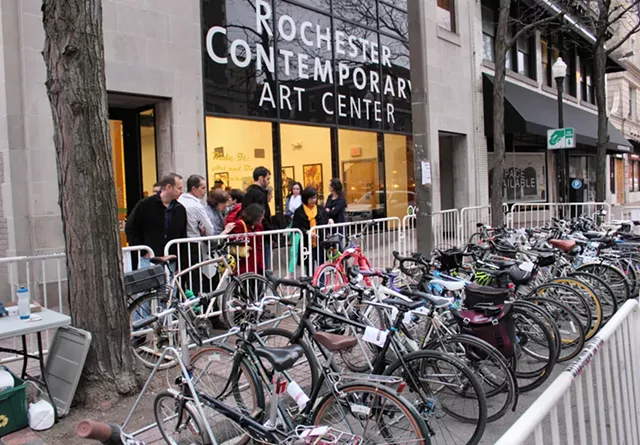 PHOTO PROVIDED
A bike valet service parked around 100 bicycles during the opening reception for "Ride It" at Rochester Contemporary.
PHOTO PROVIDED
Paintings by Cordell Cordaro celebrate cyclists with style.
PHOTO PROVIDED
Trevor Raab's photographs document cyclists out and about throughout Rochester.
PHOTO PROVIDED
Rochester Contemporary collaborated with the UR's Rare Books and Special Collections Library and the Rochester Public Library to create fascinating exhibits on Rochester's historic relationship with the bicycle.
PHOTO PROVIDED
Some of the posters created over the years for the Genesee Center's annual Spokes & Ink Bike & Poster Festival.
PHOTO PROVIDED
Appropriately, the bike season community calendar of events is wheel-shaped.
PHOTO PROVIDED
Amit Shimoni's "Hipstory," on display in RoCo's LAB Space, restyles historic politicians and revolutionaries as hipsters.