There's a long tradition of artists drawing inspiration from the natural world, whether their aim is to duplicate some breathtaking wonder, record moments in a changing world, or point out something of significance. Drawing on this tradition but focusing specifically on what is meant to remain unchanged, Rochester Contemporary's new exhibit, "Landscapes and the Unbuilt," presents meditations by several local artists on various properties conserved by the Genesee Land Trust.
Each of the nine artists -- Phyllis Bryce Ely, Aaron Delahanty, Andrea Durfee, Nate Hodge, Patricia Rossotti, Jennifer Schinzing, Bill Stephens, Jean K. Stephens, and George Wegman -- were given a menu of about 30 preserved properties to choose from, says RoCo's executive director Bleu Cease. They made their selection, and spent three seasons, from late summer to the early winter, investigating and responding to the spaces.
The Genesee Land Trust has a wide range of properties, from bird-banding stations along the lake, to watersheds and the El Camino Trail. "They're not necessarily all beautiful landscapes, they're not all park-like settings like Corbett's Glen," Cease says. "Preserving a little slice of old rail bed, or scrappy little pieces of urban environment -- that's also a beautiful thing about a land trust, they can do that."
For example, George Wegman focused on the El Camino Trail, an urban foot and bike path that connects neighborhoods with parks, the Avenue D Recreation Center, and cultural amenities. His work is the one of the few sections of the show that includes human traces, and using watercolor, inks, and stains, he created paintings that incorporate resilient bits of nature within the built environment. Graffiti, litter, and chain-link fences are as much a part of the landscape's textures as the stands of trees and wildflowers.
A good portion of the artists responded to their chosen spaces with literal, traditional drawings or paintings, recreating great vistas or detailed minutiae in their individual styles. Jean K. Stephens' works in graphite on paper depict the elegance of bare, gnarled limbs reaching for the sky and dark tangles of exposed roots that she found in Macedon's Ganargua Creek Meadow Preserve.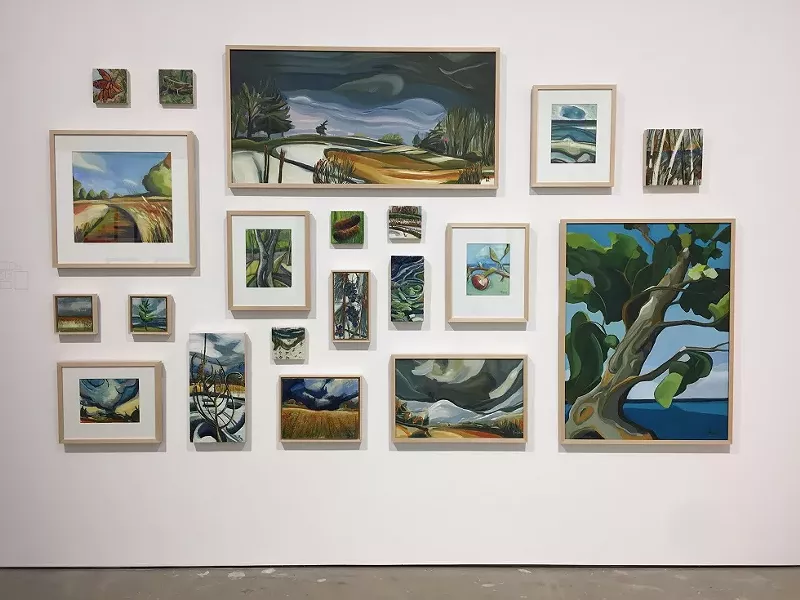 Andrea Durfee is known for creating watercolors of patchwork terrain, mountains, and waterways that subtly inject some magical realism with the forms of reclining women embedded in the landscape like sleeping giants. Here she does the same, specifically focusing on Full Lotus Farm, a preserve in Arcadia that the trust leases to farmers and that's bordered by woodlands and wetlands.
The artists' statements are posted on the gallery's walls, paired with details about the properties such as history and why each space is important to the balance of the local ecosystem. They form a significant component of the show, giving the context of the places and the artists' interactions with them.