In an emotional press conference this morning, the Reverend Lewis Stewart, president of the United Christian Leadership Ministry, called on all of Rochester's religious leaders to join together in a coordinated effort to stop gun violence in Rochester.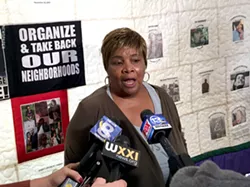 PHOTO BY TIM MACALUSO
Lentory Johnson created The Mothers' Quilt showing Rochester youth killed though gun violence.
"We cannot continue to tolerate the lawlessness that is rampant in our neighborhoods," Stewart said. "The shootings and homicides are painfully impacting and traumatizing families, individuals, and neighborhoods. This is the time that our religious leaders and community need to speak out with a collective and unified voice and say, 'We are sick and tired of these shootings and murders.'"
There were 22 murders in Rochester from January 1 through September 23, 15 of them a result of a firearm. And in the past week alone, there were six shootings, three of them fatalities. Black males make up the majority of all shooting homicides and the majority are committed by black males, Stewart noted.
"The black community must say that Black Lives Matter when it comes to black victims shot and killed by black perpetrators," he said.
Stewart was joined by more than a dozen mothers of children who were killed with a firearm, including Lentory Johnson, who has created The Mothers Quilt. The 12' by 6' quilt contains more than two dozen photos of mostly city youth who were killed through gun violence. Johnson's son Johnny Ray "JR" Johnson died in 2015, just shy of his 26th birthday.
Johnson said she has lost faith in political leaders at every level of government who, she said, have a long history of offering sympathy and prayers, but have done little in the way of legislation that would help to reduce gun violence. The US has become "Gun Smoke nation," she said.
"We should be ashamed," Johnson said.