In September 2015, friends and DJs Tom DeBlase and Steve Kraft visited Nick Giordano, another Rochester DJ, at his piercing shop in the South Wedge. They had the ambition of getting together a group of house and techno DJs to put on queer-friendly and all-inclusive dance parties — an underground, social atmosphere they felt went largely understated in Rochester — and asked Giordano to be a part of that vision.
Together they formed Sole Rehab, a group that deejays and puts on parties featuring predominantly underground house and techno music. The crew's year-and-a-half-long residency at Skylark Lounge in the East End is indicative of a burgeoning culture that only seems to show itself in cities on the rise. In addition to spinning at their own events, the members of Sole Rehab invite out-of-town DJs to headline as well.
Giordano had been a DJ in residence at Tilt Nightclub for seven years, and met DeBlase through the underground house scene in the 1990's. Although DeBlase does DJ himself, he says he prefers putting on parties. Kraft is currently on an indefinite sojourn out-of-state. Aside from the residency held at Skylark, the crew collaborates with fellow, and slightly older Rochester DJ collective, Signal > Noise, bringing in regional and international DJs to headline parties. This leaves Giordano and Sole Rehab's newest member, Ethan Lustig, spinning when the crew isn't hosting touring DJs. Sole Rehab has also provided music for the Peppermint Sewn Seeds Fashion Showcase at the Culver Road Armory and Sassy's Summer of Love Dance Party at the German House.
Lustig, a native of British Columbia and a graduate student at the Eastman School of Music, met the Sole Rehab crew through a mutual friend and displayed an impressive knowledge of house music and culture. He was invited to hold down a four-hour set in February, and was formally asked to join the crew. The group is transparent and excited about their passion for house music and the culture surrounding it.
From Left, Nick Giordano, Ethan Lustig, and Tom DeBlase make up 'Sole Rehab'.
House music is generally characterized as being soulful. Its lyricism provides a backbone of positive messages, while compositionally featuring — relative to techno, its successor in genre — more instruments and arrangements. The Sole Rehab crew exalts contemporary underground house communities as being an alternative to the culture of exclusivity that's found in more mainstream clubs — the "VIP culture of being seen," as DeBlase puts it. The EDM (electronic dance music) played at bigger clubs tends toward higher fidelity in production value and reflects Top 40 chart toppers in its hooks and arrangements.
Crews like Sole Rehab and Signal > Noise find their roots in house, techno, and disco music, born and proliferated in America's great industrial cities in the late-20th century, like Detroit, Chicago, and New York City. Giordano and DeBlase explain that the spirit of healing that arose in reaction to the HIV/AIDS epidemic in the 1980's helped generate creativity and lull the communal pain in an era of grief and uncertainty.
The density of working-class populations, people of color, and queer communities in those industrial cities (as well as the infrastructure of the cities themselves), provided the building blocks for a new subculture that came together in the 70's and 80's. "House culture is very blue-collar in that way," Giordano says.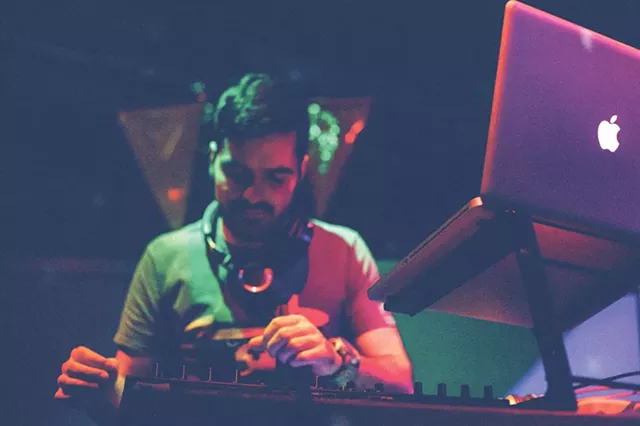 Budding communities and collectives — like Detroit's prolific Underground Resistance — bred explicitly "come as you are" environments, DeBlase says. The implied diversity championed marginalized peoples — especially queer, black, and Latinx communities — to attend and put on parties that were havens of self-acceptance, self-expression, and socializing. That is what makes underground dance culture distinct at its core; self-love is its prerogative.
Giordano attests that, at underground parties, varied combinations of people can partner up and enjoy the dance floor without feeling out of place as they might at mainstream clubs. The crew shares that a casual anonymity can be hard to find in these bigger places, where gay couples and people of color are often treated as novelties, be coddled, or patronized.
Giordano gleefully remarks that the underground dance community is made up of several smaller ones: "rave kids, goth kids, and gay bears" are a few of the subcultures, he says, that give this scene the coherence and gusto to survive. The thing admittedly missing is a black and Latinx presence on par in size with the original parties decades ago in larger cities.
Rochester has its own small history of underground house culture. Beginning in the early 90's, the scene has hosted legends in the international DJ community, including Richie Hawtin, Moby, and Aphex Twin. Venues like Vertex (previously Freakazoid), Carpe Diem (currently Dinosaur BBQ), Heaven (which is now an actual church), and Dub Land Underground were all popular spots.
Alex Weiser — a 29-year-old filmmaker, photographer, and regular at the Sole Rehab events — says that for him, the parties were "about transmuting a month's worth of experiences into one beautiful release." The first party he attended was last Christmas night; it was magic, he says, "a room full of people willing to dance like they were alone."
Sole Rehab's latest party, held on a Saturday night during Pride Week at Photo City Improv on Atlantic Avenue, was a joint venture with Signal > Noise. The groups had been planning the event since April.
Beyond burgeoning cigarettes and conversation in the scintillating late-night, a pulse pounded on the other side of Photo City's front doors at 12:30 a.m. The club was full of Pride Week participants — most had bought tickets online ahead of time and presale sold-out.
Inside the thudding chasm of the back performance room, the venue immediately resonated an aging, yet increasingly relevant zeitgeist, typically found in more cosmopolitan cities and largely enigmatic in Rochester. The sturdy and dependable thud — the sonic idiosyncrasy established decades ago in Chicago and refined in Europe — is a trademark of cities on the rise.
It was a night to make out like you are, in fact, a debonair individual — also, to make out. Outfits are expressive, from fresh kicks to styled domes; user-interfaces glowing up cute visages. Applause and hollers erupted in the low-end-void between tracks, and a single bulb draped an ethereal glow upon DJ Minx at her decks. This party around, Sole Rehab and Signal > Noise invited DJ Minx (from Detroit) and Das Nasty (Toronto) to headline through 4 a.m.
Glow sticks punctuated the canopy of the sold-out dance floor. The lighting design (by JWI and Gnosis — more friends in the community) is responsive in its scatter above the forest of party goers. The walls on either side of the dancefloor are laden with paintings, serving like harbors for the inebriated and resting. The room vibrated with a self-generating vitality.
At 1:16 a.m., golden light emerged in a cast across the top of the room, reflecting the palette of American industry from which this culture — and this city — arose. Photo City inadvertently becomes a call back — or a call forward — to cultural proceedings indicative of a budding metropolis.
A statue of the Buddha (supplied by Signal > Noise; they bring it to every party), accessorized with pride bands around his wrists, idles at the back of the dance floor like a monolith of loving-kindness. It's a space and people with nothing but intentions on unabashed tolerance, expression, and healing.
Sole Rehab has opened a DIY warehouse space by the Genesee River — the group threw its first party last weekend spontaneously and discreetly — where they will host more events in the future. "We are here to bring the people together under one sweaty, inclusive roof," Lustig says in an email. Not unlike the birthplace of techno — Detroit — Rochester shares the bold and lofty infrastructure to host underground parties. Commenting on future events, Lustig quips to "expect parties that are experiences."