Diane Cooke was a senior at East High School in 1958. Under her photo in the school yearbook, it says that her nickname is "Cookie" and that she's planning to go to college. Cooke was one of about a dozen black teens in her class of more than 200 students. Almost all of the other students were white.
By 1980, East's yearbook shows a much more integrated senior class. By 2000, however, the school's demographics had completely changed and most of East's students were black and Latino.
Something else occurred at East that isn't so apparent in the pages of its yearbooks; not only did the school become more segregated, its students became poorer and economically isolated.
White families left the city in large numbers for the suburbs. And the area's once seemingly endless supply of good paying manufacturing jobs for low-skilled workers all but disappeared. Economic and social instability hit minority families especially hard, putting unprecedented stress on Rochester's schools.
All this and more has led to where we are today: city school officials staring down an ultimatum from the State Education Department to either improve student achievement at East High School, or close the school.
The development doesn't surprise at least one group of Rochester educators and community leaders. In their view, district and state education officials have repeatedly taken the wrong approach to improving Rochester's schools. Millions of dollars have been spent on failing city schools only to get the same disappointing graduation rates.
An integrated regional school is needed, they say. And now more than ever.
Former Rochester interim Superintendent Bill Cala; former State Assembly member Tom Frey; and Bryan Hetherington, chief counsel for the Empire Justice Center have been trying to open a regional school in Rochester for years.
The school is as much about closing the socioeconomic gap between the city and the suburbs as it is about closing academic gaps, they say. As the Rochester region became increasingly segregated and poverty became more concentrated in the city, student achievement in city schools has steadily declined.
And though they don't blame suburban schools for the academic challenges facing city schools, they do say that suburban students are part of the solution.
"We've had too many conversations about it," Cala says. "We've put the plan for the school together and it's a good one. The question now is do we have the political will to do this?"
The short answer to that question would have to be no, since the Regional Academy, as they're calling it, has yet to open its doors and enroll a single student.
But Cala, Frey, and Hetherington say they're optimistic. They have everything in place, including facilities. Now all they need is the political support to pass needed legislation. And they say they're counting on Assembly Majority Leader Joe Morelle to help.
Work on Regional Academy began in 2008, while Cala was a visiting professor at Nazareth College. He organized about 150 educators, college students, parents, and community leaders into 13 study groups.
"We had about eight team leaders, working on everything from curriculum, to teacher selection, administration, and marketing," he says. "We even had a team for naming the school."
By 2010, the framework and planning were complete. Regional Academy would start with just two elementary grades of about 75 students each. But it would eventually grow into a pre-k through grade 12 school, with two campuses. Pre-k would be for students ages 3 and 4, Cala says.
The elementary school would be located downtown and the high school would be located close to Nazareth College, Cala says. He says he's been in talks with one of the city's cultural institutions to house the elementary school and with Nazareth about forming a collaborative relationship for the high school.
Regional Academy's concept is fundamentally different from the area's city and suburban schools, Cala says. It's also different from the area's public charter schools, he says.
The school would be led by teachers and students, Cala says, and would offer students multiple-year internships that match their interests. And students would be able to take courses for college credit. Partnering with a college such as Nazareth means that Regional Academy's students would benefit from the institution's expertise and resources in everything from the arts to nursing and physical therapy. Cala says.
Regional Academy would emphasize social justice, he says. The concept would be woven into the school's curriculum and its disciplinary policies, he says.
But the main difference between Regional Academy and other schools would be demographics, Cala says.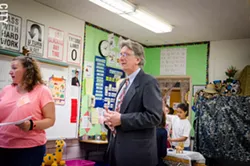 PHOTO BY MARK CHAMBERLIN
Bill Cala
No more than 40 percent of the academy's students would come from high-poverty city households, and 60 percent would come from suburban households with at least middle-class incomes.
The 40-60 demographic is a key ingredient in Regional Academy's formula for success, Cala says.
It's not that poor students can't learn or that public school teachers in city schools see poverty as an acceptable excuse for low student achievement, he says. And the unions aren't the obstacle they're often made out to be, he says.
The academic challenges in most city schools are a result of the student mix, Cala says.
The Regional Academy is based on research showing that concentrated poverty has an overwhelmingly negative impact on student achievement, as well as on social and emotional development.
"Many years of research have confirmed what all parents know: kids learn from one another, as well as from the teacher," writes Richard Kahlenberg in a recent report for the Century Foundation. "In high-poverty schools, a child is surrounded by classmates who are less likely to have big dreams, and accordingly, are less academically engaged, and are more likely to act out and cut class."
Kahlenberg says it's an important advantage for students in high-poverty schools to have high-achieving peers, whose knowledge is shared informally all day. When low-income students attend schools with their low-income peers, he says, they're less likely to expand their vocabulary through normal social interaction.
"What we're doing with the Regional Academy is counting on the basic design of the school," Cala says. "A school that's made up of suburban and urban kids deconcentrates poverty and race. Solely by deconcentrating poverty, you're raising the game for everyone."
Cala says that Regional Academy would enroll suburban students through an application entered into a lottery. For city students, however, a blind lottery would be used.
Regional Academy would assign a number to city students for the grade it's trying to fill. Potential kindergarteners, for example, would all be given a number from one to 1,000.
"We'd pull the first 35 numbers regardless of whether they are English language learners or special ed. students," Cala says. "It doesn't make any difference; we would offer them a slot in the school. They really don't even have to apply for it. If it turns out that they don't want to go to the school, fine; we just go to the next student."
Cala says Regional Academy would be a true public school because it would not weed out students who require special education services. Charter schools don't have to accept all students, which Cala says improves their data.
"There would be no gaming the system," Cala says. "There would be no practices where children would be excluded. Charters have their own rules and regulations and they can say, 'If you don't follow rules A, B, and C, you're out.'"
Cala and Frey say there's another problem with charters in that they don't address the Rochester area's central issue of concentrated poverty and racial segregation. Most charter schools are comprised largely of city students from low-income households.
"Concentration of poverty is our key issue," Frey says. "We think that makes it very important that it [Regional Academy] not be a charter."
One of the central defects of the charter school movement, he says, is that it further destabilizes city schools. Engaged and motivated parents are able to find a way out of the failing school system, Frey says, and as a result, "the concentration of poverty gets even worse in those city schools."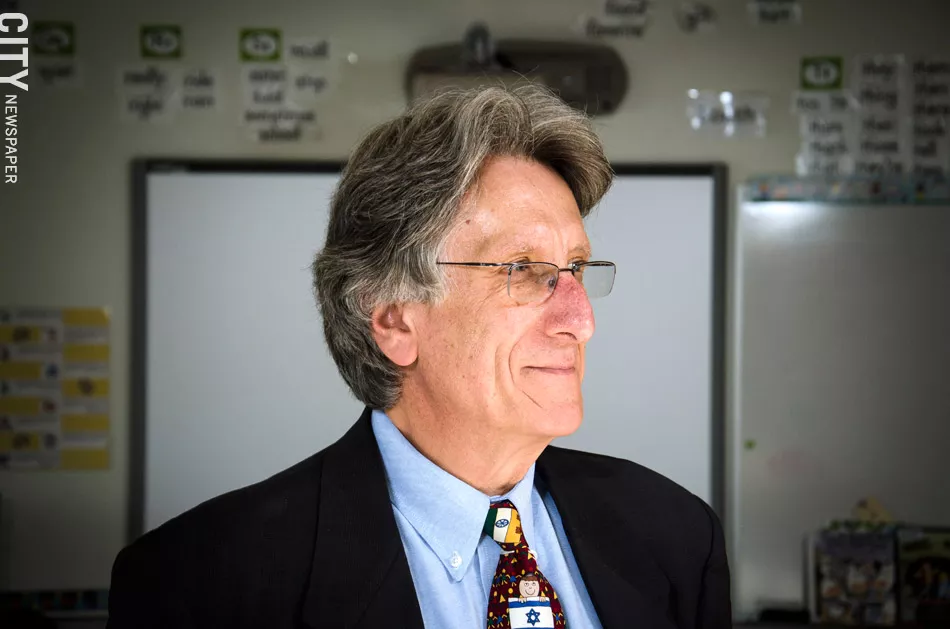 PHOTO BY MARK CHAMBERLIN
Bill Cala
But not everyone agrees that regional schools are the solution. And critics say that the Rochester area already has a version of a regional school. The Urban Suburban School program, which operates out of BOCES, is close to celebrating its 50th year in operation.
One of Urban Suburban's missions, according to its website, is to reduce racial isolation in the area's schools by allowing students to study across district lines. City students, for instance, can apply to attend one of Brighton's schools. Nine districts in Monroe County participate in the program.
Cala says Urban Suburban is a step in the right direction, but it's too timid. And it might have had a greater impact if it had been expanded, he says.
Urban Suburban is proof that a regional school is relevant, Cala says. But he says he doesn't want Regional Academy to be a small program like Urban Suburban. And Regional Academy needs to be replicated in order to have a meaningful impact, he says.
A question that Cala says he often gets is, "What's in it for suburban students?" And it clearly annoys him. The benefits for both city and suburban students would be Regional Academy's rich curriculum, he says.
"What suburban parent would not want to send their kid to a high school that in its DNA is a college with all of the resources of a college?" he says. "And of course the other big piece is the opportunity to be part of this incredible multicultural environment."
Cala says schools should prepare students for the world of the future, not the world in which they're currently living.
"The kids in the city aren't going to go out into a world that is 92 percent black and Hispanic," he says. "And the kids in the suburbs are not going to go out into a world that is 92 percent white."
Regional Academy faces other obstacles, too. For the school to come to fruition, suburban school superintendents need to be sold on the benefits. But so far, those superintendents aren't biting.
"At this point in time, I'm not aware of much interest in it from the suburban districts," says Jody Siegle, executive director of the Monroe County School Boards Association.
Money is another big hurdle.
Assembly member Joe Morelle says that many suburban districts are concerned that the enrollment drops would hurt their budgets. If each school loses a couple of dozen students to Regional Academy, it would have a noticeable financial impact, he says.
And when Regional Academy replicates and adds schools, he says, the impact on the suburban schools would be similar to the impact charters are having on the city school district.
But Cala says that's not correct. He is advocating for a separate state funding stream for Regional Academy so that suburban schools wouldn't be impacted.
Morelle says it's hard for some suburban superintendents to envision their students voluntarily attending Regional Academy, since many of their students are already enrolled in highly enriched programs in their current schools.
Morelle says he doesn't feel confident that he can bring legislation for Regional Academy to the Legislature at this time. He says he's concerned that fundamental questions haven't been answered.
"For each suburban school superintendent, the struggle is how is this going to work?" Morelle says. "We have to wrestle with how do we get their students something that will be attractive? How do we create a school that can be replicated? And then, if you replicate it, how do you address the suburban superintendents' concerns, because they're going to have huge holes in their budgets?"
But Cala looks at the problem differently. He attributes the wariness of community leaders to fear.
"The wall here is the fear of the unknown," he says. "There is fear in the suburbs: 'We don't want to give up our kids. We don't want to give up our money.'"
But he warns that the window of opportunity is closing because poverty is spreading beyond the city's borders.
"This is a very complex issue," Cala says. "But as more people in this country fall into poverty, correcting this problem is going to get harder. We're already seeing that."