The final Fringe Festival performance of "Merged II" was presented on Wednesday night at Geva'sNextstage. This deeply moving and visually stunning series of performances was a fantastic celebration of the human body's capabilities to strive and express and explore and persevere.
A few of the seven pieces resonated more powerfully with me than others. A short while into watching "Vent," I came to think of the whole piece as an interpretation of our vulnerable and expressive relationship with breath, and it absolutely expanded for me the definition of dance.
In the piece, choreographer and performer Melanie Aceto moves seamlessly through a variety of humorous or downright scary-to-witness manifestations of breath, the only sound her breath and footfall. Aceto takes a huge cleansing exhale paired with slow, arching movements; works through an increasing, and concerning, shortness of breath after jogging in a wide circle; performs a whole-body strain of a coughing fit after a temporary relief of breathy chuckles.
Ambient music, at times unsettling and dissonant, (by James Hansen, who is also the choreographer for the work) is the backdrop for "Clash," in which two dancers (Lynea D'Aprix and Sean Keil) navigate one another while evidently also focusing inward on private pain. Through this very resonant piece, the duo seize up, twirl, and move haltingly around one another, alternating between gentle embraces, supporting one another's semi-limp forms, or shoving one another away with a sudden snap of a limb. The dancers regarded one another with gently devastated or devastatingly gentle expressions, reaching for each other as often as they try to get away.
PHOTO BY JOHN SCHLIA
"Merged II"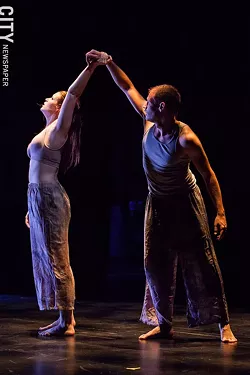 PHOTO BY JOHN SCHLIA
"Merged II"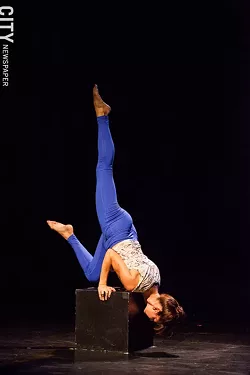 PHOTO BY JOHN SCHLIA
"Merged II"
Immediately following this fairly heavy piece was Heather Roffe's "Coloring Outside...," an empowering soliloquy of self, set to the lovely sounds of Bernhard Fleischmann's "Composure." It was an absolute fascinating delight to watch Roffe's strong, graceful form slowly explore the negative space around a single cube prop, holding perfect plane and angular poses on or around it and gradually gaining more and more ground away from it.
I was moved nearly to tears by "Ophelia's Reclamation," which was choreographed by James Hansen and featured three dancers (Stevie Oakes, Heather Roffe, and Vanessa Van Wormer). The work begins with two dancers lying prone at the back of the stage. Up front, "Ophelia" performs a sensual and longing solo dance to Jeff Buckley's "Lilac Wine."
Her call is unanswered, and as the story goes, she lays her body down, but as she does so, the two in the back stir and roll forward to meet her body. All arms and legs rise and fall like waves crashing to the sound of tides and heartbeats, bringing to mind sirens playing in the surf. As they rise together, Buckley's "Hallelujah" begins to play, and they move about the stage like the Three Graces, a work of art in motion, providing a beautiful interpretation and accompaniment to the aching and wise melody.