The portrait painted by the Rochester Teachers Association of the potential fallout from the proposed layoffs of 152 teachers is grim by any measure: Come January, a full third of the city public school system's student body could lose at least one teacher.
As the union tells it, layoffs have a trickle-down effect. If the cuts are implemented, another 182 teachers could be "displaced," meaning they will either be moved to a new school to fill vacancies left by the outgoing teachers, or remain in their schools in a new capacity.
"The disruption to students is the same as if the teacher were laid off," union president Adam Urbanski said. "Either way, students get a different teacher. The whole key to effective teaching is to develop relationships with students."
The union has dubbed the impending layoffs "The Christmas Massacre."
Superintendent Terry Dade is expected to make public as early as this week a school-by-school breakdown of the proposed cuts. He has said, however, that class size would increase on average by a little more than one student, to 20.3 students from 19.2, under his plan.
The union, however, has been collecting data from teachers and provided its own breakdown at the request of CITY. The Rochester City School District did not corroborate the data.
The district has 49 schools and 11 special programs and, according to the union, 42 of them are projected to lose one or more teachers. The union figures the bulk of the teachers — 112 of them — are from elementary schools and that 8,500 of the district's 26,000 students could be affected.
"That's a significant disruption," Urbanski said. "That's disruption in learning, disruption in relationships. The whole key to effective teaching is to develop relationships with students."
Layoff notices went out to 218 district employees last week. Those targeted included the 152 teachers; 12 administrators; 22 paraprofessionals, and 32 support-staff workers, such as secretaries, bus drivers, and security guards.
The plan to cut teachers and other workers aims to correct $30 million in overspending last academic year that, by the time it was discovered by the Board of Education over the summer, resulted in another, similarly-sized shortfall this year. The district expects to save about $14 million from the cuts.
The board, which must approve the layoffs for them to take effect, is scheduled to vote on December 19. Teachers, parents, and students are planning demonstrations to coincide with the vote. Any layoffs would take effect January 1.
Pressure for the board to approve the cuts mounted this week when the state Board of Regents sent commissioners a letter encouraging the board to balance its books, as required by law.
The letter, dated December 9, was signed by the chancellor of the Board of Regents and two Rochester-based Regents, T. Andrew Brown and Wade Norwood.
"Accordingly, we respectfully request that each of you work collaboratively with the superintendent to make the difficult decisions necessary to close the over $60 million budget deficit in the City School District; while ensuring that the student of Rochester receive the educational services to which they are entitled," the letter read.
The letter went on to remind the Board of Education commissioners that each is to complete "fiscal management training" by February 15.
At the same time, 65 people signed up to address a special meeting Tuesday of the board's Finance Committee. The meeting agenda suggested most were there to urge the board to forgo the layoffs and find other ways to make up the deficit.
Part of the plan that Rochester school officials have for closing the remainder of the unexpected budget gap is going hat in hand to the state for additional funding. There has been talk of requesting $20 million in aid.
The notion has received a mixed reception from influential state lawmakers, however.
Assembly member Harry Bronson, a Rochester Democrat, said he would support sending more money to city schools to bridge the gap on the condition that the state appoint a watchdog to monitor the district's finances.
"This is not a time to pull money out of the district or ignore the district," he said. "This is a time that we should be making sure that we're funding the academic programs and let's look at other areas we might be able to make cuts."
On the other hand, another Democratic Assembly member from Rochester, David Gantt, said structural problems with the district's finances need to be resolved before he would consider propping up city schools with more state money.
"You've got to clean up the mess before you can start talking about saving people," Gantt said. "I don't know how you do that before there's an audit and we can get some information."
Students walk out
Teachers received their layoff letters Friday afternoon, when students had a half-day and had already left their schools. But by Monday morning, word was spreading, and many students returned to school to learn that the teachers who have led their classrooms for the first part of the year might not be back after winter break.
A staff member at School 34 described a scene in which 60 fifth graders cried and screamed after learning they were losing two of their teachers. The school is slated to lose six teachers altogether, according to the union.
Hundreds of city students walked out of class on Monday and Tuesday in protest of the layoffs. Walk-outs happened at School of the Arts, East High School, and School 58 World of Inquiry.
Ariana Jackson and Jamae McDowell, both School of the Arts seniors who were part of the walkout, said the school board failed to live up to its own responsibilities and is now making teachers and students pay for overspending that wasn't their fault.
PHOTO BY GINO FANELLI
The Rochester School Board heard from 37 teachers, staff, and parents, all of whom spoke against proposed layoffs, during its meeting last Thursday.
"The Board of Education, they make everything about politics," Jackson said. "These teachers actually have experience with these kids in the city, they know what's going on in these kids' lives with the poverty and everything."
McDowell said teachers are the most constant presence in some students' lives.
"The city's in poverty, they don't have these connections at home that they find here. If you take away the staff, then who do they have?" McDowell asked. "The City School District is already one of the worst in the state, and cutting teachers will only make it worse."
Jade Rodriguez, a School of the Arts junior, questioned some of the district's spending decisions. Specifically, he homed in on the district giving Chromebook laptops to students. The laptops are relatively inexpensive and need a WiFi connection to operate.
"If they weren't so busy trying to give us these little gadgets and actually focus on the teachers, we wouldn't have this problem," Rodriguez said. "These teachers break their backs and they spend money — they spend their own paychecks on us. The school district doesn't give them money for supplies, they spend their own checks on us."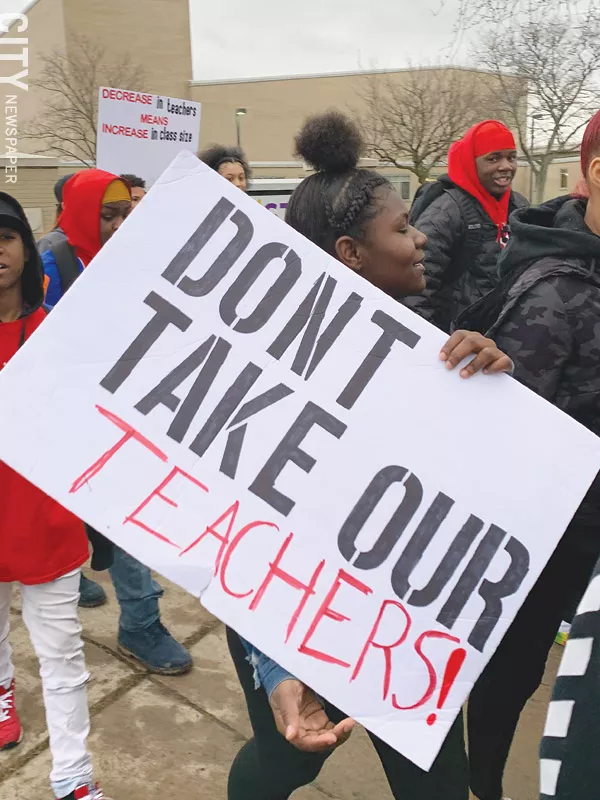 Hardest hit schools
While the union anticipates elementary schools will bear the brunt of the layoffs, the cuts will not be uniform. Under the union's collective bargaining agreement, seniority determines who gets laid off.
Some of the schools hardest hit are those whose students are already struggling to keep pace with their peers in Rochester and around the state.
Rise Community School is among them and is projected by the union to lose 13 teachers — the most of any school. Formerly called Kodak Park School 41, the school was renamed Rise Community a couple of years ago after it was revamped in response to state sanctions.
Urbanski said the school is anticipated to lose so many teachers because it had a disproportionate amount of young teachers due to a new labor contract that was struck when the school was renamed and remade. "Not a lot of senior teachers wanted to work there," Urbanski said.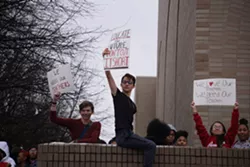 PHOTO BY GINO FANELLI
Monday morning, students at School of the Arts protested district plans to layoff teachers.
Rise Community, located on Desmond Street on the border of the city and Greece, is representative in many ways of the district as a whole. It is overwhelmingly poor, segregated by race, with a disproportionately high number of students with disabilities and a lack of English skills.
The school's student assessments in reading and math lag behind the district average, which trails the state. Ninety percent of students in grades three through eight at Rise Community tested below state standards last year in reading, and 86 percent did not meet standards in math.
Then there is School 33, which serves students in pre-kindergarten through sixth grade on Webster Avenue. There, 88 percent of students fell below state standards in reading, and 83 percent didn't make the grade in math. The school is projected to lose 10 teachers, the second-most of any school.
The pattern holds for the lower and high schools at the East campus, where eight teachers are projected to lose their jobs. At the lower school, 90 percent of students didn't meet state standards in reading and 83 percent didn't meet state standards in math.
Across the district, just 11 percent of students meet or exceed state standards in reading and math, respectively. By contrast, 45 percent of students across the state met or exceeded standards in both subjects.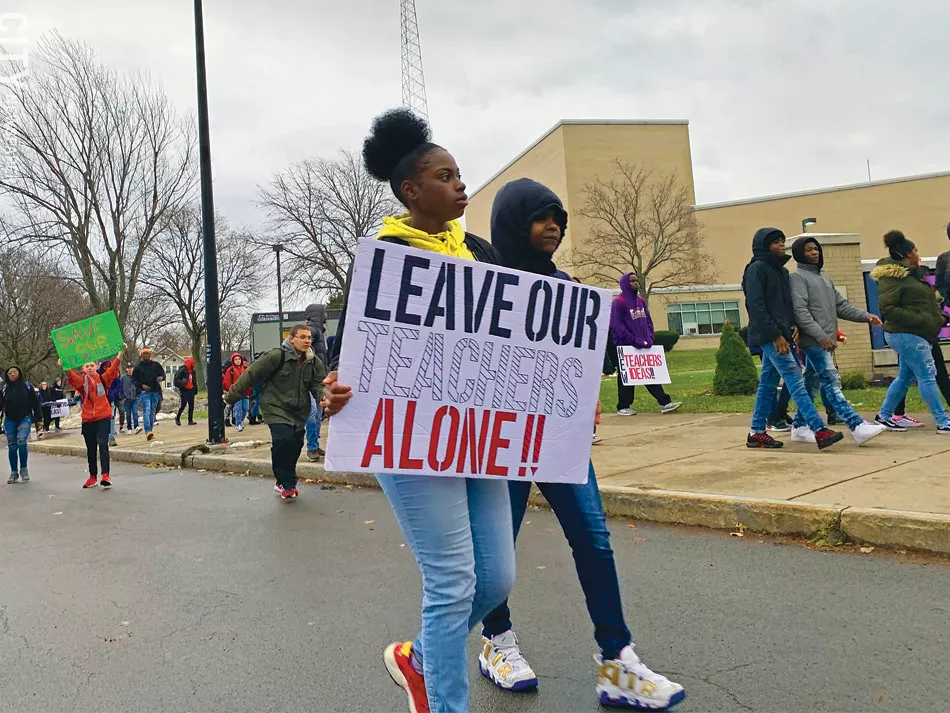 New work for teachers
A potential silver lining for some Rochester teachers who got pink slips is that the Buffalo Public Schools is hiring, and is looking to teachers here to fill as many as 75 open slots.
"Having taught and worked in Rochester for 16 years," said Jamie Warren, the associate superintendent for human resources at BPS, "I know the commitment of the educators who work there. So it's exciting to be able to extend an offer to come work in Buffalo."
Warren said there are teacher shortages in the areas of science, math, special education, and bilingual services. "That is a continual recruitment effort on our part," she said, "because we're not finding as many teachers coming out and graduating under those identified shortage areas."
The Buffalo district is scheduled to host an invitation-only recruitment event at the Rochester Teachers Association offices on Union Street in Rochester on December 17. Warren, who commutes to Buffalo from Rochester, said Buffalo is prepared to waive residency requirements for teachers who are hired.
"We'll be set up to extend employment offers on the spot so teachers know that they have a position with us," Warren said.
Job offers will not be finalized until candidates interview directly with school principals. Teachers will be hired under probationary terms and will be eligible for tenure after four years of service.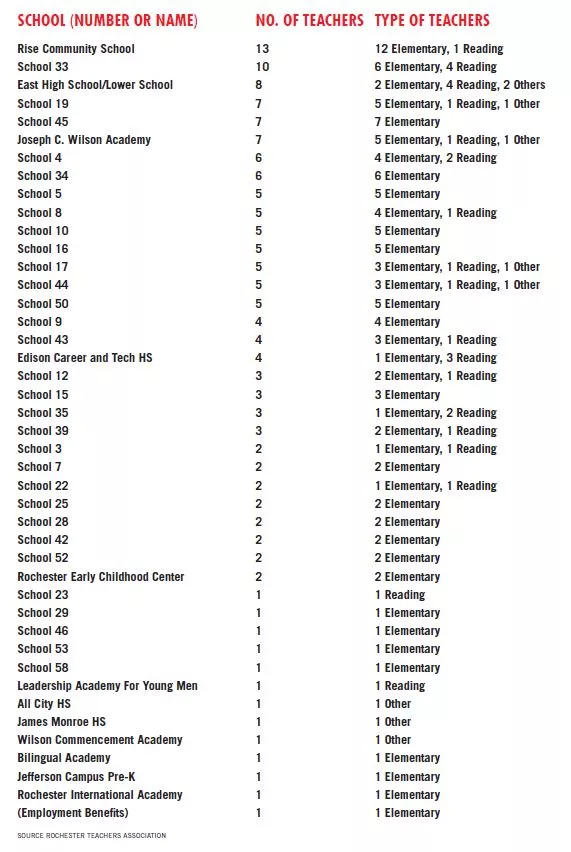 CITY editors and writers David Andreatta, Jeremy Moule, and Gino Fanelli contributed to this report. WXXI editors and reporters Randy Gorbman, Beth Adams, and James Brown also contributed to this report. WXXI is a media partner of CITY.