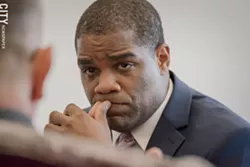 FILE PHOTO
Superintendent Terry Dade
The Rochester City School District must now close what officials project is an $87 million budget gap. To plug that hole, Superintendent Terry Dade is proposing additional staff cuts as well as school closures.
Dade's initial budget draft, which he released March 26, proposed eliminating 236 positions, 193 of which would have been teachers.
As Dade presented an updated budget draft to the Rochester school board Tuesday, he proposed eliminating approximately 341 positions, or almost 6 percent of the district's workforce. Teachers would account for 280 of those positions and most of them will likely be eliminated through attrition, Dade said.
"This has been a nightmare of a budget year because all I've been able to talk about is reductions," Dade said.
Dade also recommended closing schools 20 and 43, as well as converting Nathaniel Rochester School No. 3 — currently an elementary school — to a middle school. Combined, those measures would save the district a projected $9.5 million, he said.
The superintendent also appeared to strike a nerve by recommending to the board members that they cut $6 million from the budget for East Upper and Lower School, which is run by the University of Rochester under a contract with the school board. The board already approved the contract for 2020-21 and the state is now reviewing it.
Some school board members, particularly President Van White, have held the school up as a success story. He frequently notes that East's graduation rate was 19 percent before the University of Rochester took the school over in 2015 and that last year it was 70 percent.
The university and East Superintendent Shaun Nelms accomplished that turnaround not just by developing a cohesive curriculum, but by adding social workers, counselors, and other supports. Dade urged the board to consider the staff levels at East and the needs of other district schools.
"During tough times I honestly think that we have to look at all pieces of the equation," Dade said.
The suggestion was enough to earn him a public rebuke from Nelms, who asked board members for the opportunity to speak during the videoconference meeting.
"I'm a little shocked and surprised by the $6 million ask," said Nelms, who added that a cut of that magnitude would likely end the partnership between the university and the district.
Nelms also noted that East reduces its budget every year and has done so for 2020-21. He also pointed out that the school made mid-year cuts.
White had stern words for Dade as well.
"We do not need to make enemies out of the people trying to do right by our children," White said.
Board member Beatriz LeBron, who has been critical of East's costs, supported Dade and said looking for cuts at the school is a matter of equity.
"I think that has to be really thoroughly examined," LeBron said.
Dade's March 26 proposal included cuts to special education and bilingual education programs, as well as the elimination of approximately 31 social workers, who provide legally-required psychological counseling services to students.
Those cuts are still part of the superintendent's proposal.
In advance of Tuesday's meeting, more than 90 community members e-mailed the board with comments on the budget proposal. The first 30 that came in were read out loud to the board, and the writers urged the members to reject proposed social worker, bilingual education, special education, and arts program cuts. Several also urged the board to reject a $1.57 million contract for school resource officers.
"Our students are not criminals, they need social emotional support," said district parent Jessica Gustafson during a videoconferenced budget hearing that also took place Tuesday. Gustafson urged the board to preserve social worker positions and eliminate the school resource officers.
In his updated budget plan, Dade does propose decreasing the number of school resource officers — Rochester police officers assigned to schools — from 12 to 7 and adding school security officers. Dade said the change was made in response to a recommendation from board members.
"Student safety is my top priority above anything that you could ever think of," Dade told the board members.
The board will continue deliberations on the budget when it meets Thursday, and will vote on a proposal in the coming weeks.
Jeremy Moule is CITY's news editor. He can be reached at jmoule@rochester-citynews.com.