PHOTO BY REBECCA RAFFERTY
A "Rainforest IV" collaborator explains a how an instrument is made from scrap metal.
Picture a post-apocalyptic, post-reason environment: It's a scene that looks as though a great quake heaved the contents of a dump upward, and then time stalled. Some cast-off objects are suspended in the air while others stand as un-silent sentinels. Decommissioned machines and furniture whisper vague melodies, grumble, and intone metallic echoes of a reinterpreted language. And human figures move around this space, cautiously listening while exploring the strange terrain.
This is one possible interpretation of the Memorial Art Gallery's upcoming presentation of "Rainforest IV," an interactive sound-sculpture collaborative performance. The installation will be accessible during the gallery's hours through Sunday, September 10, beginning with an opening performance on Thursday, September 7, at 6 p.m.
Thursday night only, an improvisational dance component will be presented by UR's Dance and Movement Program Director Missy Pfohl Smith, Anne Harris Wilcox, and Rose Pasquarello Beauchamp.
Prior to installing the altered junk objects that make up "Rainforest IV" in the MAG's newly renovated Grand Gallery, the collaborators -- which include the MAG's Andrew Cappetta, composers affiliated with Eastman School of Music, members of the department of audio engineering, a percussionist, and an artist -- crowded in the MAG's Creative Workshop to tinker and talk about their work.
The team -- which was led by Oliver Schneller of Eastman Audio Research Studio and University of Rochester Associate Professor of Art Allen Topolski -- created dozens of instruments from scrap metal donated by local recycling facility Metalico. Other objects were brought to the table by Topolski, who creates sculptural work.
"Rainforest IV" has a deep and fascinating history. The sculptural soundscape was conceived in 1973 by sound artist and avant-garde pianist David Tudor. He outlined a basic diagram for recorded and composed sounds to be played through a series of suspended objects using transducers, which are devices that convert electronic signals into sounds.
Each sculptural element has one or more transducer, which "transfers the vibrations to the surface to which it is attached," Schneller says. "It's like a speaker without the paper membrane."
The title of the performance refers not necessarily to a literal environment, but to the creation of an immersive, sonic density that is akin to being surrounded by an unpredictable cacophony of nature.
Since 1973, "Rainforest IV" has been reinterpreted and performed more than 150 times in museums, universities, and art spaces around the world, perhaps most notably by sound artists collective Composers Inside Electronics, which included John Driscoll, Phil Edelstein, and Bill Viola, among others.
But the history goes back even further -- Tudor's first iteration of the composition, "RainForest," was created in 1968 to accompany a dance of the same name by American avant-garde choreographer Merce Cunningham. Various artists were invited to participate in performances -- even Andy Warhol got in on the game, floating his "Silver Cloud" Mylar balloons above and among the dancers.
The version of "Rainforest IV" to be presented at the MAG pays homage to Tudor's work by using his original diagram, but freshly interprets it through the participating composers' hands and the specific objects they've transformed into instruments.
"The score is just a diagram -- it's a wiring diagram," Schneller says. "It shows that sound is being sent to an object, and then that object responds according to its size and dimensions and material. And then you re-record that sound and feed it to speakers that are in the hall.
"So you're not only hearing the live response of the speakers that comes through the transducers, but you're also hearing a mixed version of all of the instruments together through regular loudspeakers that are placed throughout the hall."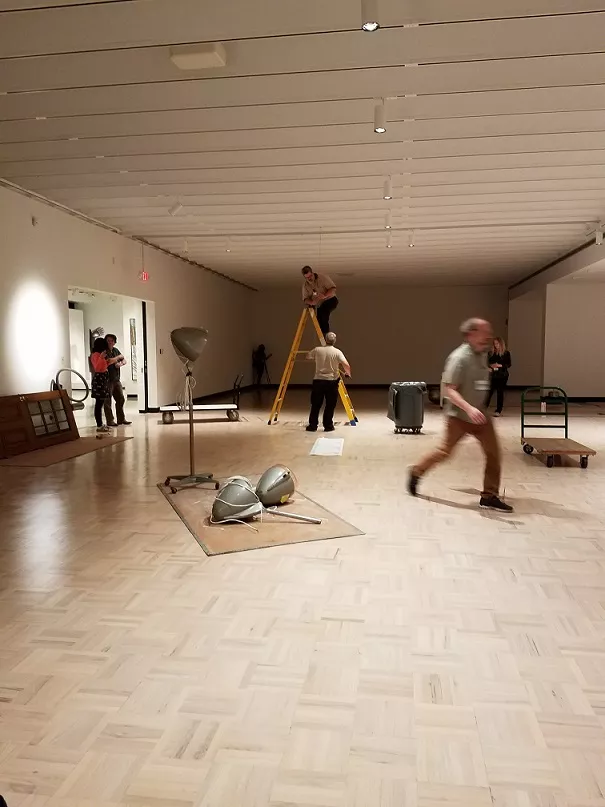 PHOTO PROVIDED
Collaborative sculptural soundscape "Rainforest IV" installation in progress at Memorial Art Gallery.
The participants aim to replicate the score, but through their own individual interpretations.
"Each performer has composed their own repertoire of sounds that gets broadcast to the objects and they actually get turned to life sonically with these sonic materials," Schneller says. "It's a very open project, but there are certain constraints that we have to observe."
Schneller invited Topolski to collaborate because he wanted to include a visual artist who had a strong understanding of aesthetics and spatial relationships.
"I also have a toolbox," Topolski cut in, jokingly. "The objects have to work in a way that I'm not used to caring about. Their physical attributes play into their resonance. There were things that we picked up that were surprisingly resonant, and some didn't work. I kind of like that the margins have been continually narrowed down to what we have.
"It's a good experience for me because it's a relinquishing of control, which I'm not good at," he says with a laugh. "So this has been really fun. I look for situations that are outside of my own comfort zone."
Schneller's chosen instruments include a crushed pot and several clusters of steel ribbons, each with a transducer inside the bunched strands of metal.
"It was pretty challenging for everybody because nobody has ever dealt with such a thing," he says. "We're taking these materials from the scrap yard, we're cleaning them up, bringing them into the museum for a three-day performance. So they briefly come into existence, have a moment of glamor, and then they go back to the scrap yard."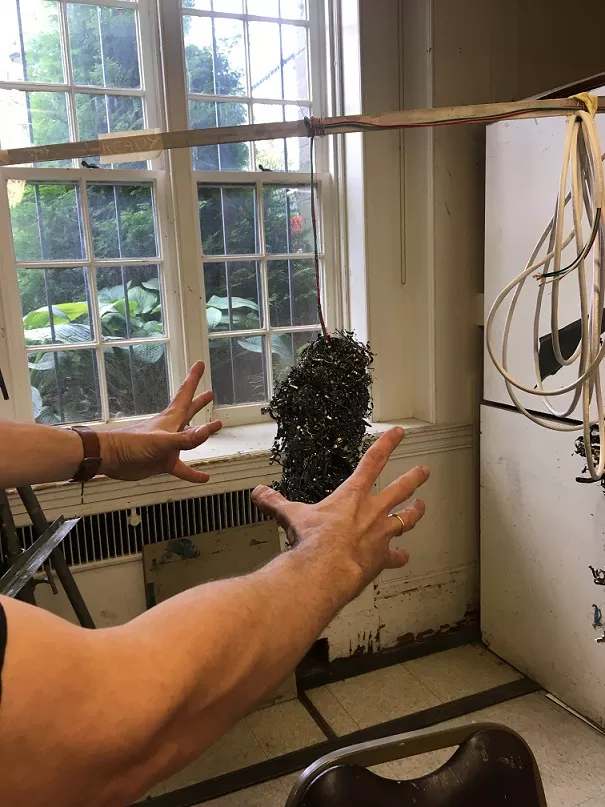 PHOTO BY REBECCA RAFFERTY
By embedding a transducer in bunches of metal ribbons, Oliver Schneller has turned junk into an instrument.
Other objects chosen by the participants include a metal ring surrounded by a spring, a clothes dryer, old fashioned salon hair dryers, and the brake drum from a car -- which emits a sound like a hissing, metallic version of running your finger along the rim of a crystal goblet.
"We are going about this with a sense of discovery, and taking notes," Schneller says. One of the points of stumble-upon excitement was making an instrument from a door -- the kind that has a glass window set into its upper half.
"You wouldn't believe how differently a door vibrates," Schneller says. "There's basically three different materials: the glass, wood, and brass frame."
During the opening night, dancers led by Missy Pfohl Smith will improvise a live performance by interacting with the sculptural work, and the musicians will sonically respond, creating what Schneller calls a collective improvisation.
"The way this work and Tudor's extensive work with John Cage sits in the timeline of dance history is quite compelling to me," Pfohl Smith says. "This work will grow out of responses in the moment to the space, objects, and sounds in combination with some planned material inspired by Tudor's score and ideas."
The resulting piece will be recorded and played back through the objects over the course of the weekend. Visitors to the space are invited to walk around the objects and approach them to listen closely, but are asked not to touch the work.