More than a dozen local activists concerned about police use of force gathered at the Rochester Police Locust Club on Monday to protest plans to have officers participate in a controversial training program.
The Locust Club is paying for training by the Force Science Institute. At Monday's protest, activist Jazper Titus said training should instead be focused on deescalating volatile encounters with civilians. Turning to FSI for training shows a lack of empathy toward people of color, Titus said.
FSI was founded by psychologist Bill Lewinski, who says officers are always at risk if they don't act with force quickly when confronted by an uncooperative person. His ardent defense of police officers has made him popular with defense attorneys representing officers accused of using excessive force. He is frequently called to provide expert testimony in trials.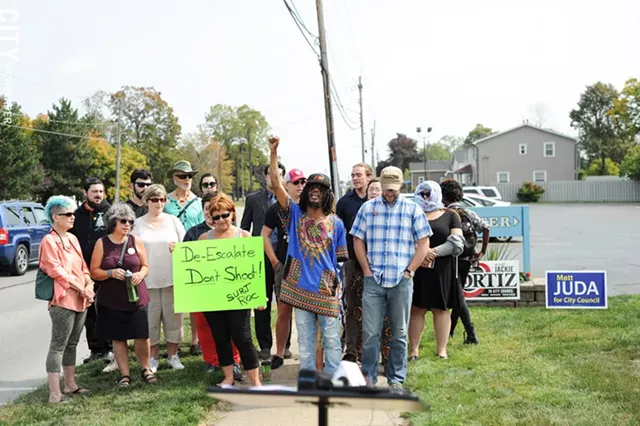 PHOTO BY JEREMY MOULE
Activists urged Rochester police to cancel plans for a controversial training program set for next week.
In those cases, a New York Times article said, Lewinski's conclusions are consistent: "The officer acted appropriately, even when shooting an unarmed person. Even when shooting someone in the back. Even when witness testimony, forensic evidence, or video footage contradicts the officer's story."
The Locust Club defends the training, arguing in a written statement that it helps officers "better understand the human factors of force encounters that may affect an officer's perception, decision-making, and response."
The city had first planned to provide $15,000 to help pay for FSI training, but it has withdrawn that funding. The Locust Club will train officers next week at its own expense, which is permitted under the union contract.