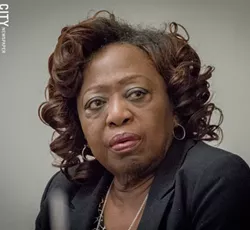 PHOTO BY RYAN WILLIAMSON
Rochester City Council President Loretta Scott
City Council plans to vote this month on legislation creating a Police Accountability Board. And despite protests from some community activists and religious leaders, the legislation will permit former law enforcement officers to serve on the board.
The Police Accountability Board would have broad powers, including determining the discipline of police officers in cases of misconduct. Council's original proposal, released in January, barred former law enforcement officers. The revised legislation removes that prohibition, with some restrictions, Council President Loretta Scott said on Sunday.
Current or former members of the Rochester Police Department would still be barred from serving on the Accountability Board. Former members of other law enforcement agencies could be members if their service ended three years before joining the PAB.
Under Council's legislation, the Accountability Board would have nine members: one nominated by the mayor, four nominated by City Council members (one from each of Council's four districts), and four nominated by the Police Accountability Board Alliance, a large group of community organizations and representatives. City Council would confirm all of the nominees.
The reason for the revision allowing a former officer to serve? "We felt that it was only fair that we not forbid that category of citizens," Scott said. Law enforcement, she said, was the only category of people that the legislation would bar from a key governmental process.
Activists who have pushed for the accountability legislation have been lobbying City Council members since they first heard the text might be revised. In April, members of the Roc/ACTS Religious Leaders Caucus held a press conference urging Council to stick to the original proposal. And late last week, members of the Police Accountability Board Alliance held a 24-hour vigil at City Hall.
Scott said the legislation will likely be ready for public presentation early next week. Council will vote at its May 21 meeting, and the legislation is expected to pass unanimously. Mayor Lovely Warren can veto it, although it's likely that Council will easily override that action. The legislation will still face hurdles, though.
Under the City Charter, the mayor has the power to discipline police, which she has delegated to the police chief. Because the new legislation takes that power away from her, a public referendum is required. It will be on the ballot in November, and it's not at all certain that city voters will approve it.
In addition, the Rochester police officers' union, the Locust Club, seems certain to sue over the legislation.