Tonya Noel and Kristen Walker see their garden at Jefferson Avenue and Flint Street as much more than something nice to look at.
It provides their neighbors with fresh kale, corn, lettuce, cucumbers, collard greens, melons, and berries. This year, okra is also in the mix. These are the kinds of healthy foods to which the nearby residents – and really, many neighborhoods in the city's southwest – don't have easy access.
PHOTO BY KEVIN FULLER
Tonya Noel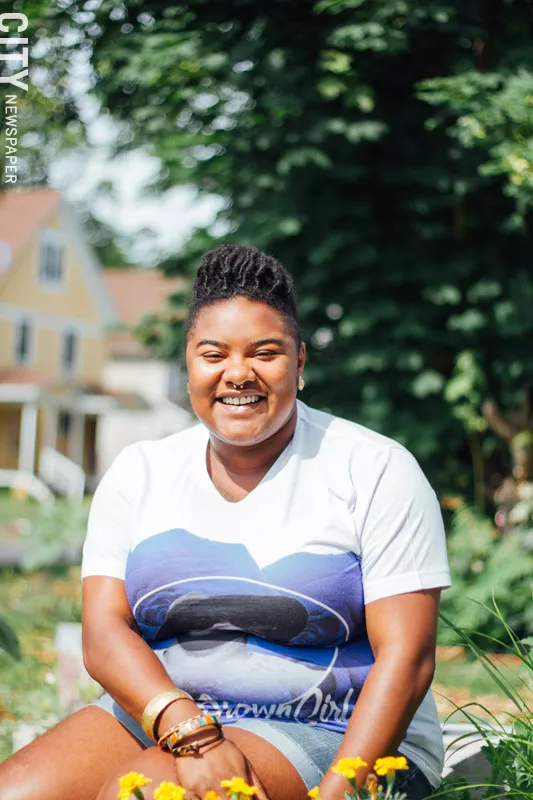 PHOTO BY KEVIN FULLER
Kristen Walker
There's no supermarket in the Plymouth-Exchange neighborhood, and roughly one-third to one-half of the households in the neighborhood don't have access to cars, according to Census tract data from the US Department of Agriculture. In other words, quite a few residents can't just hop in their car and drive to Wegmans, Tops, or Walmart. And the corner stores rarely have fresh vegetables or fruit.
The area is what is commonly referred to as a "food desert," though the term is falling out of favor with people who tackle food issues. Noel calls it food apartheid, since the problem relates directly to disinvestment from city neighborhoods where a large number of residents are lower-income people of color.
So when Noel and Walker harvest their garden, which they do two or three times a year, they give much of their 50-pound yield to neighbors on a first-come, first-served basis. They try to make sure that people who help out in some form get preference. Older community members who farmed in the South often head right for the greens, and the kids often want to get a taste of the strawberries and melons, Walker says.
Noel and Walker, both of whom have full-time jobs outside of the garden, pay for most of the costs. They get some donations, which help with the cost of plants and materials.
"We run on love power, because it's literally just off the love of people and community that we do this," Noel says.
Noel and Walker are just two of the faces in Rochester's growing urban agriculture movement. It's a scene full of people with different backgrounds, skills, and approaches to working the land. But a common thread runs between each garden, from Sofrito Garden on North Union Street, which is run by the Marketview Heights Collective Action Project, to the South Wedge Victory Garden, to Foodlink's Lexington Avenue Urban Farm: the people who work them see food and community as intimately linked.
Noel and Walker, who work as the Flower City Noire Collective, say it's important for the children who live nearby to see people of color like them farming and making change in their neighborhood, so they know it's something they can do, too. They also use the gardens to teach women and families about growing their own food.
Both women grew up in the PLEX neighborhood and are frustrated by the lack of investment they've seen. The blocks around the garden, and around their sunflower garden at Brown and Jefferson, once thrived, they say. There were community stores, butchers, and taverns, and people used their talents for the benefit of the neighborhood, Noel says.
And they're deeply concerned that creeping gentrification – the University of Rochester and some developers have taken an interest in property in PLEX – could displace longtime residents and businesses. Noel and Walker see community gardens as a way to strengthen neighborhoods and guard against gentrification.
"It's important we do our work in that neighborhood, because we're from there and a true reflection of what could come from there just with, like, a little bit more investment," Walker says.
Urban agriculture isn't going to solve the massive, complicated problems of food access and food insecurity. Community gardens and urban farms can help make healthy food available to more people, but they aren't going to sustain large numbers of people for any extended period of time.
The gardens and farms have some far-reaching benefits that are just as important as food, however. Each is unique, and what happens in the soil and around the plots often taps directly into community needs.
Planting the seed: Urban farms are providing food and hope in Rochester from CITY Newspaper on Vimeo.
Seedfolk City Farm, which started in 2015, is a group of Rochesterians interested in teaching young people in the city about how they can grow their own healthy food and encouraging them to think about what they can do to improve access to healthy food in their neighborhoods, says cofounder Lisa Barker.
Seedfolk brings in a few students to work the garden; a crew of city youth and UR students built a greenhouse on the organization's farm at the M. K. Gandhi Institute for Nonviolence on Jefferson Avenue. And this year, Seedfolk has hired 12 students for its summer jobs program, which is part of the local Summer of Opportunity program. Barker says the group's hope is that the young people emerge as leaders and go on to make positive changes in their neighborhoods.
"It just gives them a new set of tools," Barker says.
Amber Powers, a city school district teacher, and Lisa Zeller, a World of Inquiry teacher and the advisor for the school's garden club, recently formed Taproot Collective, a nonprofit group devoted to building up a culture of community gardening and urban farming in Rochester.
PHOTO BY KEVIN FULLER
Amber Powers
Partly, that means Taproot's members are doing what they can to show city youth that they can grow their own food and to help them learn how. Zeller and Powers both say that garden projects provide young people – who may be living in chaotic homes or neighborhoods – with a place where they take charge and lead, and something that they're responsible for and can take pride in.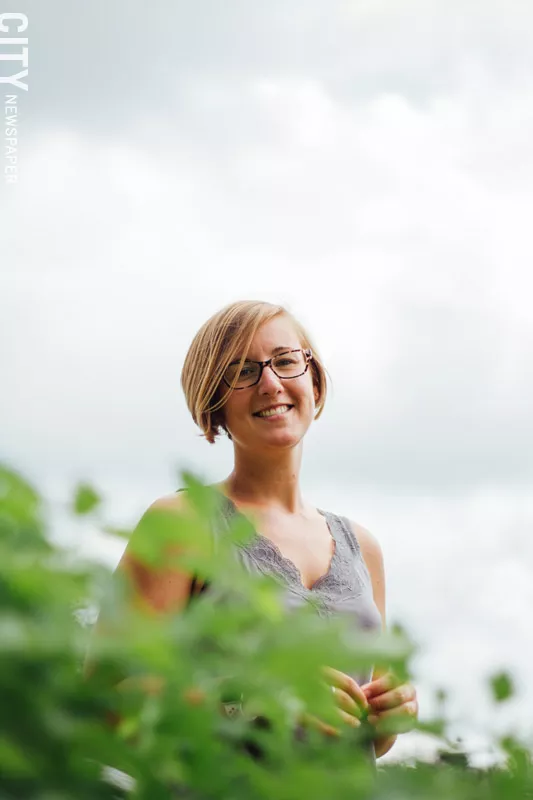 PHOTO BY KEVIN FULLER
Lisa Zeller
Taproot is currently helping students and staff at Wilson high school organize a garden club. The students are meeting on Wednesdays throughout the summer to seed the effort, Zeller says.
"We're not telling them what needs to get done in the garden," Powers says, "we're helping them map out the needs, and they make the plan. They do it."
PHOTO BY KEVIN FULLER
Taliyah Morales
Urban agriculture, it turns out, is also a powerful tool for strengthening neighborhoods. Community gardens can develop into neighborhood anchors, places where people can gather, says Powers, who worked in urban planning before becoming a teacher. The gardens stitch communities together, she says, which in turn helps people better advocate for their neighborhoods.
"If they have a place to meet and they get to know each other, and they have that safe space to organize, it's a lot harder to take advantage of the neighborhood," Powers says.
Taproot Collective members want to see neighborhoods cultivating their own gardens, so they offer help to people and groups who want to start a community garden or revamp an existing one. The group doesn't create the gardens, but instead provides help with things such as planning and applying for grants. Its team includes experts in permaculture and nonprofit management, homesteaders with gardening experience, and an ethnobotanist.
"The focus is not us coming in as an organization and providing them with everything that they need, but rather teaching them how to do that on their own," Zeller says.
And there several examples across Rochester of how gardens and urban farms lift up communities.
Powers and Zeller point to the Sofrito Garden in the Marketview Heights neighborhood as an example. Community members plant and tend to the garden, which features peppers used in sofrito, a key component in some Spanish, Portuguese, and Latin American dishes. Each year, the Marketview Heights Collective Action Project uses the garden's yield for a community Sofrito Celebration.
Some of the youth who work at Seedfolk sell their produce weekly at the Westside Farmers Market, where they have some pretty loyal customers, Barker says.
Across town, Foodlink's Lexington Avenue Urban Farm sits on just over an acre of former subway bed owned by the City of Rochester. Its raised beds and fruit trees are tucked back off the street, just outside an industrial area. Foodlink uses some parts of the farm, such as its hoop house, to grow produce for its own programs.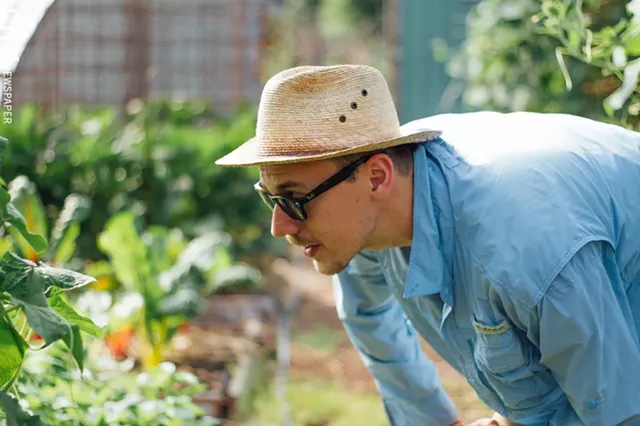 PHOTO BY KEVIN FULLER
Nathaniel Mich
But since the farm started in 2012, it has become vital to the refugees who live in the Maplewood and Edgerton neighborhoods. Foodlink worked with Mary's Place and Rochester Refugee Resettlement services so that the families, for whom agriculture was a major part of their lives back home, had a place to grow food, says Mitch Gruber, Foodlink's chief program officer. They had been asking Mary's Place staff if there was a place they could do that.
Initially, a dozen families had gardens at the farm, but the number has since risen to 60. The families are originally from Nepal, Burma, Bhutan, and Somalia.
The farm generates approximately 5,000 pounds of food a year, says Nathaniel Mich, Foodlink's community food access programs coordinator.
Foodlink officials see the Lexington Avenue Urban Farm as such a success that they'd like to expand it. But they can't.
The farm occupies a corner of a larger 8-acre site, which stretches between Lexington and Emerson. Gruber says he's approached city officials about using the whole property, even buying it, but officials are reluctant to sell city-owned land unless it will be used taxable development.
Foodlink's urban farm already has an arrangement different from other community gardens in the city. The organization has a five-year agreement with the city for use of the property. Any person or group can apply for a permit from the city to put a garden on any of the 3,000 or so city-owned vacant lots, but those permits are good only from March through December and a new one is needed each year. The city can also cancel the permits at any time for code violations or if the land is needed for another purpose.
Members of the Urban Agriculture Working Group, an organization formed to advocate for city policies that are friendlier to community gardens and urban farms, say the arrangement is problematic. People can invest a lot of effort and funding into a garden with no guarantee that they'll reap the rewards, or that they'll be able to build on their work the following year.
"It's an act of hope," Nathaniel Mich says.
PHOTO BY KEVIN FULLER
Lali Lamzdey
PHOTO BY KEVIN FULLER
Lachuman Pokhrel
Mich is also involved with the South Wedge Victory Gardens, which this year experienced the very thing that Working Group members are worried about. Managers for the 11-year old community garden on Hamilton Street were informed earlier this year that the city planned to sell the property, which had been built up with raised beds over the years. Members pushed back and the sale didn't happen, so the garden is growing this year.
The Urban Agriculture Working Group is asking the city to consider five-year permits for established gardens. That way, community members and organizations can be better assured that their money and effort won't go to waste.
The members also want Rochester to follow Buffalo's lead and work urban agriculture into zoning codes. Specifically, they want the city to recognize gardens and urban farms as an acceptable primary use of property.
In simple terms, that change would allow someone who owns vacant land in the city to use if for a garden or urban farm, and to install things such as sheds or water hookups to support it. Right now, those things can only be put on residential properties if there's also a house on it.
For example, Seedfolk is able to have a greenhouse at its farm because it's not a primary structure; the Gandhi Institute is located in a house on the property. Foodlink has sheds, a hoop house, and a water hook-up on its city-owned property, but it had to negotiate with city officials to get permission for them.
In general terms, the working group and other urban ag advocates want the city to recognize that community gardens and urban farms are their own form of community and economic development. They fuel neighborhood self-determination and help residents lead healthier lives, Mich says.
"The time is now," says Taproot's Powers. "The timing is right. There's a chance to make good policy changes within the city's zoning ordinance and real estate policies. People are organized. People have a motivation to do this now."


---
Reaching the sources
Want to reach out to the urban agriculture groups featured in this article? Here are links to their websites or Facebook pages:
Flower City Noire Collective
https://www.facebook.com/fcnc585/
Lexington Avenue Urban Farm (Foodlink)
https://www.facebook.com/LexingtonAveUrbanFarm/
http://foodlinkny.org/fight_hunger/the-garden-project/#tab-1
Marketview Heights Collective Action Project
http://www.marketviewheightsroc.org/
https://www.facebook.com/Marketview-Heights-Collective-Action-Project-863268600403209/

Seedfolk City Farm
http://seedfolkcityfarm.org/
https://www.facebook.com/seedfolkcityfarm/
South Wedge Victory Gardens
http://swpc.org/community/community-gardens/
https://www.facebook.com/South-Wedge-Victory-Garden-191610617520103/


Taproot Collective
https://www.taprootcollective.org/
https://www.facebook.com/pg/taprootcollectiveroc/
Urban Agriculture Working Group
http://rocurbangardens.org/
https://www.facebook.com/RocUAWG/