Running seems like the simplest form of exercise: just get off the couch, put on your shoes, and get going. But around Rochester, things are not that simple. Would you rather run straight down a paved track, or all around a wilderness trail? Are you up for a weekly triathlon, or just the occasional jog? Do you want to win national championships, or just get drunk with some friends in the woods? Whether you're a lightning-fast track star or just breaking in your first pair of Saucony's, there's a running club in Rochester that will get you moving at your most comfortable pace.
Greater Rochester Track Club
Greater Rochester Track Club is one of the oldest running clubs in Rochester, dating back to 1955. So it's no surprise that the club has accumulated the kind of accolades that come with tradition — it has more than 20 national championships and 200 team championships to its name. But while GRTC started off as a competitive club, it has now evolved into a more informal, recreational group aimed at runners of all abilities.
"We're not trying to compete," says president Wilt Altson. "We want to get the broadest scope of runners, everything from beginners and on. Come one, come all — that's our appeal."
To draw that wide audience, GRTC organizes, sponsors, or co-sponsors dozens of events year-round, from the Freezeroo winter races in January and February to myriad 5Ks, walks, marathons, and charity runs in the summer and fall. GRTC members are further immersed in the local scene with race discounts, spring track workouts, and a newsletter that unites the Rochester running community.
One-year GRTC membership is $15 for students, $20 for individuals, and $30 for families. Visit grtconline.org for registration and a full events list.
Yellowjacket Racing
Yellowjacket Racing organizes almost 40 annual events, and helps organize or manage more than 100 other events across New York State every year. Some of the Yellowjackets' own events include the Webster Turkey Trot, which draws thousands of runners to Webster Park every Thanksgiving, and the Sehgahunda Trail Marathon and Relay, which will be held on May 25 in Letchworth State Park and was named America's "Best Marathon You've Never Heard Of" by Runner's World magazine last year.
The group's full-time staff also plays a part in athletic events that span the entire state and calendar year. Yellowjacket, which has no affiliation with the University of Rochester's Yellowjacket teams, offers dozens of organizational services before, during, and after races. It provides everything from event planning to event promotion, from course constructions to course teardowns, from team t-shirts to awards, from timers and announcers to food and refreshments.
"We do everything," says office manager Heidi Buckler. "We do events with 50 people, and events that have almost 6,000, and each race gets the same amount of attention."
Prices for Yellowjacket Racing's services and races vary depending on the event. For the full list of events or more information visit yellowjacketracing.com.
Genesee Valley Harriers
Most running clubs are about recreation. This one is all about competition. Genesee Valley Harriers is for the disciplined, experienced runner who wants to compete at a local and national level — and is in it to win it.
"We didn't really organize to become a recreational social club," says Harriers President David Bischoff. "I wouldn't suggest a casual, 10-mile-walk-a-week kind of person to come out and join the club... Our main goal is to develop national-level teams."
GVH holds year-round weekly training meets at several venues across Rochester, and also has an Olympic Development Program that fields elite runners for regional and national contests. It's a demanding commitment, but the hard work pays off: in its 17-year history, GVH has already earned more than 100 combined individual and team national championships.
General membership is $75 a year. Membership in the Olympic Development Program has no additional charge, but runners must complete an application form and meet USA Track and Field standards to qualify. For more information and events, visit gvh.net.
Rochester Running Rebels
This is where the next generation of Rochester runners can hit the track for the first time. The Running Rebels, formed in 2009, is a youth club for runners ages 8 through 18. In this club, experienced coaches teach kids "good track fundamentals, and give them the foundation for track skills," says Rebels President Terry Eason. "We know kids are developing, so we want to instill the technique and form to make young athletes become better athletes."
In June and July, the Rebels holds track meets at Penfield High School, which feature running, pole vaulting, hurdle jumping, and other track and field events. (Kids are divided by age group, with the more difficult events reserved for older runners.) The group also travels to several competitive meets throughout the country, sometimes going as far as Kansas and California.
Membership for the Rochester Running Rebels costs $100, which pays for all local meets as well as an individual membership for USA Track and Field. Participation in most events outside of Monroe County costs $275, with extra charges for some events depending on additional travel expenses. To register or learn more about the Rebels, visit running-rebels-trackclub.com.
Rochester Area Triathletes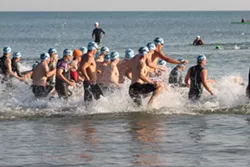 The Rochester Area Triathletes tackle running, biking, and swimming. PHOTO COURTESY BRIAN COLWELL / ROCHESTER AREA TRIATHLETES
There's more to life than running, you know. There's also swimming and biking. If you join Rochester Area Triathletes, you get all three. From April through September, the club has weekly run-bike-run and twice-weekly swim-bike-run workouts at Durand Eastman Park, Webster Park, and other area locations. In the winter off-season, from December to March, RATS holds indoor track and swim-bike workouts at the Maplewood YMCA. RATS also organizes several special triathlons throughout the year, including the Rochester Triathlon in Durand Eastman Park and Beach (August 24) and the Rochester Kids Triathlon in Genesee Valley Park (July 20).
While the group welcomes athletes who are interested only in running, biking, or swimming, president Rob Smura says that most members get involved for the full triathlon experience. "If runners are wondering, 'What else can I do to stay in shape?,' we offer them a variety of different workouts," he says. Besides, he adds, a triathlon "burns more calories than just a run."
The Rochester Area Triathletes tackle running, biking, and swimming. PHOTO COURTESY BRIAN COLWELL / ROCHESTER AREA TRIATHLETES
RATS' special events are open to the public, with varying fees. Membership is required for the regular workouts. One-year membership is $20 for students, $30 for other athletes, and $40 for families. Go to rochesterareatriathletes.com to register online or learn more about the group.
Goose Adventure Racing
Afraid that you might feel confined on a straight and narrow track? Then Goose Adventure Racing might be a better fit for your free spirit. This group exclusively runs through off-road and wide-open areas, like parks, fields, or any other natural, non-linear trail.
"We like trails that are off the beaten path," says co-director Mort Nace. For example, the Muddy Sneaker Trail Run on April 20 treks through "primitive" wilderness areas around the Finger Lakes region, while the Frozen Assets 5K in January is a snowshoe journey through Harriet Hollister State Park in Honeoye.
PHOTO PROVIDED
Goose Adventure Racing's Out of Bounds trail half-marathon is held at Bristol Ski Resort in October. The group focuses on off-trail races.
In Goose races, the runners' greatest obstacles are the elements of nature: logs, rocks, roots, fallen trees, oblivious animals, and whatever else might pop up in these expansive, unpaved trails. These races "are still competition, but they're more about competing against those elements than the runner ahead of you," says Nace. But doesn't that put runners at a greater risk of injury? "I think the potential for danger is overrated," he says.
Goose Adventure Racing has no formal membership, and its events are open the public. Registration fees vary for races. For more information, visit roadsarepoison.com.
Flour City Hash House Harriers
Hash runs are a worldwide tradition, dating back to the 1930's in Kuala Lumpur, of social, non-competitive wilderness runs. So the Flour City Hash House Harriers is another group that specializes in unusual locals. But this club has an added twist: alcohol. Dubbing itself "a drinking club with a running problem," the Hash House Harriers centers all of its runs on searches for shots and beers. At the beginning of each race, a designated "hare" hides drinks in the wilderness or in a nearby bar, and runners have to follow "Shot Near" and "Bear Near" landmarks to find them.
"There are no rules in hashing," says Jeanna Potter, the group's head of "hash-pitality." "It's complete debauchery, in a good way." The quests for quenches take these runners through treacherous terrain: Potter says that past runs involved swims across the Genesee River and Erie Canal, hikes up angular hills, and escapades through muddy, reedy parks and fields.
"We abuse ourselves," Potter says. "But basically, we're just messing with each other." Plus, the rewards for these hash runs validate the struggle: Most runs end with the taste of local brews, and some of the bigger events have Pabst Blue Ribbon.
Flour City Hash Hour Harriers holds runs every Thursday March through October, and every Sunday in all other months. Runs are $5 per person, which, in Potter's words, "includes all of your beer and all of your abuse." The group also organizes an annual camping trip during the last weekend of July, and other special events throughout the year. For more information, visit rochesterhhh.com, or call 234-1708.
Did we miss a Rochester-area running group? Post a comment below.