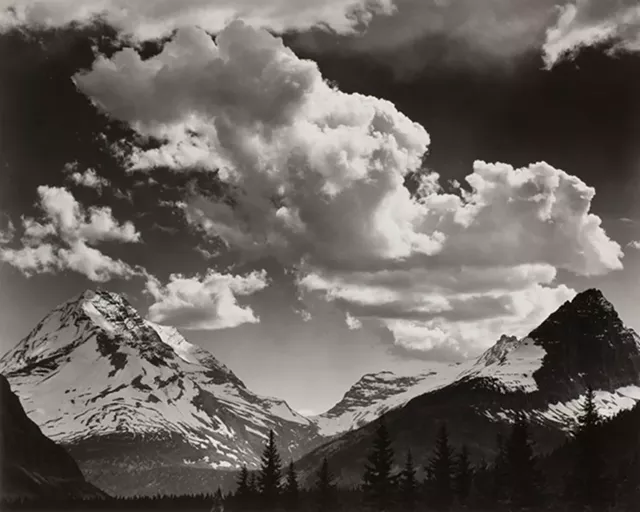 PHOTO PROVIDED
"Noon clouds, Glacier Park, Montana, 1942" by Ansel Adams.
PHOTO PROVIDED
Alvin Langdon Coburn's "The Three Brothers, Yosemite, 1911."
PHOTO PROVIDED
William Henry Jackson's "Hot Springs and the Castle Geyser," 1872.
PHOTO PROVIDED
Mark C. Klett and Byron Wolfe's 2009 image, "Woman on head and photographer with camera; unknown dancer and Alvin Langdon Coburn at Grand View Point."
PHOTO PROVIDED
"Three Falls (stand-in)," a 2014 cyanotype by Sean McFarland.
PHOTO PROVIDED
Willie Osterman's "Tram at Tunnel View, 1990/91," From the Yosemite Photographic Survey series.
PHOTO PROVIDED
"North Rim Highway, Grand Canyon, Arizona, June 1980," from the series "Picture Windows," by John Pfahl.
PHOTO PROVIDED
David Benjamin Sherry's 2013 chromogenic development print, "Sunrise on Mesquite Flat Dunes, Death Valley, California."
PHOTO PROVIDED
"Chris, Campground Ranger, Tuolumne Meadows Campground," a 2014 image by Michael Matthew Woodlee.