All eyes are on Paris.
The world reacted to the horrific attacks that killed 129 people and injured many more with shock, grief, anger, and fear. But many people also look at the City of Light with optimism; Paris refused to let the violence prevent it from hosting the crucial United Nations climate treaty talks that start on November 30.
Long before the attacks, climate activist groups across the globe organized marches in dozens of cities for November 29, the day before the talks start. (French and UN officials have nixed the Paris march out of security concerns). The events are meant to show world leaders that the people they represent want them to commit to meaningful action on climate change.
The Rochester People's Climate Coalition has organized a local march for 1 p.m. on November 29, starting at St. Luke and St. Simon Cyrene Episcopal Church, 17 South Fitzhugh Street.
"This is an existential issue," says Abigail McHugh-Grifa, a committee member of the Rochester People's Climate Coalition. "If we don't deal with it now, we are going to really regret it. And for the future generations, for my children, it's not right, it's not fair."
PHOTO BY MARK CHAMBERLIN
Abigail McHugh-Grifa
Human-influenced climate change is a dire problem. Without global carbon-emissions cuts, the worst effects of the shifting climate are likely to play out, including sea level rise, changes in precipitation patterns, crop disruptions, and an increase in the frequency and intensity of heatwaves, destructive storms, and droughts.
The Paris summit, some scientists and many environmentalists say, may be one of the last chances for world leaders to work out a meaningful plan to slash carbon emissions. The talks will be the 21st time that world leaders have convened to negotiate a climate agreement, but previous pacts haven't done enough.
An international agreement would only be a beginning, McHugh-Grifa says. Governments large and small, as well as the public, have to take further steps. That's why the RPCC came up with "12 Days of Climate: Paris Talks, We Act."
RPCC members developed two actions that people can take on each of the 12 days of the summit; the calendar is available at http://tinyurl.com/12DaysRoc. For example, December 7 is devoted to eating less meat; livestock operations create substantial carbon emissions.
"Eating less meat is not like torture, it actually means it opens up this whole other realm of delicious foods you can eat," McHugh-Grifa says. "I think people think it's about deprivation and it's not. It's about finding alternatives."
The first major step toward a global climate agreement came in 1989, when the World Meteorological Organization and the UN Environment Programme established the Intergovernmental Panel on Climate Change. The panel compiles climate data from the world's top scientists and research institutions to serve as the basis of UN climate talks; the third IPCC report, released last year, warns that climate change is here, that it must be addressed, and that countries are not prepared for its effects.
Close to 200 UN members first agreed to cut carbon emissions and to provide assistance to developed or developing countries during the 1992 Rio Earth Summit. The nations inked their first treaty, the Kyoto Protocol, in 1997. The treaty was meant to drive down global carbon emissions through agreed-upon targets for industrial nations.
The United States had a chance to lead the rest of the world, and we blew it.
The agreement was negotiated under President Bill Clinton, but Congress never ratified it, and so the United States, the world's biggest economy and one of its biggest carbon polluters, never became an official participant. President George W. Bush officially withdrew the country from the treaty.
Congress hasn't passed climate legislation, either, and President Barack Obama has resorted to executive and regulatory actions to drive down domestic carbon emissions. Congressional Republicans continue to fight those efforts, though some GOP House members, including New York Representatives Chris Gibson, Tom Reed, and Elise Stefanik, acknowledge climate change and the need for federal action on it.
Other large nations, notably China, have used America's intransigence on climate change as an excuse to avoid making carbon reduction commitments. But that dynamic is changing. US and Chinese officials reached a deal earlier this year for both countries to make efforts to slash their carbon emissions. And they're bringing that pact to Paris, just as other countries are bringing their own emissions reduction plans.
"There's real hope for this conference, in part because countries have been stepping up," McHugh-Grifa says. "The agreement between the US and China is a huge deal. In the past, US and China have been the main obstructionists to getting something done, and now they are at the table and showing commitment. That right there is a really encouraging sign."
The longer the world waits to take action, the more drastic those efforts will have to be. And drastic actions are a tough sell to the public and politicians; that's part of what makes the Paris talks so urgent.
The nations are also likely to revisit other initiatives at the conference, including aid funds for developing countries and a clean energy fund backed by some large global banks.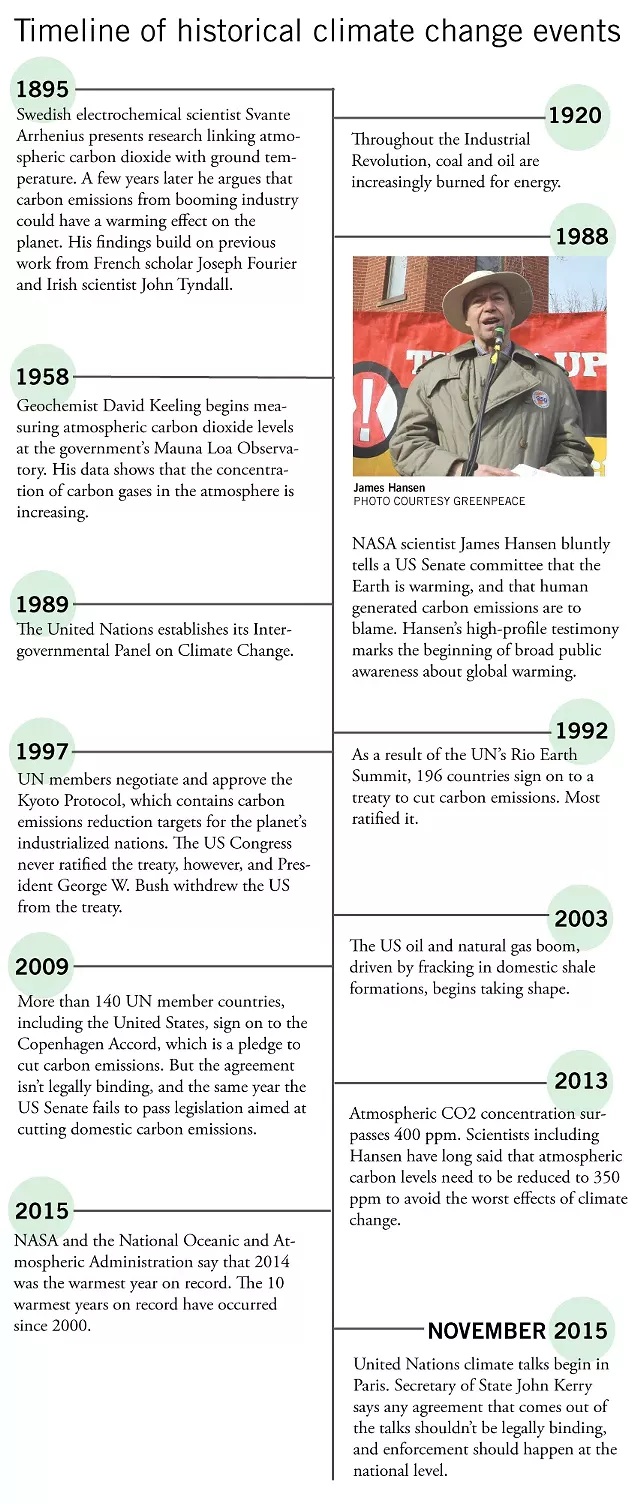 GRAPHIC BY RYAN WILLIAMSON
Climate change has always been a humanitarian issue; its symptoms disproportionately impact poorer countries, communities, and populations who may not have the resources to adapt or cope.
For example, an increase in the number or intensity of droughts will mean more water and food shortages, which in turn may cause conflicts over resources or lead people to leave their homes or communities for new places.
Some environmental and aid groups see the Paris attacks as a reminder that many parts of the planet are already tense places and that climate change has the potential to exacerbate existing rifts and to create new strife. Those tensions will spill beyond individual countries and continents to become global problems.
In an e-mail sent to supporters the day after the attacks, the international climate advocacy group 350.org said that the Paris event is not just a climate summit, it is a peace summit. Climate change "fans the flames of conflict in many parts of the world," but the global movement to address it is bringing people together to work toward a common goal, despite borders or cultural differences, the e-mail said.
The Rev. Ruth Ferguson, rector at Christ Church, an Episcopal parish in Rochester, says that the summit is a chance for world leaders to address some of climate change's moral questions, but also to begin partnerships that extend into other areas of international relations.
It's a chance for countries to start healing rifts, Ferguson says, some having grown out of foreign policy practices geared toward controlling or influencing oil-producing regions. It's an opportunity to move forward peacefully, as "one humanity," she says.
"The destruction of the earth is so tied in to our destruction of one another and our need to control others and dominate them and get at their resources," Ferguson says.