Is there any beverage as festive as wine? Whether you're washing down turkey and gravy with a crisp local vintage, celebrating Hanukkah with a kosher bottle, clinking steaming mugs of Christmassy glühwein, or uncorking champagne in the final hours or 2018, wine has a place at the holiday table.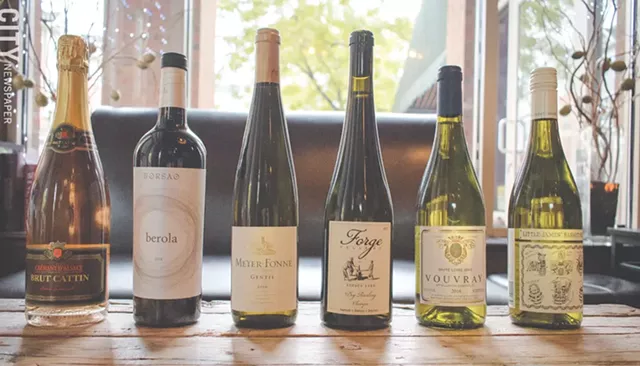 Trying to choose your perfect bottle (or bottles) from the enormous variety available isn't always so merry and bright, however, which is why we sought some professional help. We asked three local wine experts – one wine merchant, one winery owner, and one sommelier – to weigh in on what you should be drinking and serving this holiday season.
Matt Yaeger, Pinnacle Wine & Liquor
Cooler weather sees Pinnacle Wine & Liquor at 1720 Monroe Avenue in Brighton swapping out summery whites and rosés for deeper, cozier reds. At the family-run store, which specializes in French and Italian wines, expect to see hearty Rhône Valley reds and spicy, fruity dolcettos moving into the spotlight, according to Store Manager Matt Yaeger.
Around Thanksgiving, Yaeger says he often sees the same wines prescribed for the big day. Year after year, pinot noirs and rieslings are cited as good companions for the roasted bird. He likes to nudge his customers off the beaten track toward lesser-known wines. For a real conversation starter, Yaeger suggests serving orange wine, a skin-contacted white wine made by pressing white grapes and fermenting the juice in contact with the skins and pips. The resulting wine is amber or orange in color, with a "light presence, but more tannins and structure," he says.
Redolent of dried fruit and baking spices, orange wine pairs beautifully with the warmer, deeper flavors of fall and winter, according to Yaeger. And don't forget to pick out something to serve with dessert, he adds. A Finger Lakes ice wine, bittersweet amaro liqueur, or a bottle of Banyuls (a French, red dessert wine) will all help bring your meal to a satisfying close.
In the run-up to Christmas, Pinnacle sees plenty of customers shopping for wines to gift. When someone asks for help choosing wines for a loved one, Yaeger says he routinely asks, "What's their personality?" For a memorable present that's also a bang-on trend, try gifting a wine made from grapes grown in volcanic soils, Yaeger says. He points out that volcanic wines are edgy, complex, and make a great gift for the unconventional wine drinker in your life.
Lisa Hallgren, Ravines Wine Cellars
In the Finger Lakes region, Ravines Wine Cellars (400 Barracks Road, Geneva) is in the midst of its busy season. The winery makes "food-friendly" wines and specializes in teaching its visitors how to make successful pairings, Co-owner and National Sales Director Lisa Hallgren explains. Every fall, the winery develops a new set of Thanksgiving recipes designed to complement its wines. For visitors who want to learn more about pairing, Hallgren recommends the winery's weekend dining series, "The Ravinous Table." The dinners, which are scheduled for every Saturday through the end of 2018, include a cellar tour, dinner prepared by the winery's chef, plus four different wine pairings served by Ravines' wine steward.
The Thanksgiving season typically sees a surge in demand for the winery's dry riesling, Hallgren says, explaining that its acidity helps to cut through the rich, fatty flavors of gravy and butter. A favorite of The New York Times Wine Critic Eric Asimov, Ravines' dry rieslings retail for $15 to $30, depending on the vintage. Come Christmastime, Hallgren recommends pouring a soft, complex red blend like Ravines' Maximilien, a blend of cabernet sauvignon, cabernet franc, and merlot grapes that evokes plums and cloves.
Elle Andrews, Flight Wine Bar
Elle Andrews, Sommelier and General Manager of Flight Wine Bar in Corn Hill Landing (262 Exchange Boulevard), has helped so many customers choose wine to serve at events that she developed her own set of "rules." Rule number one? "Just don't run out," Andrews says. But that doesn't mean you should buy a whole case of just one wine. "You need to have options," she says, noting that people often make the mistake of trying to pair one wine with one food – say, the Thanksgiving turkey – when they have lots of elements on the table to consider.
"Look at the overall picture of the Thanksgiving table," Andrews says. "It's unlikely you can control all the flavors." She points out that you can't plan what dishes your dinner guests might bring. Often, once all the delicious side dishes have been accounted for, the turkey is the least important element in the entire meal.
Because there are so many flavors going on in a large holiday meal, Andrews always recommends aiming for the middle when it comes to the wine. "Think in larger terms about what's most appealing," Andrews says. "You want a wine that complements your food, not overshadows it."
Andrews also urges drinkers to be curious and interesting with their choices. "There are so many wines to choose from," she says, adding that lesser-known wines can be quite a bargain. She encourages customers to switch out familiar standards like chardonnay and pinot noir for herbal chenin blancs, aromatic gewürztraminers, or flavorful, affordable Rhône Valley red or white blends. Andrews' personal go-to is rosé sparkling wine. "It goes with absolutely everything," she says, especially salty, rich holiday foods.
Andrews' last piece of advice to holiday hosts is not to fuss too much. "Relax, it's just wine," she says.