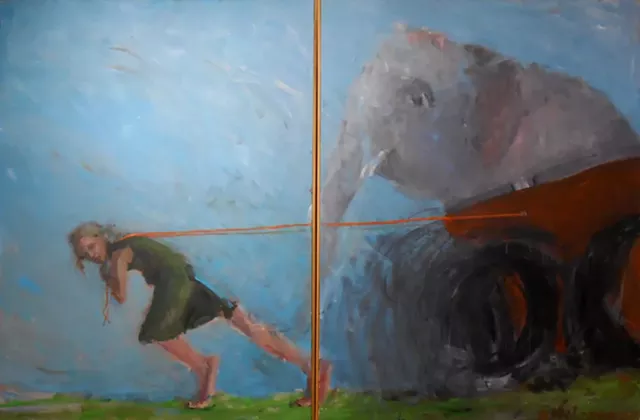 PHOTO PROVIDED
Amy McLaren's "Wherever I Go, She Goes" is a large diptych painting of a girl towing an intangible pachyderm.
PHOTO PROVIDED
Chris Baker has the ability to imbue any subject, including the utilitarian disorder of a dusty, chiaroscuro-laden workshop, with unexpected poetry. Baker maximizes the matte medium of gouache paint in his "Blacksmith Shop."
PHOTO PROVIDED
Daniel Mosner's oil painting, "Sunset Lion Burger," is full of rural nostalgia. I especially love the details of the metal barrel and the slope of one man's hunched back.
PHOTO PROVIDED
Helen Santelli's "Orange Fury" is a dramatic sweep of sky, featuring an almost fluorescent light within smoke-black clouds over low terrain.
PHOTO PROVIDED
Phyllis Bryce Ely's oil painting, "Skiddow Mountain (England)," depicts a large manor tucked at foot of a sloping, dominant mountain.
PHOTO PROVIDED
"Fiery I" by Sharon Gordon is a dreamy vision of fleeting terrain.
PHOTO PROVIDED
Darryl Abraham's "Sugar Shack," a mixed media diorama, depicts a snowy slice of a maple sugaring scene.
PHOTO PROVIDED
"Full Moon," an oil on canvas by Kate Timm, features a cheerful, candlelit tableau of treats set against a peaceful, cold night.
PHOTO PROVIDED
Todd Chalk's "Lone Pine," a watercolor on Yupo paper, is almost abstract with its glorious, dappled sunlight.