The City of Rochester is a fragile thing, with tremendous resources and seemingly great potential. But, like many cities in the US, it is facing enormous challenges.
Poverty, unemployment, loss of business and industry, low academic achievement, violence, tension over police oversight and community relations, racism: No mayor and no City Council can solve those problems quickly or easily, or on their own, for that matter.
But effective mayors can take actions that support progress and keep existing services functioning well. They can also suggest new, creative measures. They can lead, and they can inspire the confidence of residents and businesses. They can successfully balance the needs of conflicting interests and make tough decisions when they need to. And they can speak out on behalf of the needs of their citizens.
In a Democratic primary on September 12, registered city Democrats will choose among three candidates who want to be Rochester's mayor for the next four years: incumbent Lovely Warren, former police chief Jim Sheppard, and former television reporter Rachel Barnhart. The winner will face Green Party candidate Alex White and Republican candidate Tony Micciche in the general election in November.
We believe Mayor Lovely Warren's experience and her record during her first term make her the best choice.
We did not endorse Warren when she ran for mayor four years ago because we believed her opponent, incumbent Tom Richards, had done an excellent job, and we felt he was better suited to encourage the investment that was beginning to pick up speed in the city, particularly downtown.
Warren had an unnecessarily shaky first year, making some highly visible errors – hiring her uncle as a security guard, for instance – that reinforced concerns critics had about her before the election. Later controversies have kept those concerns alive. (Replacing several Rochester Housing Authority board members with her own supporters is an example.)
Also at play: a deep and sometimes highly personal division in the local Democratic Party. These are Democrats who clearly share the same philosophy and the same goals for the community, so the division is particularly unfortunate.
And it is made worse, including in this election, by its racial component. Warren's key support includes Democrats loyal to longtime African-American state legislator and political mentor David Gantt. Sheppard's support, while certainly not exclusively white, includes a key group of white political leaders, many of them from the city's more affluent southeast neighborhoods.
The division dates back many years, and it is keeping the party from achieving what it could achieve, in the city, the county, and the region. Sometimes, the distrust between the two groups not only affects deliberations by City Council but influences public opinion on important community issues.
And Warren sometimes heightens that distrust by not acting with more transparency. A recent example: her recommendation for development on downtown's Parcel 5 – a theater for the Rochester Broadway Theatre League, topped by an apartment tower. Warren had been set to recommend a residential-commercial development by Andy Gallina, but she and her staff changed their minds, apparently after questions arose about that proposal's financing. The problem, as Warren's critics have noted: funding is by no means secured for the RBTL proposal.
But Warren has also grown in the job, as elected officials often do. And she has a strong record of accomplishments. With other area leaders, she has pushed for more economic development in the region and for state assistance in attracting new business. And she has been a fierce advocate for providing jobs for poor and low-income residents. She pushed for development at City Gate that would bring good-paying jobs to the area, has pushed for better transportation from city neighborhoods to employment centers, and helped initiate a van pool for city residents to get to jobs at the Del Lago casino.
Her administration launched a community co-op program, and in April, the city announced that the program's first business, ENEROC, will install LED lighting in Rochester Regional Health parking garages.
The Warren administration brought the Kiva program to Rochester, and it's already providing loans to entrepreneurs and small businesses.
During Warren's first term, downtown development begun under previous administrations has continued, and new development has started. New residential housing is filling up and more is planned. Some established businesses have moved in, and others have started up. The Inner Loop fill-in is nearly complete, and work on a massive new Strong museum complex will begin soon.
Warren has been intimately involved in anti-poverty efforts, both through the Rochester-Monroe Anti-Poverty Initiative and in individual efforts in City Hall. She's been meeting with the leaders of key businesses and institutions to press for higher wages for low-income employees. And she's leading them by example, raising the minimum wage of fulltime city employees gradually to $15 an hour, on a pace faster than the state mandate.
As federal immigration raids increased in Upstate New York, Warren introduced, and City Council passed, a new Sanctuary City resolution.
In response to the concerns from many residents and police officers, the organization of the police department was increased to five sections rather than two. Critics had complained that two large sections made it difficult for officers and residents to get to know one another. And Warren has pushed for more diversity in the city's police and fire departments and throughout city government.
New housing development has begun in low-income areas on Hudson Avenue and East Main Street (a move that was resisted by some neighborhood leaders but applauded by others). To help spur improvement around the Bulls Head area, the Rochester Economic Development Corporation recently bought Bulls Head Plaza on West Main Street.
Under Warren, the city adopted a Climate Action Plan, with a goal of substantially reducing greenhouse gas emissions by focusing on everything from energy use and transportation to land use. The city has continued to expand the number of bike lanes, and the city-initiated Zagster bike-sharing effort began earlier this summer.
Warren is also working on legislation stating the city's intent to take part in a community choice aggregation program, which could create the opportunity for residents and businesses to buy energy from fully renewable sources.
From the beginning, Warren has been an important role model for many Rochesterians, particularly young African Americans. And she has become a strong voice and a strong speaker, providing important community leadership, for example, at the Washington Square demonstration against President Trump's travel ban.
The next four years could be a time of exciting growth for Rochester. But the city will continue to face enormous challenges, particularly with federal funding – for infrastructure, for home and business improvements, for education, for the arts – threatened under the Trump administration. The city needs a seasoned mayor with a demonstrated record, one who can continue the important progress that has been taking place.
Warren is bright, capable, and an exceptionally hard worker – a Rochester native who is passionate about her city, its residents, and its future. Like her city, she has enormous potential, and for us, she is the best choice among the candidates in the Democratic primary.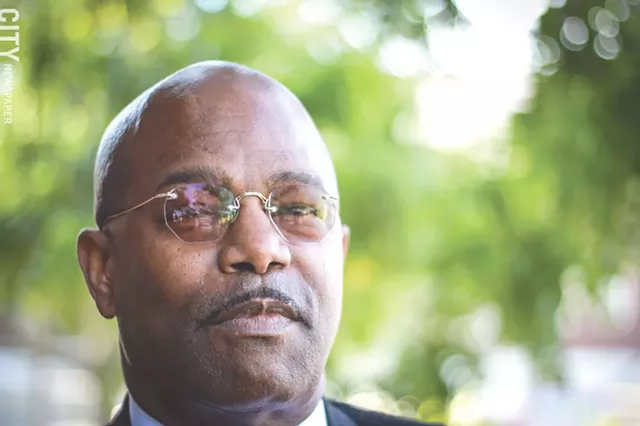 PHOTO BY KEVIN FULLER
Democratic challenger Jim Sheppard
Jim Sheppard
Jim Sheppard is a friendly, engaging man who is certainly qualified to be Rochester's mayor. His long career of public service has given him a unique understanding of the community.
He spent 30 years as a Rochester police officer, including three years as police chief. (He resigned when Lovely Warren became mayor.) He was director of the city's Office of Public Integrity for nine months and for two years was Director of Safety and Security for the Rochester school district. He has worked with at-risk youth in positions as a counselor with the Division for Youth, and, more recently, through Rochester's Center for Youth, and he has served as a Monroe County legislator since January 2016.
Sheppard has had valuable experience, then, as an administrator, and as someone working closely with city residents. He understands the challenges facing both the city and its school district.
And in interviews and on his website, he offers extensive, often thoughtful proposals on a variety of issues. He wants to resurrect the Neighbors Building Neighborhoods program initiated under Bill Johnson's administration and says that the city needs to do a better job including neighborhood residents in planning. He wants to create a Neighborhood Leadership Academy to train residents to serve in community service and leadership positions.
He proposes a "Restore Rochester" program to bring residents, community organizations, and construction workers together to help repair houses and improve neighborhoods.
He wants to work with bankers and employers to find ways to encourage people to own homes in the city – and help them afford to do it. He wants a stronger effort on abandoned housing, including helping homeowners risking default on their mortgage.
He has proposed programs to make housing more accessible to people with disabilities, and he promises to involve representatives of people with disabilities in site review and other city planning.
He wants to eliminate youth homelessness, open a shelter for homeless youth and create programs to reduce the rate of sexually transmitted disease among LGBTQ youth. He wants to ban conversion therapy in the city. He wants a focus on the housing and health-care needs of older LGBTQ residents.
In some areas, he's more vague. Like Warren's other Democratic opponent, Rachel Barnhart, he criticizes Warren for not making more progress on such complex, long-standing issues as poverty and employment without offering reasons to believe he would tackle those problems better than any of his predecessors have.
In his discussion on poverty, he notes that Rochester has numerous programs trying to deal with poverty but says they don't always help the people most in need. To remedy that, he says he would "bring together a team of appropriate stakeholders and service providers to hit the streets and connect people with the services they need." That's a logical suggestion, which has been made before, for decades; the trick is in the implementation.
And some of his assessments are simply naïve. For instance, he blames the decades-long line-up of buses on Main Street, and the fights among young people changing buses after school, for downtown's decline. While both were certainly a problem before the buses were moved, Rochester lost Midtown Plaza, Sibley's, and numerous other businesses – along with their employees and customers – because of suburban sprawl. There was little to nothing any mayor could have done to counteract that sprawl. The ensuing problems were the result of the hollowing out of downtown. And it has taken more than moving buses and changing student bus routes to turn downtown around.
Throughout the campaign, Sheppard has made the kind of accusations that challengers often make about incumbents. He says that Warren lacks vision, but he hasn't laid out a vision that differs much from Warren's or any of her predecessors. Mayors are not magicians, and they are limited by state law, the economy, and many other forces well beyond their control.
His own record has some problems as well. While his record as police chief includes commendable efforts such as emphasizing police involvement in the community, he has taken strong criticism for his handling of police actions in several high-profile cases. Among them: an RPD officer who forced Brenda Hardaway, a pregnant woman, to the ground during a struggle. Sheppard and the RPD's investigation decided that the officer's actions were both justified and proper.
Also troubling is that he didn't vote for more than 30 years.
That said, if Sheppard were running against an incumbent with a weak record, we might very well endorse him, and if he were elected, he would probably do a good job. But for us, at least, he hasn't made a strong case for why he would do a better job than Warren has.
PHOTO BY KEVIN FULLER
Democratic challenger Rachel Barnhart
Rachel Barnhart
Rachel Barnhart, a well-known former television reporter, is an intelligent candidate with a contagious enthusiasm about the city and its future. Her years on television are clearly an advantage: she knows the community and its politics like the back of her hand, and she knows how to articulate her vision.
She is a fierce, eloquent advocate for the city – and for its importance as the region's hub. She says she would stand up to the county's industrial development agency, which continues to give tax breaks to companies that are moving from the city to the suburbs. Rochester's mayor has no power over COMIDA, so it's questionable whether a Mayor Barnhart would be successful in that effort, but words are important. City officials should be continually pressing the importance of the city to its suburbs and fighting, in any way they can, the wasteful sprawl that has helped cripple the city.
Barnhart also has some proposals that could result in concrete, positive changes. She wants to create a city arts fund to provide grants to arts groups. She wants Rochester to establish a municipal fiber internet service, an idea that is plenty realistic and doable. The city and county have a tremendous amount of installed, underused fiber – so much, in fact, that they set out to study just how much capacity they could devote to outside users.
Building out a citywide fiber-to-home network would be a matter of money and willpower, both of which could prove to be obstacles. But eventually the city won't have a choice, at least if it wants to attract the tech-minded entrepreneurs and workers leaders say they want to.
Barnhart also brings welcome attention to pedestrian and cycling infrastructure. City planners were already incorporating much of what she's pushing for into projects – from "road diets" – narrowing lanes to encourage lower speeds – and curb bump-outs to bike lanes and street markings, but many people would like to see City Hall take a more aggressive approach.
She has been outspoken on the crucial issue of police oversight, insisting early in the campaign that an independent investigation and review is essential.
But on many other issues, Barnhart's proposals are weaker than those of her opponents, and some are simply troubling. She suggests cutting property taxes by 50 percent, something that would devastate the city. The decline of Kodak and the loss of downtown retail took an enormous toll on the city's tax base. Over decades, through successive administrations, and against enormous odds, Rochester has managed to sustain services, encourage investment, and gradually start building up the value of city property – and thus the tax base.
Barnhart says that her tax cut would not result in less money, because she would delay the cut for three years, during which the city would build up a fund to offset the lost revenue. Money for the fund, she says, could come through state aid and efficiencies and, possibly, through merging the city's water system with the county's system; she proposes a feasibility study on the merger. In the end, she says, the lower tax rate would encourage investment in the city by residents and businesses, raising the tax base and increasing tax revenue. While many voters will likely find that idea appealing, we think it's unrealistic.
We're also troubled by her proposal to have the city fund child-care subsidies for 1000 children. Additional child-care funding is critically important, but that is a county responsibility, and the county has frequently tried to reduce funding for programs that are heavily used by city residents. The financially strapped city cannot give the county an opening to lessen its commitment to social services.
Barnhart, like many political candidates, insists that she could succeed in some difficult tasks where others have failed: persuading state government to give Rochester its fair share of state funds, for instance. Every mayor in recent history has fought that battle, and Barnhart hasn't shown why she would have better luck.
Finally, Barnhart's lack of management experience would hamper her and city government. Mayors don't run their city by themselves, and Barnhart could pick knowledgeable, experienced administrators who would try to carry out her vision. But the person at the top is responsible for overseeing the key administrators and holding them responsible. Barnhart has not had the kind of executive and legislative experience that her two Democratic opponents have had.