Greg Townson is worn out. He just got back from a whirlwind weekend with his band, The Hi-Risers, playing shows in New York City and New Haven. Come Monday morning and he's back at his straight gig, hawking records at The Bop Shop.
The Hi-Risers have been on the road, and in the air, touring the US and Europe a lot within the past year. Townson admits he's having a blast --- a blast with a price.
Some Rochester bands are willing to pay this price, to lose sleep, day jobs, boyfriends or girlfriends, and their shirts for a ticket out of town and a shot at the open road and its mythical greener pastures.
Hitting the highway with a guitar and a change of underwear is a musician's rite of passage. Plus, being on tour seems to say something about the band: its motivation and its talent.
Ladies and Gentleman, for one night only, would you please put your hands together for a band that is good enough to be here...
Of all the talented bands in Rochester, only a handful could be referred to as actual road bands. That's not to say there aren't more bands qualified or capable, but the reality of touring can seem a little daunting, if not impossible.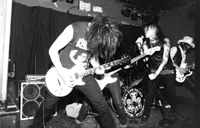 "It's not feasible" Bludwulf on stage.
"It's not feasible," says Blüdwülf singer Reverend Sinn. "It's usually coming out of our pocket in the end."
The road is expensive. There's gas, accommodations, food --- and that's not including the hemorrhage of ongoing bills back home. The money typically goes out a helluva lot quicker than it rolls in. And it has to be split up any number of ways.
Hardcore punk band I Object has no real financial backing, so the band does everything itself. It tours in a van powered by vegetable oil and sells as much merchandise as possible. Consequently, it doesn't owe anyone.
"When we put something out ourselves," says bassist Ryan Cappelletti, "it's 100 percent profit. We have never lost money on tour."
But many do.
Metal band Blüdwülf tours the northeast regularly hitting cities like Boston, Philly, and Cleveland. The band marches on despite being in the red.
"We've always been willing to do a whole tour, cut a loss," says Sinn. "If we don't make our money back it doesn't matter because I'd be spending my money going on vacation anyway. So here I'm traveling with food, booze, a place to play, and new people to meet all the time. That makes it worthwhile."
The rockers in LastPageFirst hit plenty of bumps on their first West Coast tour.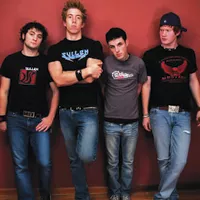 Go west, young men: LastPageFirst will leave us for L.A.
"We were 3000 miles from anyone we knew," says singer Jeremy Call. "We had $50 in our bank account and a van we paid $500 for. Driving through the desert we had everything from floor mats catching on fire to breaking down. We were in and out of body shops the whole time. We would have shows that would cancel on us and not tell us so we'd get there and not have any place to stay. We didn't have any food to eat."
And with a musician's attention focused on things like eating, sleeping, money, or the lack thereof, the music can wind up on the back burner. Road-induced boredom, fatigue, and frustration take their toll on the art as well as the artist.
"I can always tell a band that's been on the road playing the same set of music for however many months," says Townson. "And I think you can sort of see the fire's gone out, the spirit's gone."
To avoid this, the Hi-Risers have no set set-list. Townson calls them as he feels them, keeping it fresh for a new audience every night.
That old highway's a-callin'
The allure of adventure and endless possibilities gets some musicians in the van. Others outgrow the limits of one town --- and they need to be let out.
The Hi-Risers find themselves crammed in a van unwittingly filling a demand they've created with their music, even though Townson didn't initially hear the call of the road.
"I just never had that ambition," he says. "I was probably happiest when we were rehearsing three nights a week and playing on the weekends locally."
Others, like The Riviera Playboys' bassist and lead Playboy Dave Anderson, feel stifled in Rochester. So The Playboys play almost exclusively in Europe.
"That's where the scene's at these days," says Anderson. "We're doing much, much better than we could ever do over here."
The Playboys just returned from a successful tour of Germany, Italy, Amsterdam, and France. But barely 30 people made the scene when the band played an incendiary sendoff show at the Bug Jar.
"Here it's quite pathetic," says Anderson. "I think people over there are more appreciative overall of live music. It's very competitive here. There doesn't seem to be as much support."
"We've played some really magical shows that I thought, 'Well, we could've played the same exact set at home and had a completely different reaction,'" says Townson.
Because of the West Coast contacts the band made on the road, LastPageFirst will soon leave Rochester for sunny L.A. for good.
"I don't think the plan was ever to move to California," Call says. "Honestly, I don't know how seriously we took this at the very beginning. I think we always had the idea that it would be amazing to be able to do this as a full-time job."
I Object always saw the potential in being on tour and didn't wait around to be discovered. The band essentially stays on the road, knocking on opportunity's door.
"A lot of bands start out playing bars waiting for someone to see them, waiting to be noticed," says Cappelletti. "And then once they're noticed they think someone's going to snag them up and send them out on the road. When the reality is you can start a band and you can get a van and you can get contacts and you can go out and you can tour."
Whether driven by aspirations for success, delusions of grandeur, or a jones for thrills and adventure, bands will continue to barrel blindly towards the horizon.
Even though LastPageFirst was hungry, poor, and plagued with van problems on its West Coast tour, Call doesn't regret it. "Honestly, it was one of the most fun trips I've ever been on in my life," he says.
"I kinda feel we owe it to the work we've done," says Townson. "We owe it to the band. One of the great things about the road is the brand new audience you see, a whole new set of faces at the show."
"The truth is if you're into what you're doing then you can do it," says Cappelletti. "But it takes a lot of effort."
Townson puts it in perspective. The Hi-Risers recently played a gig in Italy. Townson and bassist Todd Bradley went for an afternoon swim in the Adriatic before the show.
"We both looked at each other," Townson says. "'Our guitars and our music got us into this.'"
What more could you want?