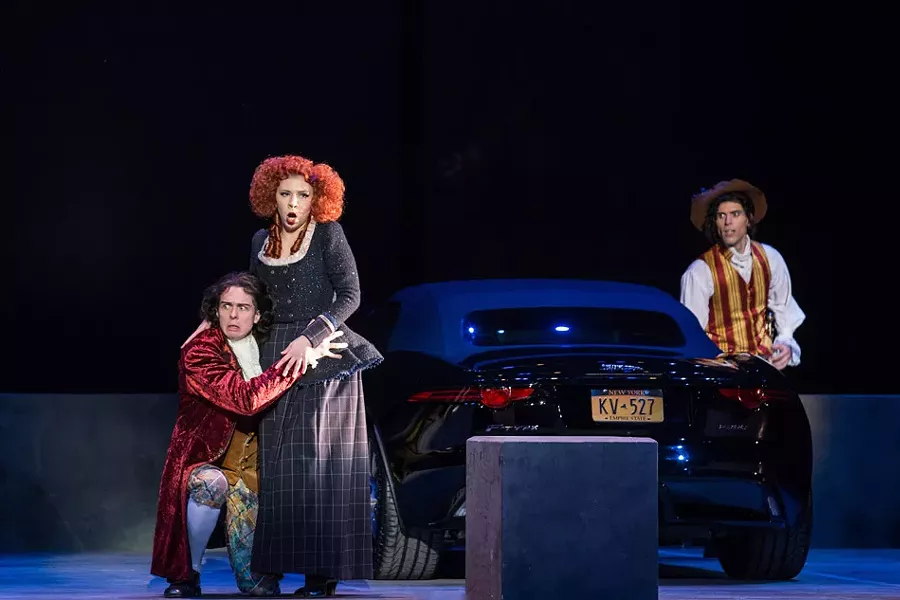 PHOTO BY NIC MINETOR
From left to right: Michael Galvin as Leporello, Maria Vasilevskaya as Donna Elvira, and Michael Aiello as Don Giovanni in Eastman Opera Theatre's "Don Giovanni."
The brilliant opera "Don Giovanni" — performed this weekend by Eastman Opera Theatre — unfortunately remains relevant more than 230 years after its premiere. It's not that the music isn't masterful. Mozart's penchant for melodic fireworks is strong in this peculiar combination of grotesque tragedy and poignant satire. But the opera's title character is a vampiric, sociopathic womanizer. He systematically uses his position of wealth, power, and privilege to manipulate, entrap, and abuse women both sexually and emotionally — all while proclaiming that they are "the sustenance and glory of humanity."
The sobering facts are that such a character resonates as a reality in today's world, and that a culture of toxic masculinity continues to spawn similar behavior rather than relegating that behavior to a shameful and reprehensible footnote in history. Eastman Opera Theatre's new production, which runs through Sunday, April 7, possesses an acute awareness of the paradox of the opera's very existence as outdated yet completely à propos theater. Based on Thursday's performance, what the audience gets is well-intentioned opera that struggles to make its point until the final scene.
Stage Director Stephen Carr's "Don Giovanni" is an odd, postmodern blend of period costumes and a current-day set. Characters in 18th-century wigs, dresses, and stockings designed by Carly Reeder make their way around Scenic Designer Charles Murdock Lucas's bleak parking garage. Don Giovanni owns a sports car. This odd cataclysm of time periods is thematically inconsistent — purposefully so — but it distracts from the emotional import of the drama.
These artistic choices are clearly an attempt to illustrate that the antiquated misogyny of bygone eras is out of place and should never have been accepted. But it's not until Don Giovanni receives retribution for his crimes and is sent to hell in the satisfying closing moments of the opera that the production makes sense, and a compelling meta-narrative emerges.
It should be said that the musical performances were excellent. As is typical for Eastman Opera Theatre, the cast on Thursday consisted of fine singers with clear, melodious tone and accessible vocal delivery. There was no pretension here. Early on in the performance, it seemed at times that the hall was slightly too large for the students' voices to carry well, but any balance issues were fixed quickly. Led by Music Director Timothy Long, the orchestra was lithe and articulate.
Ultimately though, a production of "Don Giovanni" is only as good as the singers playing the opera's namesake character and his sidekick. Eastman has an excellent pair in Michael Aiello as Don Giovanni and Michael Galvin as Leporello. Galvin possessed a warmer, more lyric timbre in his bass voice, while Aiello's baritone was punchier, resonant, and debonair. The two men complemented each other well, with some of the best chemistry in the production.
As for the three sopranos: Maria Vasilevskaya's Donna Elvira was strong and resilient, even in the busier, flowery passages at the top of her range. Faith Snyderman sang the role of Donna Anna with fitting gravitas and an affecting vibrato. As Zerlina, Sarah Forestieri had a lighter, more buoyant tone, as well as the most natural acting performance in the cast.
This production of "Don Giovanni" is a curious riddle, solved in the waning seconds by an inspired costuming decision. While it's not necessarily the resounding success that Eastman Opera Theatre has had with recent presentations, it's entirely worth seeing.
Eastman Opera Theatre's "Don Giovanni" continues on Friday, April 5, and Saturday, April 6, 7:30 p.m. and Sunday, April 7, 2 p.m. at Kodak Hall in Eastman Theatre, 26 Gibbs Street. $24-$29. 274-3000. eastmantheatre.org.