As kid growing up in Tucson, Arizona, Joseph Zolnierowski IV would rush home from school each day to watch cooking shows. After the Food Network launched in the early 90's, he got hooked on watching chefs like Bobby Flay perform their craft for the cameras. At 15, Zolnierowski got his first kitchen job at a local Burger King, and has been cooking ever since.
"I showed all the warning signs of becoming a chef," Zolnierowski says of his youth. "Now, if you're a chef, you're cool. Fifteen years ago that wasn't the case."
If being a chef is cool, Zolnierowski already has significant social capital in Rochester as the executive chef at Nosh, the restaurant he helped to open in 2016. Now, Zolnierowski is building on Nosh's success with the opening of a sister establishment close by. Old Pueblo Grill, which opened in mid-November, serves Mexican food in a fast-casual setting and draws its inspiration from the food Zolnierowski grew up eating in Tucson, Arizona.
Zolnierowski is of Korean and Polish descent and grew up with a broad palate, enjoying Korean specialties like kimchi and dried squid from an early age. "I learned to use chopsticks before I learned to use a fork," he says.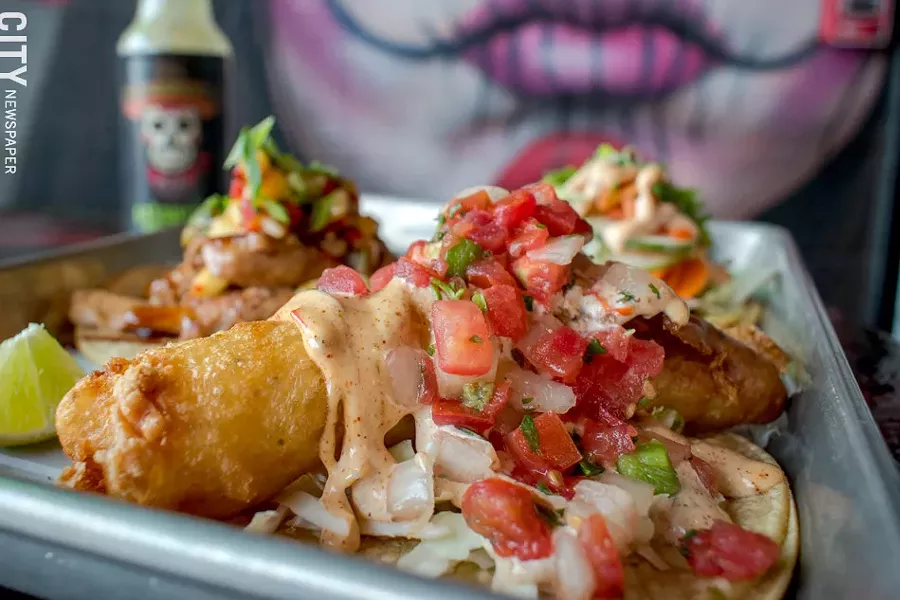 PHOTO BY RYAN WILLIAMSON
A fish taco at Old Pueblo Grill.
In 2012 Zolnierowski made the move from Tucson to Rochester to be closer to extended family, and began looking for a position as a line cook, but it was tough to find jobs at first, he says. Though he landed several interviews, many restaurants told Zolnierowski that he was simply overqualified for a line cook position. After interviewing at more than a dozen area restaurants, Zolnierowski was offered a position at Mario's on Monroe Avenue, where he was executive sous chef until the restaurant closed in late 2015.
The following year, Zolnierowski took the helm as executive chef at the newly-opened Nosh, a joint venture with real estate agent Peter Lezeska and attorney John Nacca. "They just believed in me," Zolnierowski says.
At Nosh, Zolnierowski became known for his bold, eclectic menus, which blend modern American fare with southwestern and Asian flavors.
With Old Pueblo Grill, Zolnierowski is going in a new direction. Though Nosh patrons will recognize similar nods to Asian cuisine with dishes like the Seoul Man burrito with bulgogi beef, kimchi, and gochujang (red chili paste), Old Pueblo Grill is Zolnierowski's homage to Tucson and Sonoran-Mexican-style street food. His eyes light up when he talks about the Tucson dog, a bacon-wrapped hot dog topped with beans, onions, and a variety of condiments. Zolnierowski says the Tucson dog holds a similar place in Sonoran late-night street food culture that Nick Tahou's Garbage Plate and its many takeoffs have in Rochester.
The menu at Old Pueblo Grill also boasts a lineup of eight different tacos, plus burritos, tortas (sandwiches), nachos, chimichangas, tostadas, taquitos, and a small breakfast menu. Zolnierowski hopes to have a liquor license by January and begin serving wine, beer, and margaritas. For now, diners can enjoy a variety of soft drinks including agua frescas, horchata, and Jarritos (brightly-colored Mexican sodas that come in a range of fruit flavors). The restaurant seats about 40, with outdoor seating available during warmer months.
I visited Old Pueblo Grill on a Wednesday evening around 7:30 p.m. and found the place buzzing with nearly every seat filled. The restaurant is situated almost directly next door to Nosh in a large brick building known as The Factory. Originally built in 1919, the former warehouse has been recently renovated by Dutton Properties and is now home to lofts, retail, and office space.
The interior of Old Pueblo Grill is a mix of industrial chic and Southwest flair. Simple gray walls and concrete floors are broken up with eye-catching murals by Rochester artist Mr. Prvrt, shiny wood high-top tables, and brightly colored stools, plus a neon green sign that invites you to "Love Your Taco."
I ordered the Navajo taco ($11), a dish unfamiliar to me but which sounded intriguing. I was unprepared for the small mountain of food which greeted me approximately ten minutes later. This southwestern delicacy includes of a puffy, pillow-y, addictively salty disc of Indian fry bread piled high with either chicken or beef, pinto beans, crunchy cabbage, pico de gallo, crema, and avocado. The fixings were outstandingly tangy and juicy (fork and knife definitely required), and the fry bread proved more than up to the challenge of soaking up the flavors. After finishing every morsel, and washing it all down with a sweet and tart lime Jarritos drink, I was full until the following afternoon -- a sacrifice I was willing to make for journalism.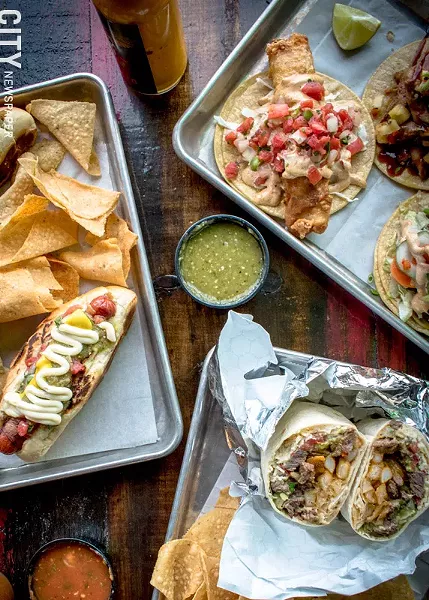 PHOTO BY RYAN WILLIAMSON
Old Pueblo Grill offers everything from traditional varieties of burritos and tacos to the Tucson dog (pictured on left), which is a regional favorite brought to Rochester by Chef Joe Zolnierowski.
As the executive chef and co-owner of two restaurants, Zolnierowski is busier than ever and as a result has less time to visit his hometown. "I miss Arizona every day," Zolnierowski says, gazing at the back wall of the restaurant, which is painted with a mural of Tucson's San Javier Mission. "But I truly love Rochester. Every year I'm here I love it more and more."