There's a lot of unseen labor and stress that goes into making a go of living the artist's life. There's no guide book, but there seem to be plenty of rules — rules that if broken just-so can make all the difference between brilliance and baloney. Each year, CITY spotlights four emerging artists who are creating engaging work, but haven't hit the household-name stride.
This year's set — Shawnee Hill, Patrick Kinz-Thompson, Rebecca Lomuto, and Margaret Storms — all shirk traditional modes of working and push their chosen materials out of conventional bounds, while sussing out what they want to say. Each artist has been buffeted by the winds of the "real world" for a few years, away from the relative shelter of the classroom studio, cutting paths through the weeds, taking chances, and taking advice from mentors and peers.
Hill's illustrations of women are a collage of her memories and have started to dip into the territory of identity. Lomuto's photo-based installations choreograph a dance between her personal past and her present audience. Storms makes maddeningly clever digital collages that simultaneously rip and celebrate Millennial culture. And Kinz-Thompson does whatever the hell he wants, hyper-focusing on details and letting one process lead him to the undiscovered next.
None of them have it all figured out, but they keep moving forward and uncovering new opportunities. And while they're not all certain they want their art to be the thing that earns their bread, they are each ultimately driven by the need to make art as a way to explore their lives. We picked this set for the heartening — and amusing — irreverence involved in their methods of just going for it.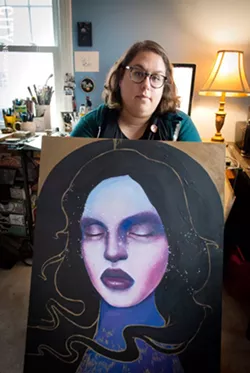 PHOTO BY RYAN WILLIAMSON
Shawnee Hill in her home studio with one of her paintings.
Shawnee Hill // The familiar and the wide, wide world
Illustrator Shawnee Hill traces her love of art and travel to growing up in her grandmother's Bloomfield studio, watching her elder make porcelain dolls for a living, and joining her on annual summer trips to Washington, DC, for doll and teddy bear expos.
The studio has a distinctive smell, Hill says, and "a powder that gets all over everything when you leave. She would have shelves and shelves of doll parts. It was kind of creepy, but at the same time, I super loved it, and I think that was the birth of my dark curiosity."
You can see the aesthetic influence her grandmother's doll-making has had on Hill's work, too: it's in the gentle gestures of the hands and the impassive expressions of the women Hill draws. These stylized muses are adorned in rich patterns and ever-present snakes, crescent moons, and other associations of dark and feminine sensuality.
Hill describes her style as "memory collage," and says she rarely uses references. "I kind of look at it in an abstract sense, where I'm trying to find balance in a composition, and those pieces that I use to create that balance are almost always women, or snakes, or leaves," she says.
Though she has a background in sculpture, Hill now prefers the more immediate work of drawing — using pens, gouache, watercolor, and acrylics on paper — but she can still access her grandmother's kiln whenever she wants.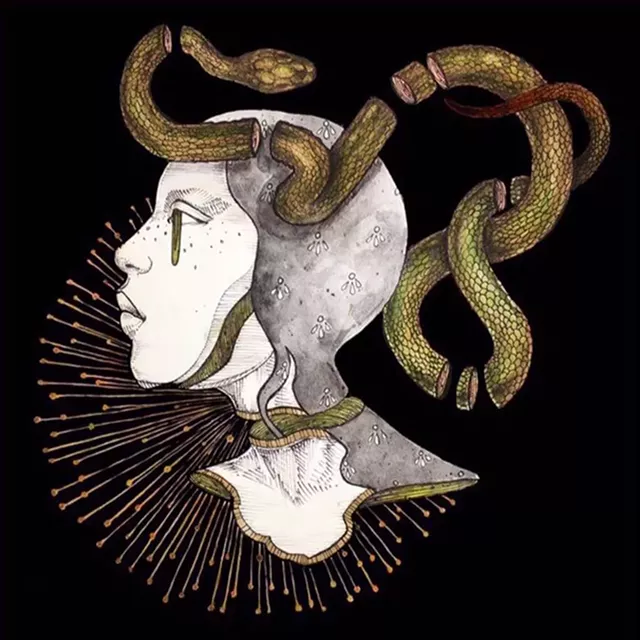 COURTESY SHAWNEE HILL
Hill uses some combination of pen and ink, watercolors, and acrylic paint to create her portraits of women adorned with bits of natural ephemera.
For a recent show at Makers Gallery and Studio Space, Hill supplemented her drawings with a necklace of tiny porcelain hands — she constructed them in clay first, and her grandmother created a mold from those for the casting process.
"There's one that has the palm open. It was her classic hand that she always did, and that was kind of my take on that. And when you put your thumb in it, it almost feels like a worry stone," Hill says. "Like you're holding a hand; this tiny being that makes you feel comforted. And it's just like, I guess a lot of my work is based on feeling comfortable. Things that are familiar are comfortable."
Hill says that drawing helps her work through things; the meditative repetition of drawing the lines of flowing hair that characterizes her work is particularly cathartic. "It helps me relax," she says. "Anytime I'm in a situation where I'm stressed, you'll probably see me drawing, and it's probably going to be hair."
After graduating from Pratt in 2008, and thinking that she'd pursue a career in advertising, Hill bounced around for a while between home in Canandaigua and a short stint at a print shop in California, before moving back to New York State. She currently works in medical records at an orthopedic office and makes art in her free time — out in the real world, she realized that she didn't really want to have a full-time job in art.
"Pulling the creative stuff out for someone else doesn't really work for me, I have a hard time with it," she says. "It's a struggle to produce something that I am happy with."
PHOTO BY RYAN WILLIAMSON
Illustrator Shawnee Hill.
Through some mutual friends, Hill became acquainted with primary organizers of Rochester's emerging tattoo-skater-low brow art scene, including Erich Lehman, owner of the since-closed 1975 Gallery, and illustrator and tattoo artist Lea Rizzo.
Brought into the art fold by this new group of friends, Hill participated in the first "Boys vs. Girls" collaborative show held at 1975 Gallery and The Yards, and began volunteering with the WALL\THERAPY crew in 2013 — the pandemonium year that the event featured more than 30 artists. "That was huge," she says. "It was just this swarm of creativity with a family mentality."
Hill was invited to create a mural for WALL\THERAPY 2014; she painted one of her women for the first time in large-scale on the side of the building on Liberty Pole Way that used to house Fuego Coffee. She traveled with the team in spring 2016 to Berlin, where she created another mural. Painting walls "pushed me in a direction I wasn't expecting," she says, adding that working at mural-scale is a freeing experience.
She's begun to incorporate more diverse features into her portraits of women, which until recently had been heavily influenced by the overwhelmingly white standard of beauty found in fashion magazines. Her newer drawings and paintings are adorned with masks and face paint, reflecting her search to better understand her Mohawk and Hopi heritage.
"It's an emotional journey, because I grew up being ashamed of being Native American my whole life," she says.
Hill is currently working on a long-distance collaboration with Ian Kuali'i — a California-based 2017 Wall/Therapy alum who creates portraits with intricately cut paper in both his mural and studio practice.
Check out Shawnee Hill's work on Instagram at @shawneehill.
PHOTO BY RYAN WILLIAMSON
Patrick Kinz-Thompson.
Patrick Kinz-Thompson // Rigidity and resistance to rules
Hilton native and sculptor-painter-bookmaker-metalsmith Patrick Kinz-Thompson accidentally went to art school. Having only taken one studio art course in high school, he never thought that he'd end up earning a BFA from RIT.
"I was visiting my aunt, and I got pulled through the door — as I was looking into the metals department — by a student and thrusted quickly thereafter at a professor," he says. One portfolio review with artist-professor Len Urso and a week later, Kinz-Thompson was enrolled in the school's metals program.
Throughout his youth, Kinz-Thompson was exposed to art by his mother, whose figurative sculptures and 2D artworks are peppered around his Hungerford basement studio. "And I always fiddled with things on my own," he says in a rumbling baritone that oscillates between cool-casual and animated.
Kinz-Thompson's work is a lot of things. He makes unisex jewelry that strikes an effective balance between weighty and delicate, with an emphasis on engraved texture. But he's not strictly a metalsmith; he has an absorbing fascination for different materials for their own sake, and makes books and installations, and paints and draws.
"I've never felt limited, I guess, by material," he says. "A little bit of this sort of played into being the poor kid always."
He recalls being astounded by other students who would buy a square foot of silver for a project — which at the time would set you back about $700, he says. "I was like, 'pfft, I have $40 left after paying tuition this month, working full time and attending school full time. So there's a street sign over there that I'm going to strip the paint off of and turn into something.'"
He says that almost every work he made in art school was "just a reactionary, rebellious sort of 'fuck you' kind of thing."
Tasked with making a self-portrait for a 3D design class, Kinz-Thompson waited until the night before the project was due, then took all of the ceiling tiles from the classroom down and used a bucket of red paint to write "NO" as many times as he could fit on each tile, then reinstalled them.
"I finished 20 minutes before critique, and just sat there and waited," he says. Then, taking a deep breath, continues: "It went over really well with the teacher, not so much with the dean."
PHOTO BY RYAN WILLIAMSON
Kinz-Thompson with his deconstructed book sculptural wall pieces in his Hungerford studio.
Kinz-Thompson says his ideas began to coalesce around texture during junior year, when he began to cover everything in finely engraved text and script. The fixation stuck with him and developed into some compelling, process-oriented work — not just in the discovery-as-you-do-the-thing way, but also in the hyper-focus-on-the-labor way.
Pinned and taped to Kinz-Thompson's studio walls are drawings of grids, and drawings that are just columns of text, each a single word repeated over and over, tiny and illegible.
Squinting at one column and another, after a minute he utters "dissonance" and "tobacco," but adds that he doesn't always remember what he wrote. It isn't about legibility.
"It definitely plays a little bit into automatic writing," he says. "You know, where you shut your brain off so entirely it gets to the point where it keeps doing the same thing, but with really weird, sometimes beautiful variations." Some of the lines of inked script are weightier, and when you back away from the work it resembles the subtle movement of waves.
After graduating in 2013, Kinz-Thompson wasn't sure what was next. Coming off of a killer thesis show that earned a "most outstanding undergraduate" award, "I kind of got out and didn't know what the fuck I was doing," he says. "You go from having all of the resources and tools, and then like, 'HEY REAL LIFE.' And you're like, 'shit.'"
Kinz-Thompson worked at Park Ave Bikes and generally floated around, until Urso called him for help on a commission for a giant copper head of Robert Mondavi, founder of the Mondavi Vineyards in California.
In addition to his studio practice, he does metal fabrication work for Interstellar Motorcycles and Staach, and still assists with production work for Urso, who he says has been an important mentor since the beginning.
"He doesn't quite dad me, but — kind of like dads do sometimes — steps in and is like, 'This is a really stupid idea,'" Kinz-Thompson says with a chuckle. "With life, art ... he's very involved and has helped me out immensely."
PHOTO BY RYAN WILLIAMSON
Kinz-Thompson hammers an arm cuff into shape.
He is currently assisting with production of Urso's line of statement jewelry with the up-and-coming NYC fashion house Simon Miller, and in September, traveled with Urso to New York City for the Fashion Week launch of the line.
Kinz-Thompson's bookmaking resulted from prodding by his friend and former professor Cory Card, who he says is another excellent don't-be-stupid pep talk provider. Card noticed that he spent a lot of time reading and writing, and suggested he make books.
"And I was like, 'That's fucking dumb, I'm not going to make books,'" Kinz-Thompson says. "And then I made a book. And then I made five books. And then I made these wall pieces and sort of designed a show around them."
The wall pieces, displayed at Geisel Gallery in 2015, extrapolated and highlighted certain aspects of bookmaking, such as a wood, paper, and metal work that resembles a complex textile but is an homage to the interior guts of book bindings.
In the wall-mounted work, "500 Tales," scores of knotted cords hang from a copper and leather rack, a nod to quipu, a Mesoamerican knot-based recording system. Another deconstruction work titled "A Book is Not a Book" is made of handmade paper pages, each coiled into a grid of fabricated metal rings that are attached to a piece of wood. It looks like a reliquary for multiples of something, but it doesn't really have a purpose. As with much of his work, it's a study in rigidity, repetition, and form.
You can find Kinz-Thompson's work at patrickkinzthompson.com.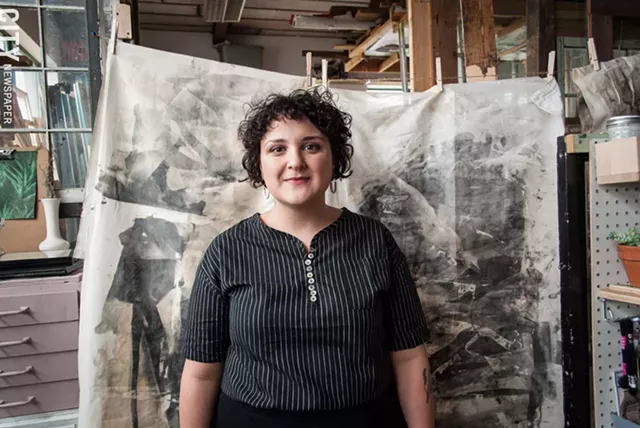 PHOTO BY RYAN WILLIAMSON
Rebecca Lomuto in her studio at The Yards, in front of one of her photographic installations.
Rebecca Lomuto // Residue of obscure impressions
Experimental printmaker and photographer Rebecca Lomuto's work began to move away from traditional territory when she was studying abroad in Florence, Italy. As an undergrad at SUNY Purchase, "I was really gung-ho about being this traditional black and white analog photographer, and printing in the darkroom," she says.
But while taking intaglio and lithography classes at Florence's SACI College of Art and Design, she cast aside the traditional crayons and tusche and began drawing with grease on the stone — inspired in part by the emotion behind Jasper Johns' 1963 print, "Skin with O'Hara Poem," which was created using imprints of the artist's hands and face.
A professor took note of the ways Lomuto was pushing the medium, and encouraged her to keep it up.
She moved from Florence to the Rochester area in 2014, drawn to the amenities at the Flower City Arts Center's Community Darkroom and the prospect of volunteering with its Studio 6-7-8 program. In 2014 she was an artist-in-residence at Flower City's Printing and Book Arts center (where she currently teaches printmaking and bookbinding classes), and spent a year getting facilities to make etchings up and running, teaching classes, and working on her own etchings — which tend to be illustrative, with figures floating within distorted, dream-like fields.
Since then, Lomuto's work has been shifting more and more into installation territory. In 2015 she made her first works on fabric for a show that Luna Galassini curated at The Yards. Lomuto set up a makeshift darkroom in her attic, where she melted photo emulsion and painted it onto fabric, and experimented with printing processes — pushing and pulling the fabric under the photo enlarger, throwing negatives out of focus, and exposing the fabric to the flashlight on her phone.
PHOTO BY RYAN WILLIAMSON
Rebecca Lomuto, veiled.
In some of her newer pieces, a printed image is floated in the center of a sheer curtain hanging from a suspended hoop, so the viewer must part the circular column and enter the veiled chamber in order to view the image up close.
Those were the first works in the direction of making pieces that Lomuto calls "obstacles in the space." She created a series of fabric panels for a show held at VSW in July, which were suspended, she says, "like your linens would be," on a twine line using clothespins, in a way that created "a maze for people to navigate." These were displayed in collaboration with Joe Clark's tiny tape loops of sound positioned in different spots in the room.
Lomuto says she's fascinated by watching people interact with the pieces, seeing their hesitation to walk in and among them "and kind of dancing with them."
Some of these panels are now strung across the open side of the studio she's been renting at The Yards for about a year, not quite obscuring the space. Light from the opposite bank of windows highlights the fabric's milky semi-opacity; the panels glow where the fabric is unmarked by the shifting layers of shadowy figurative forms and scraps of environments printed on them. They give this intimate impression of confronting someone's laundry that has picked up not only the dirt and the grime of living but also the dreams and the dread.
An echo of her own presence, the work is simultaneously intensely private and inviting. It's calming and open with an undercurrent of something heavy.
"I feel like there's a lot of quiet rage in the way that I make work," she says. "I realized I was trying to dig deeper and discover myself in some sort of way. And a lot of it has to do with trying to fill in the gaps of memory, specifically growing up."
Lomuto was adopted as an adolescent, and while she doesn't disclose specifics about it, she talks about the impact it's had on her life and art.
"My life with my biological parents was erased, and it's something that as an adult I'm trying to cope with," she says. "Being an adopted child, and being displaced from the origin of my body, is super important to the story and the reasoning behind the work, I just haven't figured out how much of that I have to share."
Lomuto's working title for the series is "We See Ourselves in Shadows," "something I had thought up late at night in the wintertime, smoking a cigarette on my porch, you know, and maybe something had scurried past," she says with a note of delight raising her voice slightly.
Rather than seeking to explain the unresolved, the work invites viewers to brush up against private moments; it shares sense impressions and their lingering moods.
"I've been using this title for all of these works that are not necessarily images on paper, and moving to a more three-dimensional realm," she says. "But I don't know what the final product will look like in the end."
The context changes slightly each time she shows the work — Lomuto also displayed the work in the late summer at the outdoors Dusklit festival in Chester, New York, and she and a friend did a dance performance around the installation.
Lomuto participated in the Sonnenberg Arts in the Gardens festival last summer and won the Emerging Artist award. She binds books on a freelance basis for poets and for private clients, and is a member of the feminist Politits Art Coalition that formed about two years ago.
She continues experimenting with a variety of materials and is specifically focused on moving mark-making away from only two dimensions. Toward that end she's working with folded and crumpled papers and light-sensitive materials; using diluted paper pulp as paint; and creating small fragile sculptural works using twigs, wire, paper, and thread. "I'm also super into the idea of casting paper," she says.
Lomuto will be part of the artist residency at The Yards in January. See her work at rebeccalomuto.com.
PHOTO BY RYAN WILLIAMSON
Margaret Storms in her home studio.
Margaret Storms // Cackling into the void
Anytime you chat with Margaret Storms, you're gonna get an encyclopedic education about the wild worlds of pop culture, memes, and conspiracy theories. And you'll need to keep up — she speaks at a rapid, effervescent clip, gushing and giggling and rolling her eyes at the hilarious absurdity of it all.
The digital collage artist's work tightrope walks the wires connecting those subjects, forming a vortex of witty Millennial nihilism. Storms deifies characters from memes and a specific brand of celebrity that she calls "unrepentant weirdos" by framing them in what looks like the exploded background of some French court painting seen through the lens of an acid trip. There's a semi-terrifying, overwhelming, "what is happening" aspect that's off-putting but also hypnotic.
Branded as "STORMYMADE," her work is sold in sticker and button form at pop-up shops around town and through online customizable product shops such as Redbubble and Society6. If you need an insane Guy Fieri shower curtain, Dr. Phil leggings, a Doge comforter, or a Justin Timberlake skirt, you're covered. But she emphasizes that the object existing online is its primary artistic form.
Storms was born and raised in Rochester and attended School of the Arts before heading to Alfred University to study printmaking and photography. She graduated in 2011, and her training in historic process photography — daguerreotypes, tintypes, all of the pre-1900 photographic processes — earned her an internship at George Eastman Museum. She loved the job, but had a hard time finding a paying gig in the field.
Storms rejected the post-art school pressure to pursue gallery shows, or take part in the museum or academic system. "I tried playing that game and I hated it; I realized that the goal for me with art isn't necessarily getting famous with it," she says. "I think I borrow a lot from the punk DIY-ethos of just 'do the work and get it out there.' If it doesn't work out, you still had fun."
She spent some time trying to figure out how to make art that made her happy, at home, without an expensive darkroom, and landed on making digital collages on the computer. As an active Tumblr user, she'd seen various Vaporwave format and web art that was stylistically similar to her tastes, and decided to put her own spin on it.
"My goal is just to make myself crack up when I'm done with them," she says. "In art school they teach you to pull on the things that make you sad to be where you make your art from — it's kind of a hack to make meaningful art — but that made me miserable."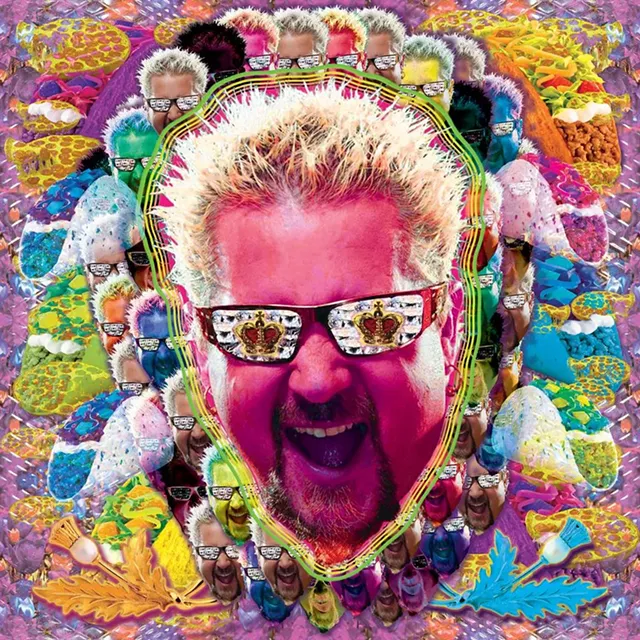 ART BY MARGARET STORMS
A digital collage by Storms, featuring "unrepentant weirdo" Guy Fieri.
Storms' art blends irreverent intellectualism and trash culture, but also visually taps her art history minor, drawing on religious symbolism, Rococo art, and Eastern psychedelic art — a synthesis of aesthetics "smashed together with all of the stupid things I saw on the Internet," she says.
Storms has a particular fascination with celebrities at their most ridiculous and unrefined, and has honed in on Nicolas Cage's crazed, gonzo expression (you know the one); ramen-hair era Justin Timberlake; and Britney Spears at the moment of her 2007 meltdown — which Storms says is one of the most punk rock things she's ever seen.
"I like working with her both as the pop teen idol and the meltdown-Britney because I think it shows the duality," she says. "It's still the same person — in a weird feminist light, it shows, 'Yeah, that's still Britney Spears.' Women are so much more than candy-coated pop stars — we're complicated, terrifying creatures."
Storms defines her work as a sort of religious art for the future, or for the church of the Internet. In this pantheon, Guy Fieri is a Dionysus figure: He's emblematic of the hedonism in American culture, but also jovial and pretty decent — he recently set up a barbecue rig and grilled for the firefighters and survivors who lost their homes during the California wildfires.
Working from her home-grown library of hijacked Photoshop cut-outs, Storms has featured Bjork, Prince, Bowie, and Yolandi Visser of Die Antwoord — "She's like a trashy nihilist alien and I love it," Storms says.
There's also a fascination with celebrity scientists: turtleneck-weed-science bae Carl Sagan; total charmer Neil deGrasse Tyson; woke Bill Nye; and even "Ancient Aliens" star Giorgio A. Tsoukalos. "It fascinates me that someone as ludicrous as the 'Ancient Aliens' guy can occupy the same echelon of celebrity as fucking Carl Sagan," Storms says.
Though she's been hit with cease-and-desists from the handlers of Justin Timberlake, Nickelback, Britney Spears, Grumpy Cat, and Lil' Bub, she shrugs it off.
"As with many collage artists and pop artists, I pray to God that parody is enough to cover my ass with this," she says. "But there's another part of me, when I first started, that had a goal of getting sued by Guy Fieri, because it would be really good press: 'Local artist in litigation with Food Network Star for ridiculous portraiture.'
"If I got a handwritten letter from Justin Timberlake saying, 'knock it off,' I would stop. If it actually hurt his feelings, I would stop. But that's probably what it would take for it to happen. Or getting crippled by a frivolous lawsuit that my hubris got me into."
Storms occasionally makes show posters for bands such as Green Dreams, and gets commissioned to deify people's pets. She works at her family's biz, the Record Archive, at Little Button Craft and Press in the Wedge, moderates a bunch of shit-posting groups on Facebook, and co-produces a pop-culture and conspiracy theory podcast, Real Eyes Realize Real Lies.
See STORMYMADE's work at Lux through March and on Instagram at @stormymade.