The First Church of Christ, Scientist building at 440 East Avenue is set to become the Lyric Theatre, a new major performing arts venue that will be the home of Rochester Lyric Opera and will serve other organizations needing a medium-sized performance hall. The 28,000-square-foot venue will feature two performance areas: a 900-seat main performance hall and a cabaret-style venue with seating for 150 or reception space for 300.
Lyric Opera officials announced the plan this morning at a news conference that included representatives of Lyric Opera, city and county governments, and the business community.
4 slides
Rochester Lyric Opera purchased the 100-year-old building for $1.2 million, and an estimated $6 million will be spent on renovations, which will begin in January 2016 and are expected to be completed in the summer. Lyric Opera expects to raise the full amount for the theater through grants and private gifts, according to an RLO press release.
Lyric Opera's managing director, Sue Cotroneo, says that for several years the organization has been seeking a permanent home "that would meet our performance and educational programming needs for fully staged productions, concerts, vocal competitions, recital series, and other community outreach programs."
The building's existing offices will house RLO's administrative operations and other arts organizations that wish to share resources. RIJF, LLC, which is owned by Xerox Rochester International Jazz Festival co-producers John Nugent and Marc Iacona, will manage the theater's operations.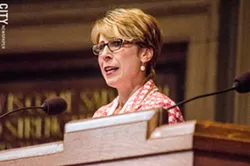 PHOTO BY MARK CHAMBERLIN
Sue Cotroneo, managing director of Rochester Lyric Opera, announces plans to convert a former East Avenue church into a performance hall.
Organizers say they believe the Lyric Theatre's acoustics and modern, upgraded facilities will be well suited for intimate recitals, lectures, rehearsals, and small-group performances. They also say the building's exterior space will offer an area for outside presentations and festivals.
Wednesday's announcement of the building's purchase by RLO was the culmination of more than two years of discussions with the church, area arts and neighborhood organizations, and government leaders, organizers say. First Church of Christ, Scientist is moving to a new facility at 701 Mount Hope Avenue. (The congregation is meeting at New Life Methodist during renovations at the Mount Hope location).
The Lyric Theatre will be a financially viable operation from the start, organizers said. In addition to its own productions and concerts, the RLO is in discussions with other arts organizations that want to use the theater. The Jazz Festival has already announced that it will use the venue for Club Pass shows this summer, and the First Niagara Rochester Fringe Festival will use the theater as a venue in September. RIJF, LLC, will also produce jazz concerts there during the year after renovations are complete.
RIJF's John Nugent said this morning that the new venue will permit him to book some big-name acts for the festival that he couldn't book previously because Kilbourn Hall is too small and the Eastman Theatre too big for them.
The new uses will require more parking than the small church parking lot can provide, but Mark Iacona said discussions are underway with neighboring institutions about use of their lots.
Renovations to the building, by project architect LaBella Associates, will include work on the former main worship space to convert it into the 900-seat theater with a proscenium stage and state-of-the-art sound, audio-visual, and stage technology, according to the press release. The theater will also have an orchestra pit.
The church, built in 1915, was designed by William G. Kaelber and William V. Madden.